Depending on where you live, the winter months can be summarized as follows: dreary, slippery, below-freezing, and often less than exciting (ever heard of SAD lamps?). Speaking as someone who lacks the coordination to ski—or even sled, for that matter—I can attest to how *insert every synonym for blah* this season can get.
Fortunately, we still have romance. A fresh snowfall paired with hot chocolate and good chemistry? There's nothing "blah" about that. Whether you just swiped right or celebrated five years, a rom-com-worthy date can turn any sub-zero day around. But of course, the perfect date calls for the perfect outfit—and we have it all planned out.
Have a fondue night
Want to win someone over? Here's all you'll need: a pound of Gruyère cheese, a 1/2 pound of Swiss cheese, a cup of white wine, a tablespoon of cornstarch, and some nutmeg. Falling in love over fondue sounds like an ideal way to spend a night in—and it'll be even cozier in this soft-to-the-touch sweater dress. Elevate the look with a black belt and padded headband. Comfort: check. Chicness: check.
sweater dress | sweater dress (plus-size) | headband | belt | boots
Get a tarot card reading
Forget the DTR conversation—why not see a psychic instead? Dress for the occasion in a boho-esque dress and over-the-knee boots. After learning about the fate of your relationship (*laughs nervously*), discuss what it all means over a craft cocktail. And while you're at it, find out their zodiac sign.
dress | dress (plus-size) | necklace | bag | boots
Visit your local bookstore
Getting lost in the aisles of an indie bookstore will never not be magical. It's also an opportunity to learn about your love interest's, well, interests. Every section of the store is a new conversation starter (bet you didn't know their favorite children's book). Blend into the literary scene in leather pants and a sweater vest and begin writing your real-life love story.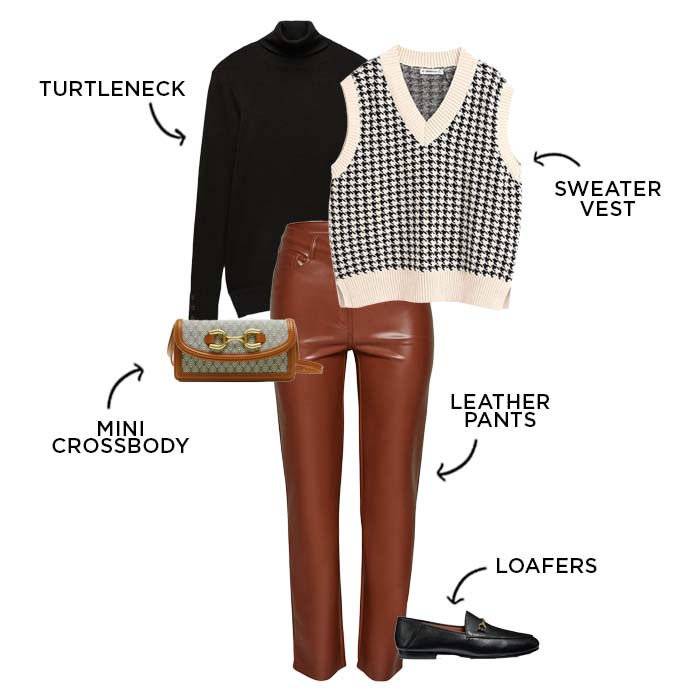 sweater vest | sweater vest (plus-size) | turtleneck | leather pants | leather pants (plus-size) | bag | loafers
See a movie at the drive-in
There's Netflix and there's AMC, but the most memorable movie nights are indisputably at the drive-in. Dress on theme in a vintage Coca-Cola sweatshirt, high-waisted jeans, and Converse sneakers. Splitting a malted milkshake will be the cherry on top of this classic date.
sweatshirt | sweatshirt (plus-size) | puffer coat | jeans | converse
Go ice skating
Sure, we could have suggested an outdoor activity a little less expected, like snowshoeing or tobogganing. But there's a reason why ice skating tops every list of winter date ideas—it's reliably romantic. Earmuffs and a red wool coat are nothing short of endearing and everything you need to bring your Serendipity moment to life. Love is officially in the (freezing cold) air.
jumper dress | jumper dress (plus-size) | turtleneck | turtleneck (plus-size) | earmuffs | wool coat | wool coat (plus-size) | black tights | mittens