While I believe the basics are what really give you good skin, hair, and makeup, I can't pretend that I don't love a little something extra every now and then. For sure, I love a good mask here and there, and I often buy into the latest craze or trend (in the name of science and my career, duh). But I can't pretend that I don't indulge in the power of a beauty tool to do some of the heavy lifting. Sure, it's an investment, but we parade our faces around every single day, whether it's a trip to the grocery store where you'll inevitably see that person you were in love with a few years ago but never made a move, your once-a-week video call for work, or just stepping by your mirror a few times a day to catch a glimpse at the one and only face you'll see IRL for a while (too harsh?). 
If you thought the newest iOS update and virtual-everything were the biggest innovations of 2020, think again. We don't have to put on a few lotions and potions and just "hope" it does the job anymore; there are effective, researched, and FDA-approved gadgets that do the job without all the guesswork. They're the smartphones of the beauty world. When I'm looking for a new gadget, I check Nordstrom first. They have everything from $20-30 tools to splurge-worthy devices you'd find at a tech convention. Because they can be a little confusing (you put what where?!), we're breaking down six different gadgets for every type of person and budget.
1. W
ants a pick-me-up that doesn't break the bank: Ice Roller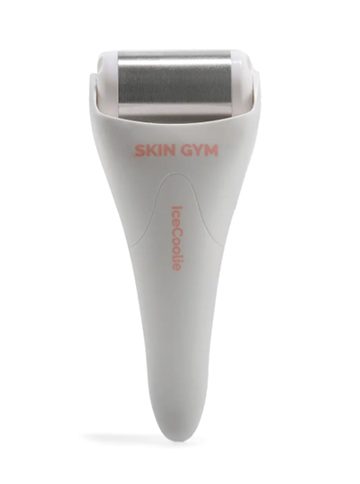 Skin Gym
IceCoolie Ice Therapy Device
An ice roller has become an essential in our editor's post-hangover, sick-day, need-a-pick-me-up-ASAP kits. This one is made with stainless steel, meaning it'll stay cold even once you take it out of the fridge. Plus, it's easy to clean and sanitize and will hold up—especially if you plan to use it basically every Monday-Thursday morning (we can relate!). Pop this in the fridge or freezer, and after cleansing and moisturizing (but before sunscreen), use this to massage in any of those creams or oils. It'll tackle the puffiness, help your skincare products absorb better, and help you start your day with a little relaxation. Over time, you'll notice your skin even gets less puffy because you're used to moving all of that lymphatic fluid around. Don't sleep on this if you love a good self-care moment.
2. Wants a quick self-care addition to their routine: Nurse Jamie Roller
Nurse Jamie
UpLift Facial Massaging Beauty Roller
You've likely seen this all over the place, especially if you're a fan of celebrity beauty videos. But if you're like us, you probably have little idea of what it actually does. There's a reason celebs and beauty influencers alike swear by this facial roller: it feels like a red carpet-worthy lymphatic drainage massage right at home. This tool houses 24 massaging stones that when rolled across the face lift, tighten, revive, and enhance your natural features. Nurse Jamie created this product to replicate the experience of one of her in-spa facial massages from the comfort of your beauty vanity. This tops the list as the most routine-friendly option, as it only takes a few minutes to massage all over your entire face and can be done as-needed or over time for the best results.
Not ready to splurge on a Nuface? This is a great less-expensive alternative that tackles many of the same issues, just without the microcurrent.
3. Takes facial massage very seriously: Vibrating T-Bar
Skin Gym
Beauty Lifter Vibrating T-Bar
My at-home facial massage is great and all, but I'm craving the hands of an esthetician who treats my face like a bowl of kale more than anything in the world. Sound like you? I found the at-home product to save you while you're staying home (and cost about half as much). This T-bar massager uses vibrations to mimic the feeling of a real massage, so it's a great addition to your facial massage routine. Grab your favorite facial oil, cream, or serum, and use this in upward strokes across the whole face. Focus between the eyebrows for an extra-relaxing massage, on the neck and chest to de-stress after a long day, and on the jawline to release tension. If you're craving a little "ooh" and "ahh," this is the one for you.
4. Wants a salon-quality treatment at home: PMD Microdermabrasion
PMD Beauty
Personal Microderm Pro Device
As we enter the winter months, I'm putting off facials and treatments that I can't do at home for as long as possible. Why leave my house when I don't have to? The first treatment I turned to was the PMD Pro for at-home microdermabrasion. Microdermabrasion has been a popular skincare treatment for about a decade, as it helps improve skin tone and texture without all the down time of peels and lasers. It's good for practically every skin concern—aging, acne, scarring, texture, sun damage, melasma, and more—and is suitable for dry skin types too. PMD created the first at-home microdermabrasion device, offering the same results as an in-office procedure right at home. 
The PMD uses an exfoliating disc with vacuum suction to remove the top layer of dead skin and triggers the immune response in the skin to create new layers and cells. It's a really easy treatment to incorporate into your usual routine, as it only takes a few minutes once per week. This kit comes with multiple exfoliating discs ranging from ultra-sensitive to intense which allows you to customize the treatment for your skin type and grow with the product as you use it more. Not sure where to start? This tutorial has everything you need to know.
5. Looking for a long-term change without invasive treatments: NuFACE
NUFACE
Trinity Facial Toning Device
This has a rechargeable base that can sit on your vanity and has the option to remove the head and use other attachments, like their Eye and Lip Enhancer that targets smile lines, crows feet, and eyebrow furrows; and their Wrinkle Reducer, which uses red LED light therapy to reduce and prevent fine lines and wrinkles. If anti-aging is your NuFACE goal, get this one.
NuFACE
Mini Facial Toning Device
If toning and contouring is your #1 concern, I recommend this one—it's a little less expensive but still has all the microcurrent you need.
When I first heard of this product, I was pretty skeptical. Electricity? In my face? But once I watched a few videos, this one in particular, I wanted one immediately. NuFACE is described as a non-invasive approach to anti-aging that is both instant and achieved over time. Our face naturally loses current as we age, and this results in sagging skin, loss of firmness, and as we all know it, wrinkles. The NuFACE uses microcurrent that is similar to the current our body naturally produces to help rebuild it, resulting in a natural, easy way to reduce the appearance of wrinkles and fine lines, improve the contours of your skin (more on that in a minute!), and improve skin's tone and texture. 
I'll be the first to admit that if there's one gene my parents have graciously given me, it's tight skin that looks much younger than it is. What can I say, my mom is 50 and looks 35. But I came to NuFACE to help with lifting and toning my face, and it did the job flawlessly. After using Nuface for five days a week for a few months, the shape of my face basically changed. I have very little definition between my neck and jawline, and it's been a source of self-esteem issues for as long as I can remember. NuFACE works to lift and tone the bottom half of my face, giving my jawline and cheekbones more definition than I've ever had. It's basically a workout for your face, but the microcurrent goes deeper into the skin's layers to actually work those muscles underneath. If you deal with puffiness (especially on the lower portions of your face) or trouble with your facial definition, this ends up being a pretty inexpensive alternative to other, much more invasive procedures. And if it helps me push off wrinkles and fine lines a little bit longer, I'll take it!
6. Wants to turn good-hair-day into every day—and willing to splurge for it: Dyson Airwrap
Dyson
Airwrap™ Complete Styler – for Multiple Hair Types and Styles
If you thought Dyson had already outdone themselves with their original Internet-breaking blow dryer, think again, because this baby is one of the finest pieces of equipment I've ever laid my eyes on. Dyson created this product with all hair types in mind, so whether you're looking to go from straight-to-curly, curly-to-straight, frizzy-mess to bombshell-waves, flat-and-lackluster to volumized-goddess, or just bad hair day to good one, this product does it all. The Airwrap uses air styling without extreme heat to transform the hair, so you get your preferred style with less damage. It's also basically effortless to use because the air styler attracts the hair and wraps it up for you—say goodbye to burns and gloves whenever you want waves and curls!
We are very aware that a hair product shouldn't cost this much, but you can take a few things into account when thinking about this purchase. I love this product because it cuts down on your hair tools, meaning you can ditch the five curling irons, three straighteners, and two half-working blow-dryers in your bathroom cabinet once and for all. It includes six attachments: two for creating waves and curls, a brush to smooth and control frizz, a brush to create volume, a brush specifically designed to smooth fine hair, and a dryer. So if we do some quick math, you'll see that between purchasing multiple hair tools (anywhere from $100 to $250 a pop), blow-dry appointments ($50, plus tip), and always having a good hair day (priceless), it stacks up to be a pretty solid investment. And even that aside, if it's in your budget and makes you happy, we're all for it. 
This post is sponsored by Nordstrom, but all of the opinions within are those of The Everygirl editorial board.