If you too have fallen victim to the blazermania that's been here over the past few years, you probably have a closet overflowing with the beloved jackets in all the colors of the rainbow. But while you're vacuum sealing your fall and winter pieces to make room for your spring and summer ones, your blazers should be left out. Why? No matter what colors or style of blazer you own, there's a spring outfit that's begging to be styled with it.
Let us let you in on a little secret: With the help of dresses and skirts and far fewer cold-weather layers, we think a good blazer can have more moments in spring than any other season. And the best part? That means that you've got your transitional outerwear covered until it's warm enough for just a tee. These are six outfit formulas we're styling our blazers with ASAP. 
1. Belted with biker shorts
We're willing to bet you already have a belt and pair of biker shorts laying around—and if you don't: Keep scrolling. 
This styling is best suited for oversized, solid-colored blazers. Accentuate your waist with a statement belt, grab your favorite mid-size tote, and finish this look with a comfortable block heel. 
Beyond Yoga
High Waist Bike Shorts
2. With a slip dress
You know the spring days that are warm during the day, but then the temperature drops in a slightly disrespectful way later on? Styling a slip dresses with a blazer will make you the best-dressed and most well-prepared person out there.
While any blazer can work for this styling option, solid blazers (that are not quite oversized but slightly larger than fitted) will look best. Put the blazer all the way on or drape it over your shoulders for a glamorous, old-Hollywood look. Top your look off with some lace-up heels and thank us later!
Madewell
Plus Relaxed Blazer
Banana Republic
Cowl-Neck Slip Dress
Dia & Co
Midi Satin Slip Dress
3. With jeans
This is the low-hanging fruit that we're all about. For another cost-efficient option, grab your double-breasted blazers, or the ones that fit juuuuuust right when buttoned, and your favorite part of "sit-down" jeans—you know, the ones that don't suffocate your tummy when you take a seat—plus a pair of heels, sneakers, or mules. This look is classy, fashionable, and perfect for brunch or day out.
Good American
Scuba Blazer
Abercrombie
High Rise Straight Jeans
4. With a button-down dress
Is there any piece more quintessential for spring than a shirt dress? We say not. Style your blazer for early spring by layering it over a button-down dress, adding cute white socks, and stepping into platform loafers. Keep your phone and sunnies close by topping this look off with a small baguette bag. 
Pro tip: To keep this style from being too business and not casual enough, opt for an oversized blazer with a hemline that hits close to where the dress falls.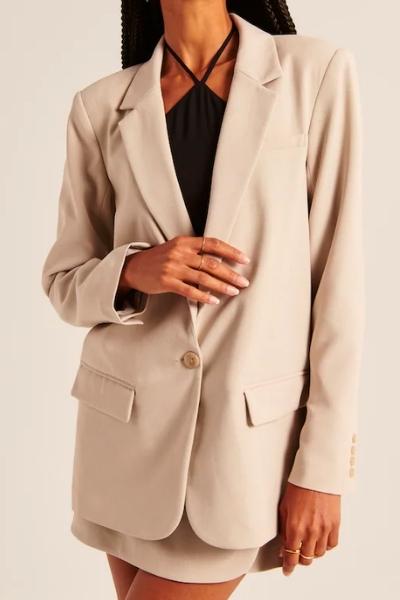 Abercrombie
Single-Breasted Blazer
Abercrombie
Relaxed Shirt Dress
ASOS
Textured Button Shirt
Sam Edelman
Platform Loafer
5. With leggings
This spring, take your neutral blazers and pair them with light leggings and a dainty bralette or a matching activewear set. Not only will it look perfectly casual-cool, but you can dress it up or down depending on if you finish it off with heels or sneakers.
SKIMS
Ribbed Thermal Leggings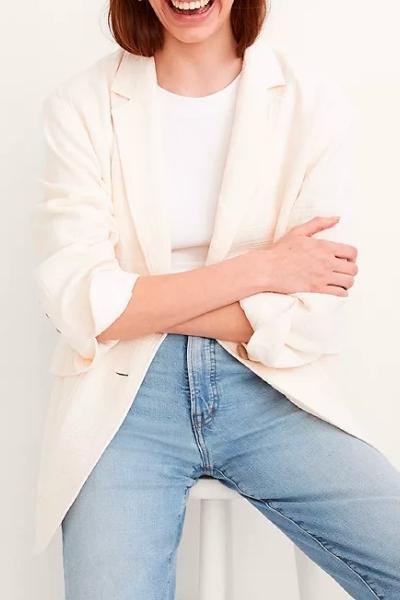 BTB Los Angeles
Straw Tote
6. With paper-bag shorts
For an "I woke up like this" look, try a simple bodysuit, paper-bag pants or shorts, and flatform sandals. With the classic base down, you can top it off and make it your own with the sunnies and jewelry you opt for. A neutral bag finishes it off seamlessly, but you can also pair it with a color that will make the whole look pop.
Abercrombie
Knit Baby Tee
Abercrombie
Single-Breasted Blazer
Abercombie
Tailored Shorts
Vagabond Shoemakers
Slingback Sandals