Biker shorts, big tee, sundress, tiny tank, denim shorts, rinse, repeat, rinse, repeat. By the end of the summer, your summer wardrobe may be feeling just a bit repetitive. I mean, with the sweltering weather, there are only so many outfit ideas we can think of, especially if the high temps seep into October. It's one thing to stay true to your style in the summer, but it's a whole other ballgame when you're trying to keep cool (literally) at the same time.
While summer isn't even close to being over, we'd be lying if we said our minds weren't starting to dream of fall. We're approaching the time of year where you think temps will be cooling down, but they're likely just getting even hotter—even if we'd ideally like to start transitioning to fall.
For those days that you're over the heat, but need a new and fresh outfit idea to motivate you to get dressed (hey, we get it), these six transitional outfit combos fit the bill—and will beat the heat.
1. Onesie + Crisp Button-Up + Athletic Shoes
If you've been on TikTok in the past few months, you know that onesies are all the rage right now—and they're a whole lot more flattering than you might think. Pair yours with a white button-up and sneakers for an effortless, cool look that's made for a hot day.
onesie | onesie (affordable option) | button-up | shoes
2. Tank + Denim Skort +  Sneakers + Crossbody Bag
For when pants just won't do, a skort is an easy option to throw on that'll catch eyes without needing a whole lot of work to style. This little denim number will look perfect with an easy tank and sneakers—especially for a hot August weekend day when you're out and about.
tank | tank (plus-size) | denim skort | denim skirt (plus-size) | sneakers | crossbody
3. Maxi Skirt + Baby Tee + Platforms
Maxi skirts have an essence that embodies fall dressing but are still as easy and breezy as a piece of clothing comes. Stay cool but get a little taste of fall by paring a maxi with a Y2K-inspired tee and platform sandals.
tee | tee (plus-size) | skirt | skirt (plus-size) | sandals
4. Linen Pants + Racerback Tank + Slide Sandals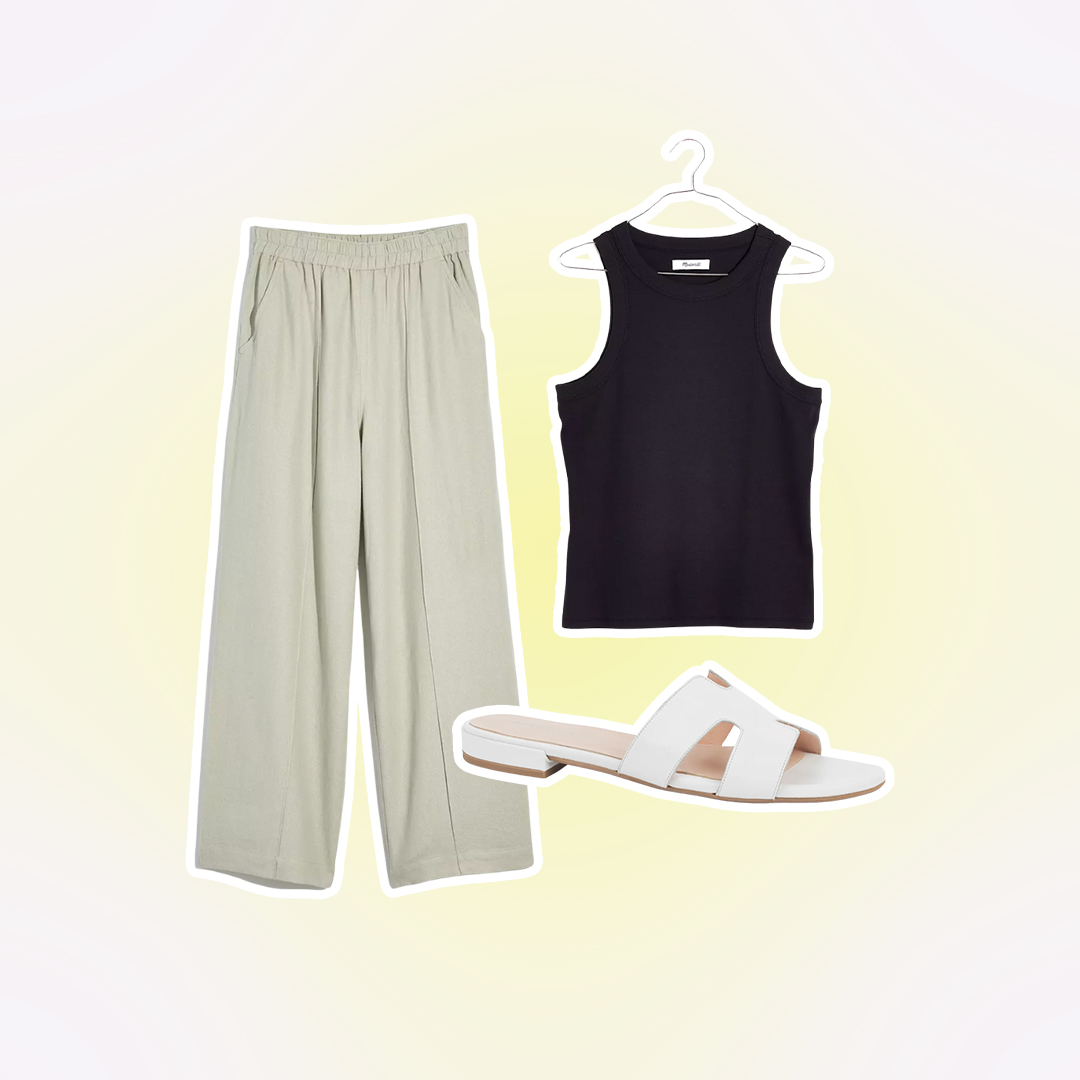 If you're opting for pants in the summer, they better be linen. They'll keep you just as cool as shorts but will manage to scratch your itch to start transitioning away from summer clothes at the same time.
tank | tank (plus-size) | pants | pants (plus-size) | slides
5. A Workout Dress + Jelly Sandals + Cool Shades
For days when it's really, really hot, a workout dress can be your best bet. They're made for activity (and therefore sweat), which means that they can stand up to those hot September days where you just can't figure out what to wear.
dress | sunnies | jelly shoes
6. Loose Jumpsuit + Birkenstocks + Hair Scarf
Some days, you just want as few clothes as humanely possible touching your skin, and that's where a loose jumpsuit comes in. With the relaxed fit, it'll let the breeze touch you and won't stick to your skin if the day turns out to include a little sweat.
jumpsuit | jumpsuit (plus-size) | sandals | triangle scarf