While wearing something brand-spankin' new can make you feel like a million bucks, there's a more budget-friendly alternative that's underrated as far as joy goes: making old, tried-and-true (and sometimes lackluster) pieces work in new ways.
An example? That grey sweater you've had sitting in your closet forever
Just because it's a basic doesn't mean it needs to look basic, and by pairing it in new ways that you ordinarily wouldn't, you can make it feel completely brand new (and different every time you wear it). Put your skinny jeans down and try wearing yours in these new and improved ways—we promise, you'll trick yourself into thinking you're wearing it for the first time.
1. Layered over a maxi dress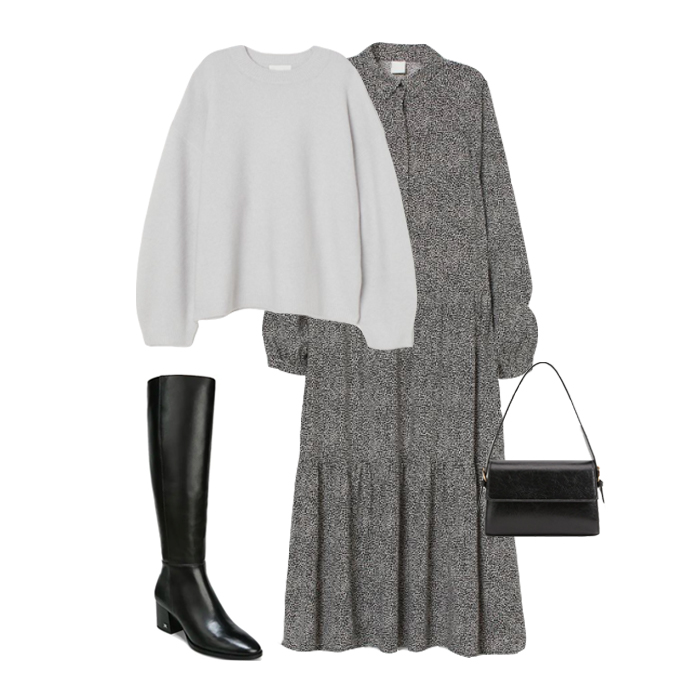 sweater / dress / boots / bag
2. With mom jeans and a shearling coat
jeans / coat / sweater / sneakers / bag
3. With a plaid skirt
sweater / skirt / boots / coat
4. With plaid pants and a shacket
pants / sweater / chelsea boots / shacket
5. With skinny jeans and statement boots
jeans / boots / sweater / coat 
6. With wide-leg jeans and a blazer
blazer / jeans / sweater / boots (currently 50% off!) / bag
GET THE LOOK