Over the past couple of years, the off-duty model look has taken over everyone's casual-day mood boards—and for good reason. The essence is exactly what it sounds like: looking like a model who's off duty for the day but somehow still looks like the pinnacle of fashion. They're the type of looks that might make someone on the street think you're someone important going incognito, and who doesn't want that?
While most of the celebrities that we covet are wearing head-to-toe designer on their off-time, the best of their casual looks can be replicated with basics that are a fraction of the price (or, when we're lucky, with pieces we already own). 
Grab your hair gel for that slicked-back bun and get your neutrals ready for the looks you're going to have on rotation until spring. Trust us, these off-duty model looks aren't going to disappoint.
1. The cozy-chic look
Who said bucket hats couldn't be chic? Definitely not former Victoria's Secret model Romee Strijd. Pair it with a shearling vest, a cream sweater, and some loose-fitting pants for an effortless but put-together look.
Umeepar
Faux Fur Bucket Hat
Multiple colors available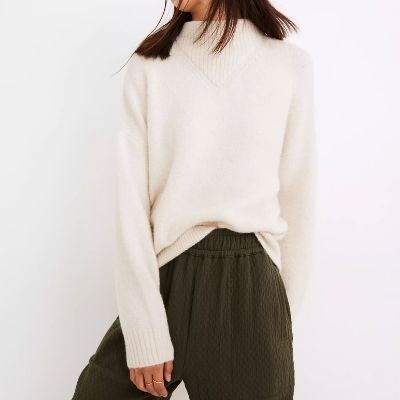 Madewell
Mockneck Pullover
6 colors available
Madewell
Reversible Puffer
Asos
Oversized Sherpa Vest
Madewell
Tapered Sweatpants
2 colors available
2. The matching sweatsuit look
No, we might not be wearing this on a private jet, but Lori Harvey shows exactly why matching sweatsuits are having such a moment. With sneakers, a slicked-back bun, and gold jewelry, it looks effortless, chic, and totally worthy of dating Michael B. Jordan.
Brunette the Label
Gray Hoodie
Brunette the Label
Gray Joggers
YIKOEE
Nylon Shoulder Bag
3. The look you already own
Ever have those dreary winter days where you open your closet full of clothes but can't find anything to wear? Try this combination: black straight-leg pants, a chunky sweater vest, your favorite classic black boots, and a long trench. Voila! Minimal effort but still super stylish.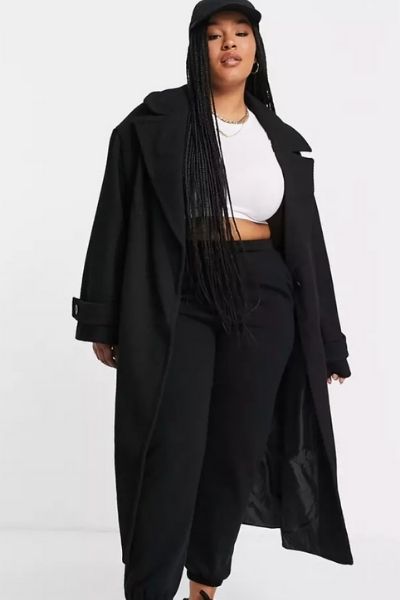 Asos
Oversized Twill Coat
Reiss
Oversize Wool Blend Coat
Missguided
Black Menswear Trousers
Nordstrom
Soft V-Neck Sweater
Steve Madden
Heeled Black Booties
4. The graphic tee look
A graphic tee always has a spot in our wardrobes, but a long-sleeve one? That's something we'll never say no to. With a pair of menswear-inspired trousers, it's a casual-cool look that you can turn to every time you leave the house.
Abercrombie & Fitch
Graphic Tee
Zara
Wideleg Menswear Pants
Missguided
Black Masculine Pants
5. The warm-but-chic look
Leave it to Hailey Bieber to put a spin on a classic that we absolutely need to add to our wardrobes: a red puffer coat. Perfect for brightening up the cold, grey days of winter, and for the chilly days of spring, too.
Per usual, Hailey's look is completed with the details: a slicked-back bun, gold hoops, and black sunglasses.
J.Crew
Bold Puffer
5 colors available
Abercrombie & Fitch
High Rise Mom Jeans
8 colors available
Dollger Store
Rectangle Sunnies
Multiple colors available
Madewell
Chunky Gold Hoops
6. The sweats-in-public look
Shay Mitchell has been on our list of #stylegoals for years now, and her showing us how to rock gray sweats in public just solidified her place on the list permanently. With sneakers, a puffer, and black sunglasses, she's giving "off-duty mom" a whole new meaning.
Brunette the Label
Gray Joggers
Quay Australia
Cat Eye Sunnies
2 colors available
Adidas
NMD Athletic Shoe
2 colors available