Feeling confident changes the way we carry ourselves, from our walk to our morning coffee to the meeting where we state our case for the raise we know we deserve and worked hard for. Having a set of workwear that we can rely on to not only make us look professional but also feel our very best is at the very core of our wardrobe staples.
That's why we've partnered with our bubbly of choice, La Marca Prosecco, to help you overcome challenges and feel confident in your career—from your outfit to speaking up for yourself and knowing your worth. La Marca Prosecco believes in celebrating the joy in everyday moments, including all the work that so many women go through to make their dreams come true. We are proud to partner with them to bring you advice on how to feel confident in your career. 
Step one in feeling like our best selves at work? Having a wardrobe that says who you are to your coworkers before you even say a word. These six pieces are timeless, versatile, and absolute staples in any woman's workwear arsenal. Grab a glass of La Marca Prosecco, take a seat, and join us in mastering the art of the work wardrobe.
1. A classic trench coat
trench coat | trench coat (plus-size) | sweater | sweater (plus-size) | trousers | trousers (plus-size) | heels
There's seldom a piece of clothing that looks good on absolutely everyone who puts it on, but a classic trench coat is one of the few that does.
A trench coat is the definition of timeless and is a piece you can consistently wear both to the office and on the weekend (hello, versatility!). They are also completely seasonless, meaning you can turn to yours during the chilly days of spring and the crisp, cool ones of fall. They've stood the test of time for decades, and having one in your wardrobe will make you feel like a sophisticated, working woman on every commute and office day you wear it to for years.
How to Style Your Trench Coat
trench coat | trench coat (plus-size) | hoops | sweater |  sweater (plus-size) | jeans |  jeans (plus-size) | loafers
If your office allows jeans (or if you're heading out to work from a coffee shop for the day), take advantage of the natural sophistication a trench coat brings to your look and wear it with a classic pair of straight jeans, a sweater, and loafers. The result is simple and minimalist but endlessly chic.
2. A versatile blazer
blazer | blazer (plus-size) | necklace | top | top (plus-size) | trousers | trousers (plus-size) | loafers
Sure, blazers have become one of the trendiest, most sought-after pieces of the past few years, but they earned a reputation as essential officewear first. Our blazer of choice? A classic plaid one.
A blazer is one of the most professional-feeling pieces of clothing you can buy, and it can easily dress up a pair of trousers and a tee or a simple dress that you want to feel a bit more professional. They'll never go out of style, and a bonus is that you can make it work for life outside the office too; just swap your work pants for a pair of distressed jeans and—ta da!—it's a piece that you'll consider a closet essential.
The perfect accessory? A glass of La Marca Prosecco, so you can celebrate all of the wins—both big and small—that you've had in your career this year (or even this week). We deserve to recognize all of our achievements, and when we do, it shows in our confidence both in and out of the workplace.
How to Style Your Blazer
blazer | blazer (plus-size) | necklace | tank | trousers | trousers (plus-size) | loafers
For a more traditional office setting, a classic black blazer with a pair of plaid trousers and loafers is a classic look that will always feel polished and professional. To hack layering, opt for a mock-neck tank underneath rather than a long-sleeve. Since it's under the blazer, nobody will know, and you'll avoid feeling restricted or hot.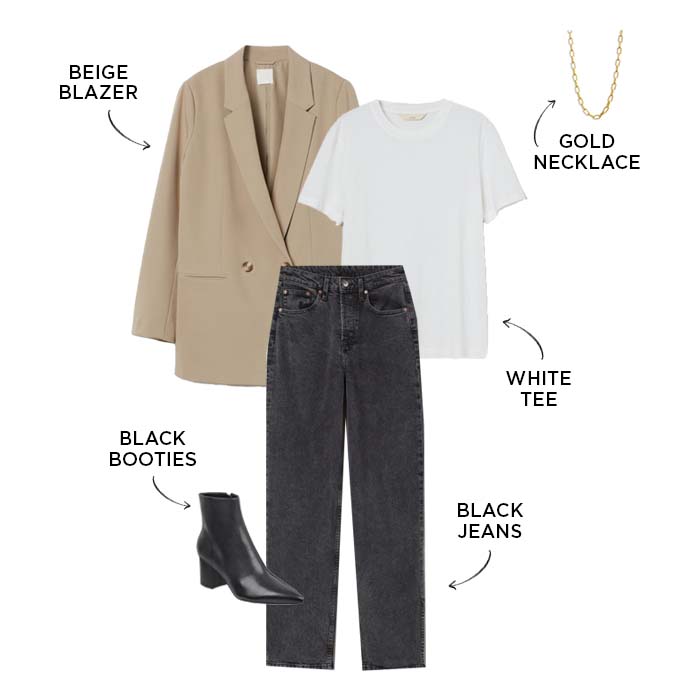 blazer | blazer (plus-size) necklace | tee | tee (plus-size) | jeans | jeans (plus-size) | boots
For a more casual office, opt for a cool-girl blazer look by pairing yours with jeans, a tee, and booties. It strikes the perfect balance between professional and effortless.
3. A carry-all bag
blouse | blouse (straight-size) | trousers | trousers (straight-size) | tote | loafers
Having a work bag is a rite of passage into the working world. Everyone needs a bag that can fit their laptop, blue-light glasses, a snack, their water bottle, four extra chargers, another snack, sunglasses, and a whole pile of receipts from last year at the bottom.
Choosing the bag that's going to be with you through every commute and carry everything you need day in and day out is a choice we don't take lightly—it's as close to having a fifth limb as we'll ever come. The necessities? Having a bag that's high quality, durable, and big enough for everything we need. 
On top of carrying all of our possessions we need to work, perhaps the most important thing to carry to the office is our confidence, each and every day. Instead of starting sentences with phrases like "I'm sorry" or adding a couple of more exclamation points to an email before hitting 'send' (we've all been there), know your worth and that nobody else brings what you uniquely bring to the table. 
1. | 2. | 3. | 4. | 5.
Choosing the right tote for you will dictate your work outfits for years to come, so consider what your priorities are before you pull the trigger. Do you want a pop of pattern, to order the new "it" bag (looking at you, Telfar), or to prioritize organization? Do you gravitate toward the classics or prefer a crossbody strap? No matter what you want, there's the perfect option for you out there that will be your new work best friend.
4. Trousers you can sit in all day long
top | top (plus-size) | necklace | belt | bag | trousers | trousers (plus-size) | flats
The issue that arises when going to the office is that you're likely sitting at your desk all day long—and you can't be doing that in a pair of pants you can't breathe in (or worse, that has a button digging into your stomach all day).
The great thing about work pants is that everything isn't always what meets the eye. You can get a pair of trousers that look like the definition of professional but feel like nothing more than the pajamas you usually change into the second you're through your door after work. In a softer material and stiffness-free fabric, a trouser will turn into your favorite workwear (that you might even forget to strip off when you get home at night).
How to Style Your Trousers
top | top (plus-size) | necklace | trousers | trousers (plus-size) | heels
For a traditional work environment, sometimes all it takes to elevate an office outfit is subtle detail on a classic piece, like pinstripes on trousers.
  top | top (plus-size) | trousers | trousers (plus-size) | bag | heels
Workwear doesn't have to be boring or void of self-expression (nor should it!). To style up your classic trousers, pair it with a statement top and heels that give a pop of color. It's office appropriate but still a look you'll want to be seen in.
5. A pair of comfortable heels
sweater | sweater (plus-size) | trousers | trousers (plus-size) | tote | heels
There's no denying the confidence a good pair of heels can give you, so we're opting for a pair that we know we can walk in, which means a good block heel. With support and a low-medium heel height, you'll get all of the benefits of wearing heels (read: feeling like a million bucks) without any of the pain. Add in a neutral color and you've got a perfect pair of shoes for your 9-5.
1. | 2. | 3. | 4. | 5.
Whether or not you're generally a heel wearer, there's no denying the confidence that can come with throwing a pair on. For a classic option, opt for a neutral that can pair with everything; for something a little more out of the box, choose a cap-toe slingback or a suede option that will add interest to your work looks.
6. An office-appropriate dress you love
dress | dress (straight-size) | hoops | tote | booties
We've said it once, and we'll keep saying it: When in doubt, a dress is always the answer.
The beauty of a dress lies in its effortlessness. With one piece of clothing, you're ready to head out the door and don't have to mess with tucking or finding a belt or swapping a shirt because it doesn't look quite right with your pants. And there are plenty of dresses that are perfect for the office. Case in point: this midi sweater dress.
Not only is this dress versatile, but it's also flattering in a way that will give it a permanent, once-a-week status in your workwear wardrobe. Swap out the shoes and jewelry and you've got a completely different look every time, and it's one you'll feel confident and comfortable in.
Another perk of a great work dress? It can take you straight to an after-work happy hour with your coworkers for the celebration (and break) you all deserve. Take the time to be with each other without bringing up that big meeting next week or the stressful project you have to work on first thing in the morning. Celebrate your team, yourself, and your collective work wins—and the way you're each essential to achieving them.
How to Style Your Dress
necklace | dress | dress (plus-size) | bag | heels 
Of all the work-appropriate dresses, a shirt dress will never fail you—especially if it's in a satin material, like this one. There are a million ways to wear it, and every one of them will leave you feeling productive and confident.
sweater dress | sweater dress (plus-size) | gold hoops | coat | coat (plus-size) | boots
La Marca Prosecco is an elegant sparkling wine grown in the heart of Italy's Prosecco region. La Marca Prosecco believes in celebrating the joy in everyday moments, including the tireless work that so many women go through to make their dreams come true. A focus on career empowerment has always been part of The Everygirl's mission, and our partnership with La Marca Prosecco has helped us take that mission into the real world with live and virtual events, small business grants, and more. Let's raise a glass to that!
This post was sponsored by La Marca Prosecco but all of the opinions within are those of The Everygirl Media Group editorial board.