I'll be the first to admit: Until this past year, I did not own a white T-shirt (I know, I genuinely have no idea what I used to wear). While I wasn't against the T-shirt-based outfits that every celeb or influencer has sported at one time or another, I just never felt like there was anything special about it. But once I finally gave in, I realized that was the point: There's nothing special about a white T-shirt. It's plain and it's simple—but that's the exact reason why it's such a staple.
Sure, you've probably already tried numerous combos, like pairing your tee with jeans and a leather bomber for that Hailey Bieber, LA, cool-girl aesthetic, but it's time to switch things up for warmer, sunnier days on the horizon. Ready to make use of your white tee this summer? We've got you covered with these six looks.
1. With tan trousers and sneakers
We've already established why we love trousers so much, and this outfit embodies why. Even with just a white tee and sneakers, it gives a little more oomph than an ordinary jeans-and-tee look does (and can even be made office-worthy with a switch of shoes).
Abercrombie & Fitch
'90s Relaxed Pants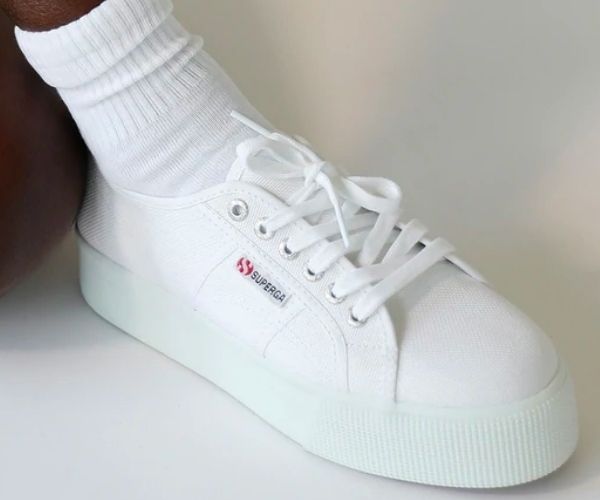 2. With a blazer and bike shorts
Just because it isn't cold anymore doesn't mean it's time to pack up all your blazers Take a summer twist on this wardrobe essential by pairing it with a white button-up and tee underneath—or just the tee if it's too hot. To give the look an extra sporty feel, show off some skin with black biker shorts, white crew socks, and a trendy baseball hat. 
Madewell
Oversized Blazer
Girlfriend Collective
High-Rise Biker Short
3. With a satin mini skirt
Warmer temps always call for rooftop brunch dates and patio happy-hour hangs. To be the best-dressed guest, wear your tee with a satin mini skirt (it's time to show off those legs!). If you're feeling bold, opt for some color! For the final touches, throw on some chunky boots and hang your leather bomber over your shoulders for an easy, sophisticated look.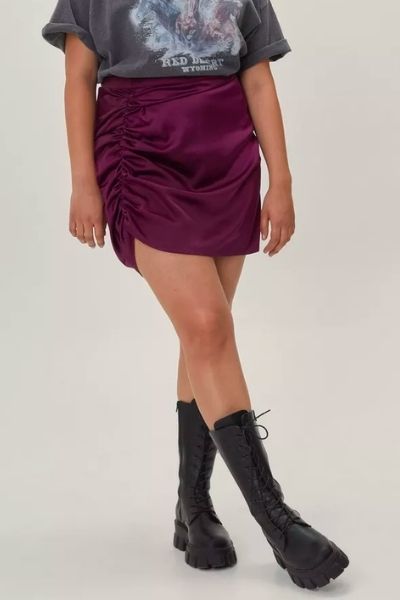 Nasty Gal
Satin Mini Skirt
4. With a white button-up and jeans
It's nice to have a basic, uniform look or two in your arsenal, and this look is exactly that. Whether you're running errands or need something quick to throw on last minute, this button-up, white tee, and jeans combo will never fail you.
Madewell
Ex-Boyfriend Button Up
Old Navy
Long-Sleeve Button Up
& Other Stories
Wide-Leg Jeans
5. With denim shorts and a red lip
For those days where the temps are sweltering (which, at this point, we can only dream of), pair your tee with your favorite pair of denim shorts, but to cool it up a bit, finish it off with a bright, orange-y red lip. The lipstick will automatically take the entire ensemble from basic to model-off-duty.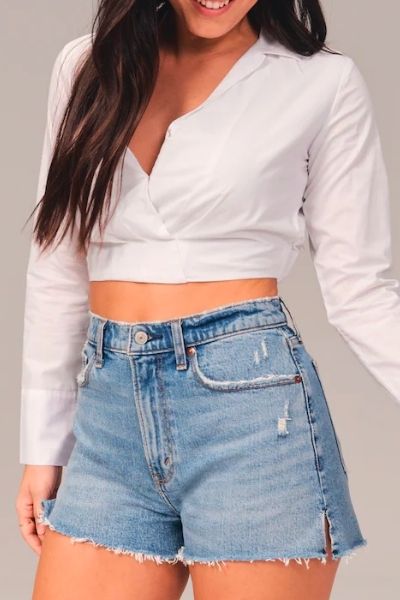 Abercrombie & Fitch
Curve Love Shorts
6. With a midi skirt and sneakers
Rather than pairing your white tee with denim, opt for a classic midi skirt. This easy look will take seconds to put together, but its simplicity will emulate that French-girl aesthetic we're always chasing.
Old Navy
Floral-Print Tiered Skirt
Hoka One One
One One Running Shoe
Our Favorite White Tees
Wild Fable
Cropped White Tee
Old Navy
Short Sleeved Cropped Tee
Athleta
Organic Daily Crew
H&M
Oversized White T-Shirt
Madewell
Northside Vintage Tee