It's a rule of life: Just like the sun will come up again tomorrow and Pete Davidson will be dating another new A-list celeb next month, trends are something that follow the seasons—and that goes for winter trends too.
Winter trends aren't talked about like fall and spring trends are, but just like the seasons that get more fashion attention, winter trends come and go each year. Coats, boots, sweaters—all of them have classic options that we'll love for the foreseeable future but also have new, updated versions that make dressing for winter more fun than any black parka could ever feel.
Ready to upgrade your winter wardrobe and avoid that January clothing slump? Here are easy swaps to make with your go-to pieces to try something new this winter.
Instead of: Crewneck sweatshirts
Try: Hoodies
We went through a long phase of crewneck sweatshirts being the premiere form of loungewear, but hoodies have made their way back onto the top of our sweats piles and are officially our most-worn piece of winter 2021 so far.
Instead of basic crewneck sweatshirts, ones with hoodies of all forms are taking their place. The best part? They look super chic underneath a wool coat.
H&M
Basic Hoodie
5 colors available
Zella Plus
Cara Hoodie
3 colors available
Alo Yoga
Accolade Hoodie
2 colors available
Abercrombie & Fitch
Boyfriend Hoodie
5 colors available
Instead of: Saving skirts and dresses for summer
Try: Dresses and skirts with tights and boots
There was a time when tights were reserved for 2-year-olds and those of us who had to dress business casual to an office, but tights are officially back, and they're making all of our skirts and dresses wearable in the cold months.
Wear your go-to skirts and dresses with a pair of tights and your favorite boots and throw on a coat, and you have a look that's perfect for the holiday season. If you're feeling a bit extra, opt for a pair of tights with a subtle, fun pattern.
ELOQUII
Opaque Tights
4 colors available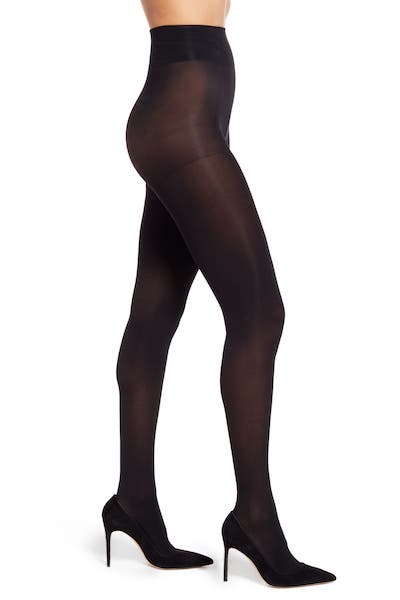 Instead of: Plain puffers
Try: Puffers in bright colors, fun materials, and bold prints
Anyone who lives in a colder climate is tied to their puffer coat for the better part of the year, which means that their outermost layer is always going to be dictated by whichever one you opt for. And in 2021? We're making an easy swap by trying out a colorful, out-of-the-box puffer.
From bright colors to fur and corduroy materials to oversized fits, your puffer coat should spark joy every time you put it on—and this winter is the time we're making it happen.
ELOQUII
Faux Leather Puffer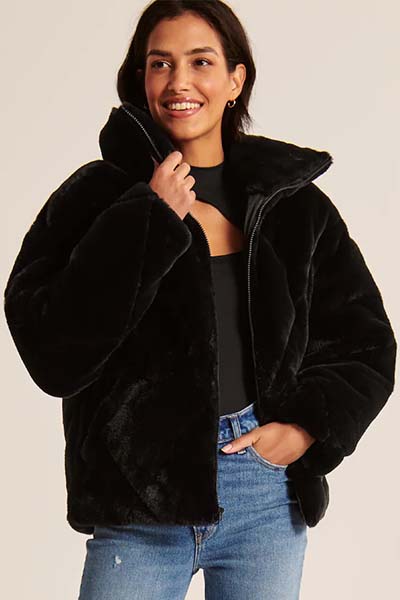 Abercrombie & Fitch
Faux Fur Puffer
8 colors available
Levi's
Puffer Jacket
3 colors available
J.Crew
Floral Puffer Jacket
Instead of: Classic leggings
Try: Flared leggings (read: yoga pants)
Those of us who went to high school in the late aughts all probably had a few heart palpitations when we saw that "flared leggings" (yes, yoga pants) were back this winter, but since the initial shock has subsided, we're ready to give our old friends a spot in our closets again.
Don't think of flared leggings as you wore them with your Ugg slippers and hoodies for class back in the day. Now, they are free of the fold-over waist (that probably said PINK on it in bedazzled letters) and are a thinner, more legging-like material. It turns out that they can feel more flattering than our classic leggings and are a nice change for our loungewear looks.
Abercrombie & Fitch
Split-Hem Flare Ponte Leggings
Old Navy
Extra High Waisted Boot Cut Pants
2 colors available
Gap
High Rise Flare Legging
2 colors available
Aerie
High Waisted Flare Legging
Instead of: Faux-leather leggings
Try: Faux-leather pants
Our beloved faux-leather leggings will always have a spot in our closets, but in 2021, we're trying something a bit bolder in the form of faux-leather pants.
Since we're talking about faux leather here, the pant options are much more comfortable than you'd assume (with quite a bit of give) and are perfect for pairing with basic sweaters and coats you'd normally wear in the winter.
Abercrombie & Fitch
Vegan Leather Dad Pants
2 colors available
ELOQUII
Faux Leather Pants
2 colors available
Open Edit
Tapered Faux Leather Pants
Open Edit Plus
Tapered Faux Leather Pants
Instead of: Long cardigans
Try: Cropped cardigans
There's really no sweater we'd ever write off completely, but we're giving our long cardigans a little break this winter in exchange for their shorter counterparts. With anything from jeans to leggings, they have a trendier effect that gives an outfit a bit more fun than a long cardigan does.
BP.
Cropped Cardigan
3 colors available
Madewell
Waller Crop Cardigan
2 colors available
J.Crew
Cable-Knit Cardigan
2 colors available
Madewell
Cable-Knit Mockneck Cardigan
3 colors available
Instead of: Layered necklaces
Try: Bracelets
No, we're not saying you should pack up your layered necklaces, but we are urging you to try a new way of accessorizing in the form of the most overlooked piece of jewelry: bracelets.
Bracelets are seldom talked about, but with the incredible ones that have been released in 2021, they're an opportunity to accessorize in a whole new way.
Madewell
Chunky Rolo Chain Bracelet
Adina's Jewels
Color Tennis & Link Bracelet
3 colors available
OMA The Label
Keylin Chain Bracelet
OMA The Label
The Lola Bangle