You know the kind of woman we're talking about. She's never late for brunch reservations. She has a signature scent. She owns and actually uses a planner. She's who we all aspire to be: the put-together woman who just doesn't seem to need to try that hard. And the reason she doesn't need to try hard? A good arsenal of closet staples.
At some point, said woman has probably slept through a Zoom call or tripped in public like the rest of us. But the reason we think she has her life together is because she looks like she does. Haven't we all assumed anyone wearing a beret must also meditate in the morning and follow a six-step skincare routine? By building a wardrobe of everyday basics, you too can pretend to have it all figured out. Yes, we're all pretending (even her).
1. Tailored trousers
Try putting on a pair of well-tailored trousers without feeling extremely put together. Impossible, isn't it? Make it pinstriped or go for the classic camel—all styles of trousers are must-haves in our book. It's time to channel your inner Shiv Roy and be a hashtag boss lady.
& Other Stories
Tekla Trousers
ELOQUII
Fitted Ankle Pant
10+ colors available
ALICE + OLIVIA
Wide-Leg Trousers
ELOQUII
Wide-Leg Trousers
2. Loafers
Look inside any fashionable woman's closet and you're guaranteed to find at least one pair of loafers. They're the versatile shoe that instantly elevates any outfit. Try styling them with a maxi dress, a shacket and jeans, or a blazer and stirrup leggings.
Gucci
Princetown Loafer
2 colors available
Sam Edelman
Lior Loafer
10+ colors available
Tory Burch
Jessa Loafer
2 colors available
Sam Edelman
Laurs Platform Loafer
2 colors available
3. A black turtleneck
It's the closet staple that's overtaken our closets. It's a universal truth: You can't just own one black turtleneck. The chunky knit, the fitted classic, the slouchy mock neck—yeah, we need them all.
Michael Starts
Ribbed Turtle Neck
3 colors available
Polo Ralph Lauren
Turtle Neck Cashmere Sweater
ELOQUII
Layering Turtleneck
3 colors available
J.Crew
Basic Turtleneck
10+ colors available
4. Classic denim
Looking put together doesn't require a suit or heels. In fact, the most polished outfits can be the easiest to assemble. Just like foundation builds a flawless base for your makeup, denim silhouettes create a canvas for any and every look. So what will it be? Bootcut, wide-leg, high-rise, or (whispers quietly) skinny jeans?
AGOLDE
Straight-Leg Jeans
Madewell
Straight-Leg Jeans
Abercrombie & Fitch
Ultra High-Rise Jeans
10+ colors available
5. A white button-down
The ever-casual, always effortless button-down belongs in everyone's closet. Try it on its own with jeans, under a sweater or sleeveless dress, or with a satin skirt.
J.Crew
Cotton Button-Down
Thread & Supply
Oversized Poplin Top
2 colors available
FOXCROFT
Button-Up Tunic
10+ colors available
6. A statement coat
Maybe it's a trench or an oversized blazer, but ask any fashion girl and she'll tell you about the coat that never fails to complete her OOTD. Sure, you could be wearing sweats underneath, but with a wool coat on top, you'll look like you're ready for anything.
Open Edit
Faux Leather Puffer Coat
Abercrombie & Fitch
Short Wool-Blend Coat
4 colors available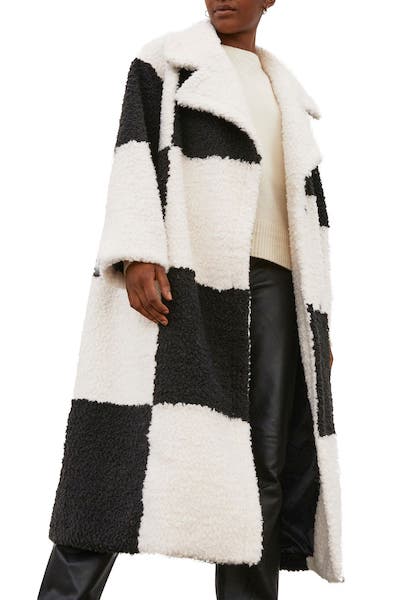 River Island
Colorblock Shearling Coat
7. A sweater dress
There's a reason why a good sweater dress isn't a nice-to-have but an essential. It's a one-and-done piece that feels comfy, looks chic, and requires less than five minutes of effort.
REISS
Turtleneck Sweater Dress
H&M
Cable-Knit Sweater Dress
J.Crew
Sweater Dress
3 colors available
Treasure & Bond
Midi Sweater Dress
4 colors available
8. Knee-high boots
Kick it into high gear with the shoe of the season. Not only are knee-high boots a 2022 trend, but they're also a here-to-stay trend. Invest in a pair now and thank us later.
Nine West
Knee-High Boot
4 colors available
Madewell
Francie Tall Boot
2 colors available
Vince
Leather Knee-High Boot
2 colors available
Marc Fisher
Knee-High Suede Boot
2 colors available