Reviews and recommendations are unbiased and products are independently selected. Postmedia may earn an affiliate commission from purchases made through links on this page.
It's the last long weekend of the summer holidays – in a few days, many kids will be heading back to bricks-and-mortar classrooms to pick up the pieces after several years of virtual learning.
We apologize, but this video has failed to load.
Try refreshing your browser, or
tap here to see other videos from our team.
Back-to-school fuel means starting the day off right with a good breakfast
Back to video
During the pandemic, when everyone was working and studying from home, we suspect things were mighty chaotic, and for many, the lines between breakfast, lunch and dinner became blurred.
Now, we're getting back into a solid regiment, and you just know breakfast will be on everyone's minds, if not their stomachs.
Discussions continue to this day if breakfast is the most important meal of the day or not. That said, when it comes to kids, it's a given they shouldn't be sent on their way without something nourishing and sustaining in their systems.
RECOMMENDED VIDEO
We're talking foods that are full of nutrition and goodness to get you going.
The following recipes are delicious, nutritious, and are perfect as grab-and-go ideas if you're running a little late in the morning. Great for students settling into university or college campuses, and those returning to traditional office environments, too!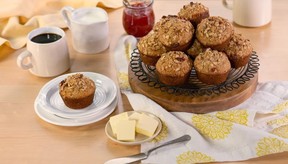 Cinnamon Oat and Bran Muffins
When your morning is rushed, reached for a healthy and delicious bran muffin! Makes 12 muffins. Recipe courtesy bakegood.ca.
2 cups all-purpose flour
1 cup old-fashioned oats
1 cup wheat bran
3/4 cup brown sugar
1 Tbsp. baking powder
1 tsp. ground cinnamon
1/4 teaspoon salt
1 cup milk
1/2 cup corn oil
1/4 cup golden syrup (Beehive or Crown suggested)
2 eggs
Preheat oven to 400°F. Spray 12-cup muffin pan with cooking spray or line with paper baking cups.
Combine flour, oats, bran, brown sugar, baking powder, cinnamon and salt in a large mixing bowl. Whisk together milk, oil, corn syrup and eggs in a separate bowl. Add to flour mixture and stir just until flour is moistened.
Divide batter evenly into prepared muffin cups. Bake 15 to 18 minutes or until a deep golden brown and toothpick inserted in centre comes out clean. Transfer muffins to a wire rack to cool. Serve warm or store in air tight container.
Recipe Tip: To garnish, sprinkle tops of muffin batter with additional rolled oats and brown sugar prior to baking. Try adding 1/2 cup nuts or raisins – or both – for variety.
RECOMMENDED VIDEO

Foodtruck Breakfast Waffle
The "truck" is in the kitchen! These grab-and-go breakfasts are truly Canadian, combining eggs, bacon, maple syrup and waffles. Recipe courtesy getcracking.ca.
Waffle Topping
Cooking spray
8 round frozen waffles (about 4-in. wide)
4 eggs
Freshly ground pepper, to taste
8 slices tomato
8 bacon slices, cooked and halved
1/2 cup sharp Cheddar cheese, grated
Mixed baby salad greens
Maple-Mustard Mayo
2 Tbsp. regular or low-fat mayonnaise
1 Tbsp. maple syrup
2 tsp. Dijon mustard (regular or coarse grain)
Preheat oven to 400°F. Generously coat large baking sheet with cooking spray and place waffles in single layer.
In glass measuring cup, whisk together eggs and pepper; pour evenly over each waffle, spreading to fill cavities. Bake for about 15 minutes or until egg is set and waffles are crisp.
Maple-Mustard Mayo: Meanwhile, in small bowl, combine mayonnaise, maple syrup and mustard; set aside.
To Assemble: Top 4 waffles evenly with tomato, bacon and cheese. Return to oven until cheese melts, about 1 minute. Top cheese with salad greens and drizzle with maple-mustard mayo. Top with remaining 4 waffles, egg side down. Serve immediately with additional maple-mustard mayo, if desired.
TIPS:
– Substitute bacon with ham, cooked peameal or back bacon. Pre-made bacon makes it extra fast and easy to prepare.
– Substitute cheddar cheese with your favourite cheese.
– Use home-made waffles for an extra special touch; make ahead of time and freeze for the recipe.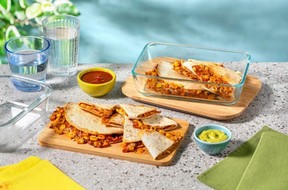 Kids Easy Cheesy Quesadillas with Guacamole and Salsa
Who doesn't love flavourful quesadillas for breakfast! This recipe is easy to assemble and on the table in no time. Recipe courtesy HelloFresh.ca.
6 flour tortillas
1/2 cup Cheddar cheese
1 cup Monterey Jack Cheese, shredded
1/2 cup prepared tomato salsa
1/2 cup canned corn*
3 Tbsp. prepared guacamole
Oil
Prepare a parchment-lined baking sheet. Drizzle 2 tsp. oil over parchment. Arrange tortillas on the baking sheet in a single layer. Spread 1 Tbsp. salsa evenly over one side of each tortilla. Sprinkle cheeses and corn over salsa. Fold tortillas in half to enclose filling.
Preheat oven to 350°F. Place tortillas on a baking sheet and drizzle about 2 tsp. oil over them. Place another baking  sheet over quesadillas. Bake in bottom of oven until cheese melts, about 6-8 minutes. Remove top baking sheet, then continue to bake until tortillas are crisp, additional 6-8 minutes. Cut quesadillas into wedges. Serve quesadillas with guacamole and remaining salsa on the side for dipping.
*Corn: Drain, then rinse corn. Heat a large non-stick pan over medium-high heat. When hot, add half of corn and 1 Tbsp. water to dry pan. Cover and cook, stirring once halfway through, until corn is charred or dark golden-brown, 2-4 min. Use when assembling quesadillas.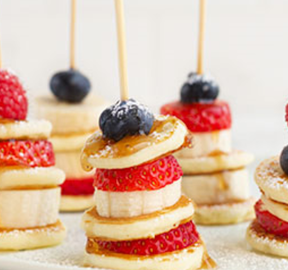 Gluten-free Pancake Kabobs
Presentation will please even the pickiest eaters of these delightful kabobs. Recipe courtesy bakegood.ca.
For Pancakes:
1-1/2 cups corn starch (Fleischmann's suggested)
2 Tbsp. sugar
1 Tbsp. baking powder
1/4 tsp. salt
2 eggs
1/3 cup butter OR margarine, melted
1 cup buttermilk
1/2 tsps. pure vanilla extract
For Skewers:
1 cup fresh strawberries, washed, halved
1/2 cup blueberries, washed
1/2 cup raspberries, washed
1 banana, peeled and thinly sliced
12 each skewers, lollipop sticks
Pure maple syrup, optional
Pancakes: Stir all ingredients together and let sit for 10-15 minutes. Lightly grease a griddle or skillet with cooking spray. Heat over medium-high heat until hot.
The easiest way to get mini-pancakes is to fill batter into a squeeze bottle with a narrow spout. Squeeze out pancake batter so they are about the 1-inch in diameter. If you don't have a squeeze bottle, you can drop pancake batter on with a small spoon. Form about 8-10 pancakes at a time, so you give yourself enough time to be able to flip  pancakes over before they burn.
To assemble: Thread pancakes and fruit together in uniform fashion, as shown on photo. Serve with maple syrup on side.