Plenty of diners these days have a keener eye for sourcing – they care about where restaurant ingredients and menu items come from and who's behind them. It's why you might gravitate toward a pasta dish that uses heirloom tomatoes from a nearby farm or spring for Bluepoint oysters.
But it goes beyond food, too. Beverage directors, bartenders and sommeliers spend their careers sourcing beer, wine, spirits and cocktail ingredients to create drink menus that wow guests. For them, a big part of the job is meeting the makers, tasting the product and hearing their stories.
For Tia Barrett, the operations manager and beverage director at Esmé in Chicago, one such conversation changed her perspective – and the way she sources spirits – forever. Barrett was meeting with Fawn Weaver, the CEO of Uncle Nearest Premium Whiskey, when she first learned about the remarkable story behind the brand: Founded in 2017, the company is named for formerly enslaved distiller Nathan 'Nearest' Green, the man who taught Jack Daniels how to make whiskey.
Though the story is now widely known, it sent shockwaves through the industry when Uncle Nearest first debuted. Founded by Grant Sidney Inc., a private investment company owned by Weaver, Uncle Nearest is arguably one of the biggest success stories of a Black-owned spirit. With Weaver's perseverance, it's also available in all 50 states and several countries, including the UK and South Africa.
But not all Black-owned brands have the luxury of a multi-million dollar marketing budget and an expansive platform to get the word out about their products. That's where beverage professionals like Barrett come in.
'I realized that there's an enormous market of people who don't get represented,' she says. '[At Esmé], I now have the opportunity to take on this beverage program and commit 75 percent of my ethos to giving back with some sort of philanthropy and supporting people of color and women, people who just don't have a platform.'
Barrett has made good on her promise by featuring wines, spirits and craft beers by BlPOC-owned producers. On the wine front, there's the Iris rosé from Michael Lavelle Wines, which is owned by some of the youngest Black negociants in the world, as well as La Fête du Rosé, the first Black-owned rosé out of Saint-Tropez. When it comes to beer, Barrett is particularly proud of the session IPA from Moor's Brewing Co., a label that launched on Juneteenth this year in Chicago. The brewery's owners, Jamhal Johnson and Damon Patton, bootstrapped their suds with help from fellow Black-owned business 18th Street Brewery and a local Black-owned distributor.
We need to be in those grandiose rooms as well as in our community's [destinations], too.
Johnson explains that the significance of the beer's name is meant to instill pride in the African-American community during a period of civil unrest. It's also a reminder that the Moors were great leaders during the Middle Ages. Gracing every can is a bust of the Moorish King Caspar.
'We need something to remind the community that we are strong, we are leaders and there was a time when we ruled the world,' Johnson says. 'It's a great conversation starter.'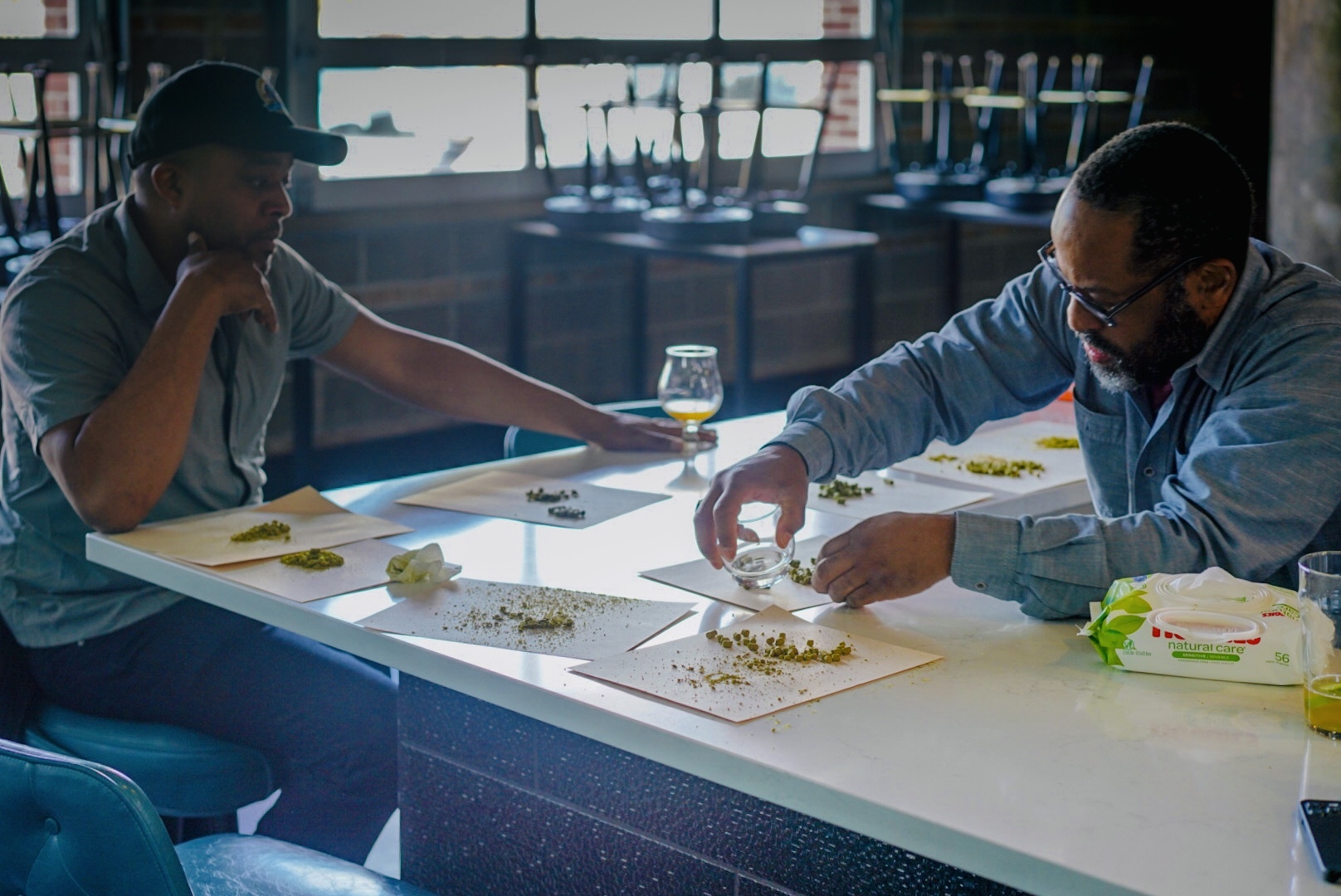 Since its debut, Moor's has placed its beer in more than 80 restaurants, bars and retail stores, including the Four Seasons hotel in Chicago as well as several Michelin-starred restaurants.
'We need to be in those grandiose rooms as well as in our community's [destinations], too,' Patton explains.
Restaurateur Kevin Kelley – who divides his time and business between Chicago and Dallas – is another hospitality pro who's made a commitment to reserve a portion of his menu (one-third, to be exact) to premium Black-owned beverages. With three restaurants, including two Kitchen + Kocktail locations, in his portfolio, he wields plenty of influence and space to host BIPOC-owned spirits.
'The brands that we put on our menu are really the strongest brands in the game,' he says. 'You're going to see the Johnnie Walker Blue Label, you're going to see Louis XIII, but for us, it's also important that we represent the culture and that we give opportunities to minority-owned brands as well.'
The list includes highly celebrated products such as rapper 50 Cent's Branson cognac, Jay-Z's D'Ussé VSOP cognac, wines from the McBride Sisters as well as Dallas-based vodka label SweetBeat, created by Kelley's childhood friend Henry L. Masters Jr.
'We have to have the brands that are minority-owned because if I, myself, as a Black entrepreneur won't carry their brands, why would I expect a white[-owned] restaurant to carry them?' he says. 'So, I've got an obligation to those brands, entrepreneurs, and to the community as well.'
But awareness for Black-powered businesses doesn't rest solely on restaurant owners and beverage directors. Ashlee Tuck, the editor-in-chief of boozy travel hub Will Drink For Travel, created the first-ever guide to 150 Black-owned spirits last year following the murder of George Floyd at the hands of Minneapolis police officers.
Tuck explains she wanted to do her part by uplifting the global Black community and found purpose in amplifying brands with her platform. The interactive mapped list ranges from Black Momma Vodka, which is made with Cascade Mountain Spring Water in Oregon, to Mayine Premium, the first Black-owned gin in Africa that comes infused with grapes or rooibos tea.
'I wanted to use my platform to get these brands the exposure they deserved,' says the Baltimore-based beverage expert about the regularly updated list. 'I was already drinking Uncle Nearest, the biggest Black-owned whiskey in the United States. I wanted to expand upon that idea and make my resources the most encompassing so that people who are searching for this information would know exactly where to go and what's available to them.'
That notion of Black consumers only looking for one or two different types of tastes in a product is being dispelled.
Tuck's list of Black-owned brands can serve as an important resource for restaurant industry leaders like Mitchell McCraw, the general manager at The Gathering Spot in Washington, D.C. He's charged with curating the beverage menu at the influential, member-only venue, and he's always on the lookout for premium new products to spotlight.
'Part of what we're about is building community and finding those people of color who have not had the advantages that some other people have had,' McCraw explains. 'Any opportunity that we get to bring Black-owned businesses into our fold, we want to take advantage of them.'
The founders of Michael Lavelle Wines and La Fête du Rosé are members of The Gathering Spot, so it was easy to onboard their vinos, says McCraw. To generate excitement for these brands and others, the establishment, as well as the original location in Atlanta, hosts events for up to 250 guests. With the discerning tastes of members at The Gathering Spot, such wines are an easy sell, plus they also squash stereotypes about Black wine and spirit consumers.
'That notion of Black consumers only looking for one or two different types of tastes in a product is being dispelled,' he says. 'We are getting more and more educated. We have more options, and as we do, we are requesting more and more product, and thankfully we are getting those products from other Black businesses.'
That empowering sentiment helps supercharge rising talent like Nichole Johnson and her company, Rusty Rabbit. The brand's first release? Lapin Rouillé Champagne, a traditional bubbly that's bursting with notes of juicy red berries. The bottle is already available in 44 states and in select locations across the UK, including Red Carnation hotels and Soho House locations.
'It's important to be a Black-owned brand in this day and age because it's advantageous for us to be in the rooms where product is actually made, developed and placed into the market,' explains Johnson, an alum of HBCU Florida A&M University. 'We also have great insight into what we want as a people and should be able to advocate on our behalf. We like luxury, class and sophistication as much as the next person. Why would we not cater to us?'
Cheers to that.