Reviews and recommendations are unbiased and products are independently selected. Postmedia may earn an affiliate commission from purchases made through links on this page.
Our cookbook of the week is Peak Season by Deirdre Buryk. Over the next three days, we'll feature more recipes from the book and an interview with the author.
We apologize, but this video has failed to load.
Try refreshing your browser, or
tap here to see other videos from our team.
Cook this: Apricot BBQ sticky ribs from Peak Season
Back to video
To try another recipe from the book, check out: Curly corn ribs with fresh zhoug and shishito peppers; and Dutch baby with stewed rosemary blueberries.
Apricots just might be Ontario's most underrated fruit, according to Toronto recipe developer, food writer and nutritionist Deirdre Buryk.
"Let's give the apricot some glory," says Buryk, laughing. The summer stone fruit has taken a backseat to the peach for too long, she adds. It's time for people to pay the underrated apricot more attention.
Buryk appreciates the apricot's delicate skin and small size — perfect for slicing on a piece of toast for a snack. "And I also find because they haven't had as much attention, they're not bred to be a specific way," she says.
Squarely in the peach's shadow, the tart, golden-orange fruit isn't bred for shape, size and transport in the same way, Buryk suggests. "Their characteristic is flavour, and we haven't lost that flavour."
In Peak Season, Buryk spotlights the summer Ontario apricot in both sweet and savoury contexts: a ricotta crostata and these smoky grilled ribs.
The apricot naturally lends itself to sweet dishes, she says. But its sweet tang also complements the "umami robustness" of beef back ribs. "They pair so well, and you get the taste of summer in your ribs."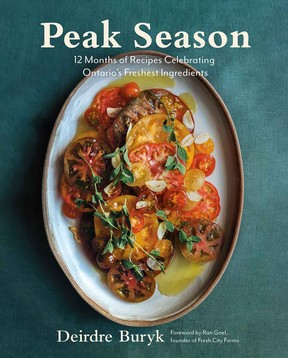 APRICOT BBQ STICKY RIBS
4 lb (1.8 kg) beef back ribs
Kosher salt, to season
Sticky Apricot BBQ Sauce:
4 ripe apricots, stoned and roughly chopped
1/2 cup (125 mL) extra virgin olive oil
1/4 cup (60 mL) canola oil
2 cloves garlic, minced
1/4 cup (60 mL) honey
3 tbsp Dijon mustard
3 tbsp balsamic vinegar
1/2 tsp kosher salt
Freshly cracked black pepper, to season
Step 1
Season the ribs with salt and place evenly across a shallow baking dish.
Step 2
Place the apricots, olive and canola oils, garlic, honey, mustard, balsamic vinegar, salt and pepper into a blender and blend on high until a smooth sauce has formed. Pour the sauce over the ribs in the baking dish. Cover the dish and marinate the ribs for 6 to 24 hours in the refrigerator.
Step 3
Preheat a well-oiled grill to 250ºF (120ºC). Wipe excess marinade off the ribs. Close the grill and cook the ribs for 1 hour and 20 minutes, flipping every 20 minutes (and with an internal temperature of 160ºF/71ºC; see Note). Transfer the ribs to a cutting board, tent with foil, and let rest for 5 minutes before serving.
Serves: 6
Note: The only accurate way to check when your ribs are done is checking their internal temperature with an instant-read thermometer. Ribs are safe to eat at any point after 160ºF (71ºC) but will be fall-off- the-bone at 190ºF (88ºC).
Recipe and image excerpted from Peak Season by Deirdre Buryk. Copyright © 2022 Deirdre Buryk. Photography © 2021 Janette Downie. Published by Appetite by Random House, a division of Penguin Random House Canada Limited. Reproduced by arrangement with the Publisher. All rights reserved.