Reviews and recommendations are unbiased and products are independently selected. Postmedia may earn an affiliate commission from purchases made through links on this page.
Our cookbook of the week is Peak Season by Deirdre Buryk. Over the next two days, we'll feature another recipe from the book and an interview with the author.
We apologize, but this video has failed to load.
Try refreshing your browser, or
tap here to see other videos from our team.
Cook this: Curly corn ribs with zhoug and shishito peppers from Peak Season
Back to video
To try another recipe from the book, check out: Apricot BBQ sticky ribs and Dutch baby with stewed rosemary blueberries.
Corn ribs hit TikTok in a big way in 2021, with 31.3 million views to date. But as it turns out, the viral snack originated in restaurants — not on social media.
Chef Max Ng of Momofuku Ssam Bar has been credited with inventing corn ribs, which the New York restaurant called "fried curly corn-on-the-cob" in a 2017 social media post. The dish consisted of deep-fried corn ribs, squid ink aioli, whipped ricotta and olive oil.
Hai Hai Ramen in Austin, Texas has also laid claim to the dish, Eater reports. They've been serving their sweet corn — corn ribs with miso-butter — since 2016.
Whatever their origins, the TikTok trend has taken corn ribs from restaurants to home kitchens.
In this version, Toronto recipe developer, food writer and nutritionist Deirdre Buryk marinates corn cobs with minced garlic before cutting them lengthwise into quarters and deep-frying.
"It's a different way of eating ribs. I find my entire life has been either boiled or barbecued ribs. And this is a fun way to change it up a little bit," says Buryk.
"They start to create these cool shapes, too. And they get this really nice crispiness on the outside, and then the inside bursts with the sweetness of that corn flavour. And it was just a really interesting different texture to have."
Buryk finishes the ribs with a scattering of sliced shishito peppers for "a little bit of a kick" and spoonfuls of zhoug, a Yemeni condiment made of chili peppers, cilantro and garlic.
If you have any zhoug leftover, Buryk is a fan of pairing the herbaceous hot sauce with grilled steaks, steamed hakurei turnips and other vegetables.
"Fresh herbs are just one of the greatest back-pocket things. It zhuzhes up the recipe so much more," she says. "It really does enhance something and brightens the dish, and it makes it more vibrant."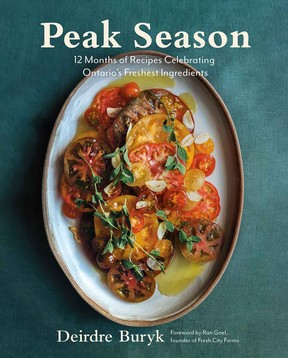 CURLY CORN RIBS WITH FRESH ZHOUG & SHISHITO PEPPERS
Zhoug:
1 cup fresh cilantro leaves
1 tsp ground cardamom
1/2 tsp ground cumin
4 cloves garlic
1/2 tsp kosher salt
1 shishito pepper, seeds removed and roughly chopped
1/4 cup (60 mL) extra virgin olive oil
Article content
Curly Corn Ribs:
4 cobs corn, husks removed
4 cloves garlic, minced to a fine purée
4 cups (1 L) vegetable oil, for frying
2 shishito peppers (or jalapeño peppers), seeds removed and thinly sliced, for serving
1 tsp flaky sea salt, to season
Step 1
To a mortar, add the cilantro, cardamom, cumin, garlic and salt. Begin to grind and crush into a paste with the pestle. Add the shishito pepper and continue grinding. Lastly, pour in the olive oil and mix until a pesto-like consistency has formed. Taste before seasoning with more salt, if needed. Set aside for serving. Extra zhoug can be sealed in a jar or airtight container and stored in the refrigerator for up to 1 week.
Step 2
Rub the corn cobs with the minced garlic until every crevice has been coated. Using a sharp chef's knife, cut the cobs into four quarters lengthwise (see Note). Place the corn cob "ribs" into a large bowl and set on the counter to marinate for a minimum of 1 hour.
Step 3
Meanwhile, in a large, heavy pot over high, heat the vegetable oil. Once the temperature has reached 360ºF (182ºC), use a slotted spoon to gently submerge the corn "ribs," one at a time, in the oil (this will avoid any hot splashes). Fry a maximum of four "ribs" at a time. Fry the cobs until they begin to curl and the kernels turn golden brown, 5 to 10 minutes. Once the cobs are ready, use the same slotted spoon to remove the corn. Let the cobs drain on a paper towel–lined plate. Continue this process until all the cobs have been cooked.
Step 4
Plate cobs with the thinly sliced shishito peppers and large dollops of zhoug. Finish with flaky sea salt, to taste.
Serves: 4 to 6
Note: The cobs are meant to be quartered, but if you have difficulty, then you need to get your knives sharpened. No need to risk your life; just cook them whole and fry a little longer than suggested, about 15 minutes.
Recipe and image excerpted from Peak Season by Deirdre Buryk. Copyright © 2022 Deirdre Buryk. Photography © 2021 Janette Downie. Published by Appetite by Random House, a division of Penguin Random House Canada Limited. Reproduced by arrangement with the Publisher. All rights reserved.