Reviews and recommendations are unbiased and products are independently selected. Postmedia may earn an affiliate commission from purchases made through links on this page.
Our cookbook of the week is The Two Spoons Cookbook by Hannah Sunderani. Over the next three days, we'll feature more recipes from the book and an interview with the author.
We apologize, but this video has failed to load.
Try refreshing your browser, or
tap here to see other videos from our team.
Cook this: Mushroom and spinach quiche from The Two Spoons Cookbook
Back to video
To try another recipe from the book, check out: Chickpea salad niçoise and lemon tart.
In Lille, France, "a plant-based diet was not always celebrated," writes Toronto recipe developer and blogger Hannah Sunderani. But during the four years she lived in the "beautiful-yet-underrated" northern city, Sunderani witnessed the change firsthand.
Pâtisseries and cafés popped up offering plant-based spins on French classics, such as tarte au citron (lemon tart), faux gras, croissants and cashew brie cheese (Sunderani features her versions in The Two Spoons Cookbook). And she soon became friends with the artisans, bakers and chefs leading the new wave.
After trying vegan quiche for the first time at La Clairière, one of her go-to neighbourhood restaurants in Lille, Sunderani was inspired to create her own mushroom-and-spinach iteration.
"I have so many memories of being out and about with my husband shopping in Vieux-Lille. We would go to have lunch somewhere, and you'd sit down, and they would give you a quiche or a tarte, but it would be savoury, with a little salad," says Sunderani.
"(It) is just so traditionally French. It's something that you would have for lunch or for breakfast, so I really wanted to include it in the book."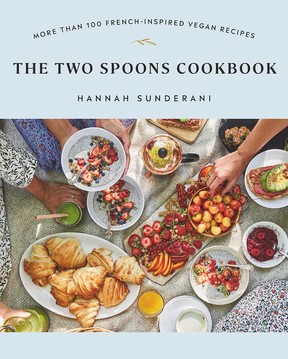 MUSHROOM AND SPINACH QUICHE
Vegan | Nut-free | Refined Sugar-free | No Added Sugar
Requires: 1 hour chill time
Pastry Crust:
1 1/2 cups (195 g) all-purpose flour
1/4 tsp fine sea salt
1/2 cup (4 oz/115 g) + 1 tbsp vegan butter, cold (see Tip)
1/4 cup cold water
1 tsp apple cider vinegar
Filling:
1 tbsp coconut oil
2 cloves garlic, finely chopped
1 yellow onion, finely chopped
8 oz (225 g) cremini mushrooms, thinly sliced
4 cups (5 oz/140 g) tightly packed baby spinach
1 block (12 oz/340 g) silken tofu
1/4 cup unsweetened almond milk
1/4 cup nutritional yeast
1 tbsp arrowroot powder
1/4 tsp ground turmeric
1/4 tsp onion powder
1/4 tsp garlic powder
1/4 tsp fine sea salt
1/4 tsp fine black salt (or more sea salt)
1/4 tsp freshly ground black pepper
Step 1
Prepare the Pastry Crust: In a food processor, combine the flour and salt. Cut the vegan butter into small chunks and add to the bowl. Pulse a few times to lightly mix the ingredients. Add the water and apple cider vinegar and pulse a few more times to form a crumbly dough. (You can also combine all the ingredients in a large bowl, except the water, and massage with your hands to form a crumbly dough. Add the water and massage to form a shaggy dough.) Do not over-knead the dough (see Tip).
Step 2
Transfer the dough to a work surface and bring together to form a ball. Cover with reusable wrap and chill in the refrigerator for 1 hour.
Step 3
Preheat the oven to 425F (220C).
Step 4
Lightly sprinkle the work surface with flour. Using a rolling pin, roll out the dough into a 12-inch circle. If needed, lightly sprinkle the dough with flour to stop the rolling pin from sticking.
Step 5
Roll the dough around the rolling pin. Gently lift the dough and unroll over an 11-inch tart pan with removable bottom. Press into the bottom and up the sides of the pan. For a clean edge, trim excess dough with a knife. Patch any cracks with excess dough. Poke a few holes in the base with a fork. (This will stop the base from lifting as it cooks. There's no need to use pie weights with this crust.) Transfer the tart pan to a baking sheet and blind-bake for 15 minutes. Remove from the oven and let cool. Reduce the oven temperature to 350F (180C).
Step 6
Make the Filling: Heat the coconut oil in a large skillet over medium heat. Add the garlic and onion and cook, stirring frequently, until the onion is softened, about 10 minutes. Add the mushrooms and cook until the juices they release have evaporated and the mushrooms have softened and browned, about 10 minutes. Add the spinach, cover with a lid, and let the spinach wilt, 2 to 3 minutes. Remove from the heat.
Step 7
In a food processor or high-speed blender, combine the silken tofu, almond milk, nutritional yeast, arrowroot powder, turmeric, onion powder, garlic powder, sea salt, black salt and pepper. Pulse until smooth.
Step 8
Pour the tofu mixture into the skillet and mix together with the cooked vegetables to combine. Pour the filling into the pre-baked crust in a smooth and even layer. Bake until the filling is golden and firm, about 40 minutes. Let cool slightly before slicing.
Serves: 8
STORAGE
Store the quiche, covered with reusable wrap or in an airtight container, in the refrigerator for up to 4 days.
TIPS
The pastry dough can be prepared by hand or in a food processor. I like to use the food processor to ensure the ingredients are evenly distributed. Do not over-knead the dough. Pulse or massage the ingredients together until just combined, and then form together with your hands.
Different vegan butters have different water contents. If your pastry dough is too crumbly as you roll, it's too dry. Bring the dough back together, rinse your hands with water, and lightly flick over the dough to add a few water droplets. Work the water in gently and roll again. If the dough gets too warm, cover it with reusable wrap and transfer to the refrigerator to let it chill. Once chilled, it should roll more easily.
I recommend using a softer vegan butter for this recipe, such as Earth Balance, for a more flexible pastry dough.
DO AHEAD
The pastry dough can be prepared up to 2 days in advance. Cover well and store in the refrigerator until ready to use.
Recipe and image excerpted from The Two Spoons Cookbook by Hannah Sunderani ©2022 Hannah Sunderani. Photography by Hannah Sunderani. Published by Penguin, an imprint of Penguin Canada, a division of Penguin Random House Canada Limited. Reproduced by arrangement with the Publisher. All rights reserved.