Reviews and recommendations are unbiased and products are independently selected. Postmedia may earn an affiliate commission from purchases made through links on this page.
Our cookbook of the week is In Praise of Veg by Australian writer and broadcaster Alice Zaslavsky. Over the next three days, we'll feature more recipes from the book and an interview with the author.
We apologize, but this video has failed to load.
Try refreshing your browser, or
tap here to see other videos from our team.
Cook this: Saffron orzo with charred deli artichokes from In Praise of Veg
Back to video
To try another recipe from the book, check out: Broccolini Caesar salad and badrijani (walnut eggplant rolls).
Thanks to Alice Zaslavsky's use of marinated artichokes, you can make this sunny dish year-round. Delicious warm or cold, as is or with feta crumbled over for a pasta salad (see Double Duty), it is as flexible as it is flavourful.
Use either the oil- or brine-preserved variety sold at delis, Zaslavsky suggests. Or, as she likes to call them, "jartichokes" (jarred artichokes) grabbed from the supermarket.
"(It) is such a happy dish," says Zaslavsky. "And I think particularly when you are using deli or frozen veg, you do need to think about what else you're adding to ensure that it's still vibrant and colourful. And in this instance, it's saffron."
Prized for its brilliant colour and complex flavour, saffron is the most expensive spice in the world. (It may be in the name of the dish, but Zaslavsky encourages you to make it whether you have saffron or not.)
"Saffron is a spice that was once more dear than gold. And I still think the way that it creates golden hues on things like orzo and rice is worth its weight in gold," she adds.
Zaslavsky chose to incorporate saffron and hazelnuts as a way of amping up the nuttiness of cooked artichoke. "I'm trying to teach you to play with the natural nuances of vegetables. So, if artichokes are nutty, what else can you layer within that dish to accentuate that and highlight that?"
Adding to the dish's flexibility, feel free to substitute couscous for orzo. And, if you do not have preserved lemon, Zaslavsky highlights, finish the dish with a generous squeeze of fresh lemon. "You'll be as happy as Larry."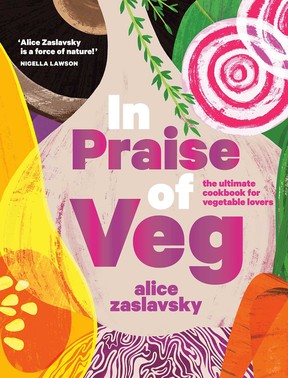 SAFFRON ORZO WITH CHARRED DELI ARTICHOKES
1/3 cup (80 mL) olive oil
6 cooked artichokes with stems (see tip), halved lengthwise
2 shallots, finely chopped
1 bunch of parsley, stems finely chopped, leaves picked and chopped
1 1/2 cups (330 g) orzo (or risoni)
3 cups (750 mL) vegetable stock
A good pinch of saffron threads
2 tsp finely chopped preserved lemon
1/2 cup (60 g) hazelnuts, lightly toasted, then roughly chopped
Step 1
Heat 2 tablespoons of the olive oil in a large frying pan over high heat. Add the artichokes cut side down and cook, without touching, for 4 minutes, or until charred and golden. Remove and drain on paper towel.
Step 2
Add the remaining oil to the pan over medium–low heat. Add the shallot and parsley stems and cook for 4 minutes, or until softened. Add the orzo and cook, stirring, for 2 minutes, or until glossy and slightly toasted. Pour in the stock and bring to the boil, then reduce the heat to low. Add the saffron, then cover and cook for 12–15 minutes, or until the orzo is cooked through. Stir in the preserved lemon.
Step 3
Place the artichokes on top of the orzo, face side up. Cover and cook for 3 minutes to warm through.
Step 4
Transfer to a serving dish and sprinkle with the chopped parsley and hazelnuts. Serve warm or cold.
Serves: 4
Tip: Most continental delis sell two types of marinated artichokes — one preserved in oil, which tends to be just the heart, the other most likely kept in brine, with more of the leaf intact. Whichever you choose is up to you. Jarred artichokes are more than a suitable replacement if these fancy ones are not forthcoming.
Shortcut: Instead of orzo, use instant couscous, frying up the artichokes while the kettle (or vegetable stock) comes to the boil. Stir saffron into the couscous just before pouring the hot liquid over it.
Double duty: This dish is one step away from being a pasta salad. Chop or tear the marinated artichokes into chunks, crumble some feta on top and serve cold — it's a fantastic 'bring a plate' or desk-lunch option.
Recipe and image excerpted from In Praise of Veg: The Ultimate Cookbook for Vegetable Lovers by Alice Zaslavsky. Text Copyright ©2022 Alice Zaslavsky. Design and Illustrations Copyright ©2022 by Murdoch Books. Photography Copyright ©2022 by Ben Dearnley. Published by Appetite by Random House®, a division of Penguin Random House Canada Limited. Reproduced by arrangement with the Publisher. All rights reserved.