Vets in Christmas warning to pet owners
A pet owner is warning of the potentially deadly risk posed by batteries to dogs after her spaniel swallowed one by accident.
The scary incident resulted in a midnight dash to our pet emergency hospital in Swindon, where Cavalier King Charles Evie required urgent treatment.
If ingested, batteries can get lodged in the throat or intestine and potentially even burn a hole through its lining.
With families all over the country buying battery-powered festive gifts that will be scattered throughout homes, Bridget West is backing vets' calls to keep them away from animals to prevent a Christmas tragedy.
Evie's ordeal

Evie was rushed to Vets Now after swallowing a battery (©Vets Now)

Evie's ordeal

Evie was rushed to Vets Now after swallowing a battery (©Vets Now)
Evie will be two next month and having always had dogs, Bridget, from Royal Wootton Bassett near Swindon, is ultra-cautious about anything that may prove harmful.
"She's very playful and is always scavenging and looking for things," said Bridget, 50. "I'm forever getting stuff out of her mouth but, of course, we do try and keep things away from her."
Evie had been in the bedroom of Bridget's teenage son Callum and had got up on to his bed and used that to get on to his desk and pick up a battery.
"She has been on the bed before, but the door is normally shut," said Bridget, who works as a quality controller.
"Callum was in the shower and Evie must have run in quickly to see if there was anything of interest. I actually went to look for her as she'd gone very quiet.
"She was in the front room eating it and had chewed it in half.
"I took it straight off her and put it on a cloth. I kept an eye on her as I was really concerned and then she started being sick and there was what looked like sooty flecks in it.
"She vomited three times, so I called Vets Now and was told to bring her in immediately."
It was almost midnight when Evie became ill and Bridget rushed her to our hospital in Swindon.
It's part of a nationwide network, all open through the night, seven days a week, and day and night at weekends and bank holidays.
You might also be interested in: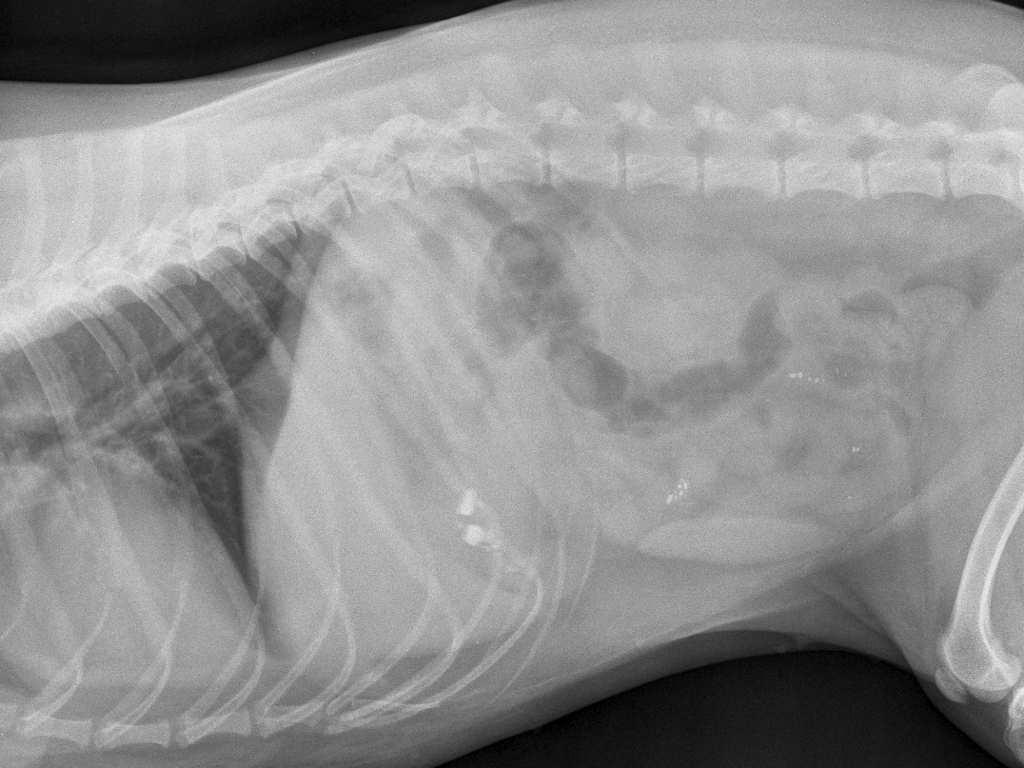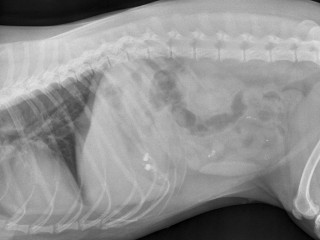 "I was panicking, just hoping she was going to be okay," said Bridget. "Anybody who has a dog will know that they are your baby and you just want them to be all right.
"Having Vets Now there at that time of night was brilliant. I'd have been hysterical otherwise."
Although Evie looked to be picking up, our vets carried out an X-ray to get a clearer picture of the situation. It showed the metallic casing of the battery, confirming Bridget's fears.
While it looked small enough to pass through the gastrointestinal tract, there was a concern that the aluminium hydroxide inside the casing could cause serious internal injuries.
Laura Playforth, Vets Now's professional standards director, said: "Pet owners should be aware that all batteries pose a risk to pets.
"If the battery is chewed and pierced it can cause chemical burns and serious damage to the oesophagus and other vital structures within the neck, within 15 to 30 minutes of ingestion.
"These injuries are often severe and without treatment may prove fatal. There is also the risk of it causing a blockage.
"If you suspect your dog has chewed or swallowed a battery you should seek urgent advice from your vet."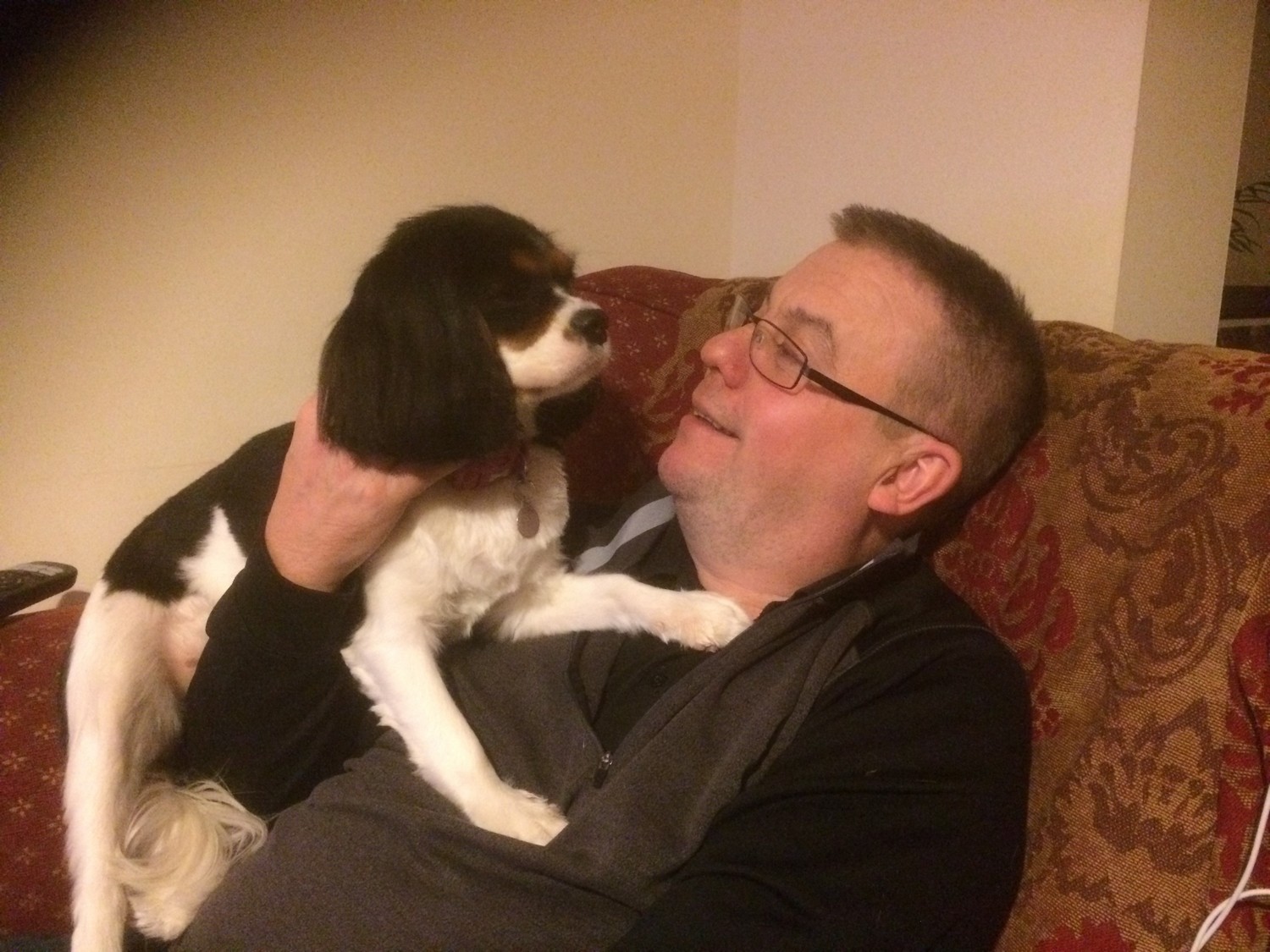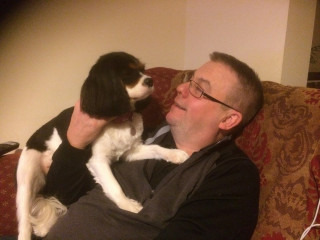 Bridget added: "The emergency vet gave me some special food and some medication.
"I was also advised to keep a close eye on her and take her to my own vet in the morning where she was checked over again. Thankfully there was no lasting damage and she was soon back to her old self."
Although, in Evie's case, the battery wasn't left anywhere readily accessible, in the excitement of the festive period, many more will be scattered around where pets can get access in an instant.
And Bridget is backing Vets Now's calls for Christmas caution.
"I'd just urge people to think about how quickly it can happen and keep your pet well away when there are any batteries around."