As a fashion editor, an obvious fact about me is that I love clothes—and that I have a lot of it. It's a fun combination for life but one that has led me to be a chronic over-packer if I'm traveling. I've always succumbed to shelling out the extra cash to check a bag exploding with three outfits for every day I'd be gone and lugging my 49.9-pound bag—God knows I always needed to take advantage of every possible ounce—around my destination. Finally, I decided my packing ways needed to evolve. It was time to climb my Everest: packing for a trip with only a carry-on. 
The first step to changing my over-packing ways was developing a strategy to packing a carry-on that didn't make me feel like I was sacrificing style but was also far more minimal than what I was used to. This meant those hot pink pants that I was only going to get one use of on the trip had to be exchanged for a pair that I could wear multiple times and, ideally, in multiple different ways. It finally occurred to me that what I needed was simple: a mini capsule wardrobe formula that I could use every time I travelled.
You already know why we love capsule wardrobes: They're concise, curated sets of clothes that can be combined in countless different ways for looks that can take you anywhere you might need to go. And when do you need that more than when you travel? I rest my case.
This is the formula that has officially gotten me to a point where I can say that my checked bags have been replaced with just a carry-on. And trust me: If I can do it, anyone can.
The formula
When I pack my carry-on, I follow this formula to a T. The result is a mini capsule wardrobe that I can make work for everything my trip will bring me.
The key to making this formula work is ensuring that everything you pack can be mixed and matched together seamlessly. Don't pick out one outfit and then decide the shirt maybe could work with another pair of pants too. Really consider what pieces you could include that have the versatility to work with the other things you've packed. Before I choose what goes into this, I deeply consider every single thing I'll be doing on my trip, then choose pieces based on what my days will hold.
4 shirts
2 pairs of pants
1 pair of shorts
1 jacket
1 dress
2 bags (a large and small—the large is always a tote I carry with me on the plane)
1 pair of sunglasses
3 pairs of shoes (a walkable one, fancy one, and casual one)
The capsule
white button-down
bodysuit
statement top
satin tank
cropped blazer
tailored shorts
linen pants
midi dress
straight jeans
shoulder bag
tote
sunglasses
heels
sneakers
slide sandals
How I style it
For a day walking around town
There are few greater joys in this life than wandering around a town you've traveled to all day. Both comfort and cuteness are key, and a white button-up and jean combo can take you wherever your day takes you. To shush it up a bit, focus on making it your own with accessories. 
sunglasses | white button-down | bodysuit | shoulder bag | straight jeans | slide sandals 
To brunch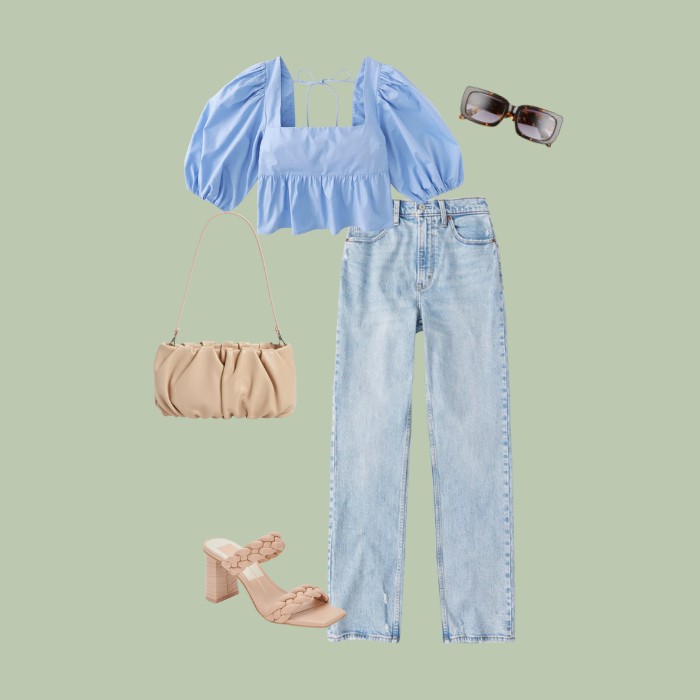 So you snagged a res at that restaurant you've always wanted to visit, but you don't have space to pack a head-to-toe outfit for it. Pack the same punch by wearing a statement top that can be busted out whenever you want a little something extra throughout the trip.
sunglasses | statement top | shoulder bag | straight jeans | heels 
For a day exploring
For a day seeing all your destination has to offer, comfort is absolutely key (after all, there's no quicker way to ruin a good day than with shoes that give you blisters after an hour). Keep it breezy with a bodysuit, lightweight linen pants, and sneakers that you know will give you the ultimate comfort.
sunglasses | bodysuit | linen pants | sneakers
To a winery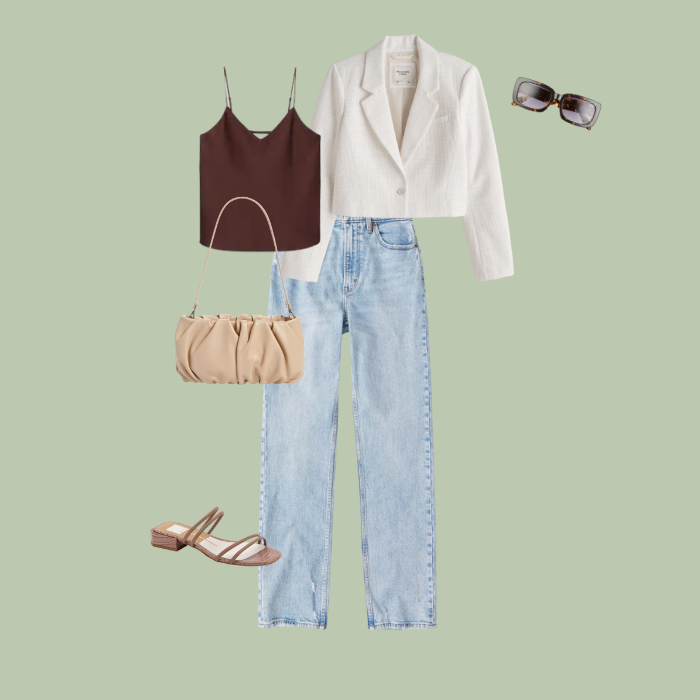 For a trip to a winery or event that's slightly elevated, dress up your jeans with a bodysuit and cropped blazer. With cute, walkable sandals and a shoulder bag, it'll strike the perfect combination of being put-together but not overdressed.
sunglasses | satin tank | cropped blazer | shoulder bag | straight jeans | slide sandals 
To a nice dinner
Heading to a dinner at a fancy restaurant? There's no piece that's as space-saving and special event-worthy as a beautiful midi dress. With gorgeous tiers that'll flow with you as you walk, this dress is a no-brainer for any trip. Bonus: You'll be extra comfortable all night.
midi dress | shoulder bag | heels