Not to go all "I fOuNd iT fIrSt" on you all, but I just have to make it known that although TikTok has collectively decided Old Navy is "making a comeback," I literally never stopped shopping there. I say this not to be annoying but to assure you that Old Navy is all it's cracked up to be: It's affordable, stylish, size-inclusive, and higher quality than a lot of brands with similar price points. 
When I was in elementary school, Old Navy used to offer a promotion where you would get mailed a bag and you could bring it to the store and fill it with stuff, and then everything that fit would be a certain percentage off (does anyone else remember this?). Since those days, I've been a loyal customer. Every season, I usually do at least one Old Navy order to stock up on some basics that I know will last for a long time. 
Old Navy is increasing in popularity lately due to TikTokers and other influencers doing try-on hauls, sharing dupes, and coining a few cult-favorite items (like the 5-inch inseam vintage sweat shorts). From dresses to loungewear to activewear, Old Navy has options that rival some of the most popular, higher-price-point brands. 
I'd like to add that recently—after a little under a year of combining core and plus sizes on their website and expanding their plus-size range in stores—Old Navy announced that due to supply chain and customer demand issues, they would be removing plus sizes from 75 U.S. and 15 Canadian stores. All plus sizes will still be available online, but I am disappointed in this decision and sincerely hope that they can work through these problems and provide an in-store shopping experience that's inclusive for everyone. 
Because more and more people are discovering the wonderland that is Old Navy and might be curious about sizing—or just want to see some of the items on a real person—I set out to try on all of the cutest pieces that you can buy right now. Some of this I already own and love, but I also went to the store to try on even more options for all of you. Read on for my honest review.
Old Navy Sizing
One area that Old Navy still has room to improve in is consistent sizing. I have noticed some differences in the way certain pieces fit, and sometimes, I have to size up or down. In general, I normally wear a size L in tops and a 10 or 12 in bottoms. I'm 5'3″, so sometimes things are long on me. At Old Navy, I will typically size down to a medium in dresses or other loose-fitting items, but I usually have to get a 12 in number-sized bottoms. I also wear a 36DD bra size, so I will size up to an XL in sports bras, bralettes, and workout tanks with built-in bras. Old Navy also offers tall and petite sizing in most items.
Have you ever had the feeling of wanting to buy something in every single color the second you put it on? Both of these items gave me that feeling. During the summer, I love a simple lounge outfit that I can stay cool in and wear for everything from working from home to going on a walk. I love the lightweight material, ribbed pattern, and flattering cut of this tank. And these sweat shorts are arguably the item to have from Old Navy this summer—the TikTok fashion girls are loving them, and for good reason. The 5-inch inseam is comfortable and flattering, and the silhouette has "cool girl" written all over it. I'm at two pairs and counting. 
Sizing: True to size
I had been eyeing these vintage oversized T-shirts for a while, and now that I've tried one, I give it a 10/10. The material is super soft and thick and I love the cut. Plus, it comes in a ton of cute colors, so add this to the list of things I'll be buying multiples of. I had high hopes for the shorts, but I just don't think these do me any justice. I like the length and wash, but I wish they were more relaxed in the thighs. 
Sizing: True to size (T-shirt has an oversized fit)
I'll start by saying I returned this dress because I thought the length was awkward on me, so if you're on the shorter side, definitely opt for petite length. Otherwise, I truly think this dress is adorable and would be a super cute option for anything bridal. The puff-sleeves add a little drama, it has pockets, and the side cut-out provides a fun touch. 
Sizing: True to size, but the regular is a bit long if you're petite
I looooooove these longline sports bras from Old Navy (another thing I already own multiples of). They come in a ton of super cute colors and patterns and are the perfect option for throwing on with leggings, bike shorts, or a tennis skirt for any type of workout. I would recommend checking the size chart so you can get one to match your bust size rather than your normal top size because these have built-in shelf bras with padding. 
My absolute favorite tennis skirts are from Old Navy, but unfortunately, the exact style is sold out right now—however, this style is a very close second. The material is super soft, the biker shorts underneath are comfortable and supportive, and I love the seam detail. 
Sizing: True to size
I bought these ecru overalls a couple of months ago, and I want to wear them every single day. Not only are they comfortable and cute, but they also give off Mamma Mia meets "oh, I just threw these on to hang out in my garden" vibes—which is exactly what I'm channeling this summer. I also love the slouchy, slightly oversized fit. 
Sizing: True to size
Being tight to the body, this dress is a little out of my comfort zone, but I was surprised at how much I liked it and how confident I felt in it. I have a couple of bachelorette parties this summer, and I think this is a great option for the more casual activities—and would look super cute with an oversized jean jacket.
Sizing: True to size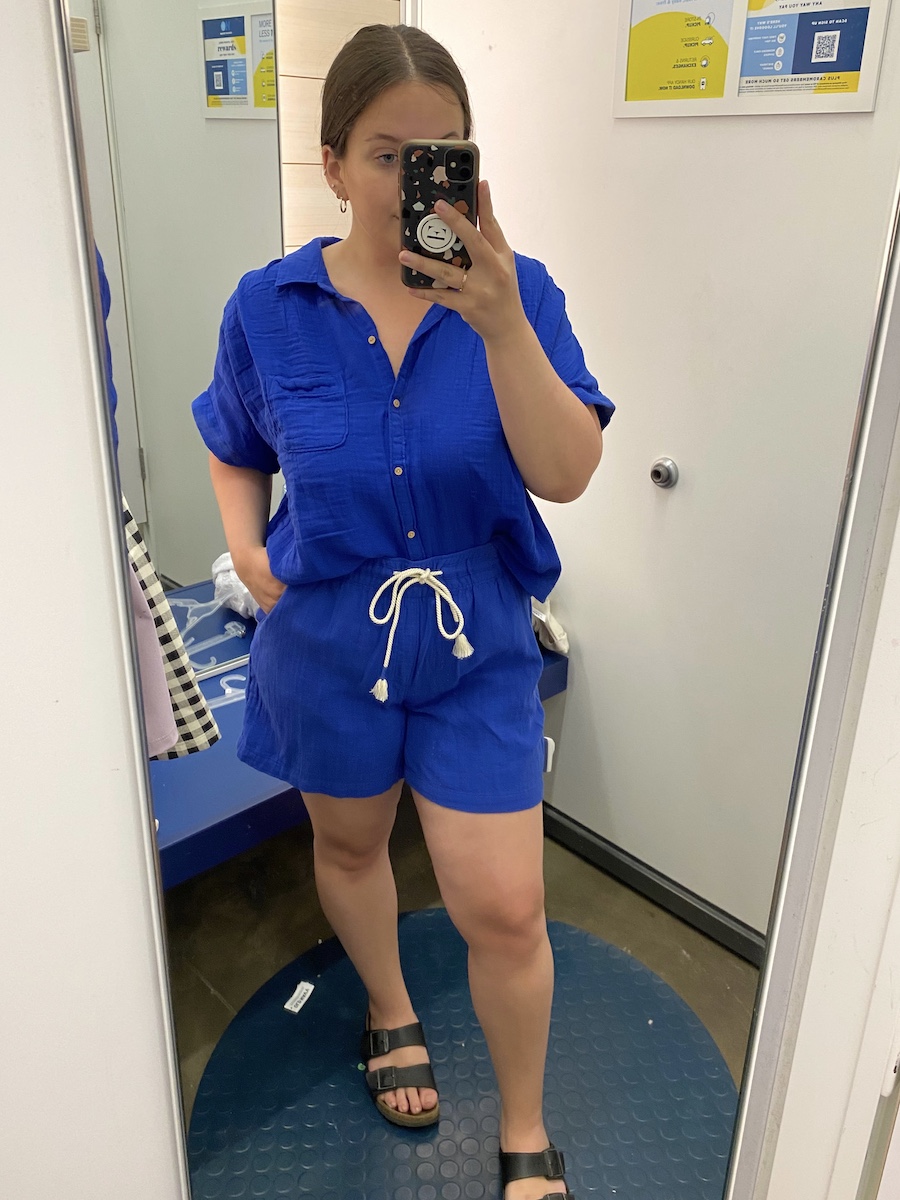 Linen or gauzy sets are seemingly the fashion item of summer 2022, and this is a great affordable option if you're on the hunt for one. The material is soft and lightweight, and I think this would be so cute at the beach or by the pool. It does run slightly large, so I would consider sizing down, especially if you are between sizes. 
Sizing: Runs slightly large
In case you haven't heard, it's exercise-dress summer. As someone with a larger chest, I've struggled a bit to find an exercise dress that is supportive enough for me—until this one. It has a padded built-in bra (that actually has enough room), and the high neck provides extra support. Plus, the straps are convertible, so you can make it a criss-cross back for even more lift. It also has built-in bike shorts that are super comfortable and don't ride up, and I love the added flair of the slightly flouncy skirt. 
Sizing: True to size
This outfit looks super cute, but it had a few issues for me. As I mentioned, I have a larger chest, so this top was very tight in the bust area—I would've had to size up for a comfortable fit. I thought it was so cute otherwise though, so if you have a smaller chest, this would be a great option.
I was really excited to try this Slouchy Straight jean style, but I was ultimately disappointed, as they just didn't work on my body type. I have some curves, so these fit through my thighs and hips but had a huge gap at the back of the waist. Again, I thought they were super cute, so if you have a different body type, they might just work for you!
Sizing: Top runs small in chest, jeans run large in waist
I had been on the hunt for a bodysuit with shorts like this since spring, but I didn't want to spend the big bucks because I wasn't sure if I would even like it. When I saw this affordable option on Old Navy's website, I knew I had to have it. The material is supportive yet comfortable, and it has a built-in bra that actually works for me. I picture this styled with an oversized button-up, sunnies, and sneakers for the ultimate Hot Girl Walk outfit. 
Sizing: True to size
This button-up shirt is probably my favorite thing that I tried on at the store. I absolutely love the style of it—it's slightly cropped so it hits at a flattering spot, and the boxy cut provides that perfect laid-back look. Plus, the material is very soft and lightweight. I sized up to an XL for a more oversized fit. I also love any basic tank (I live in them in the summer), and the cute ribbing and scalloped edge details on this one give it a little extra something. 
I had been eyeing these linen shorts on the website for a while, and I'm glad I was able to try them on in the store first. They run large, so I would definitely recommend sizing down. Other than that, these were adorable and perfect for summer, and I love all the colors. 
Sizing: Tops both true to size, shorts run large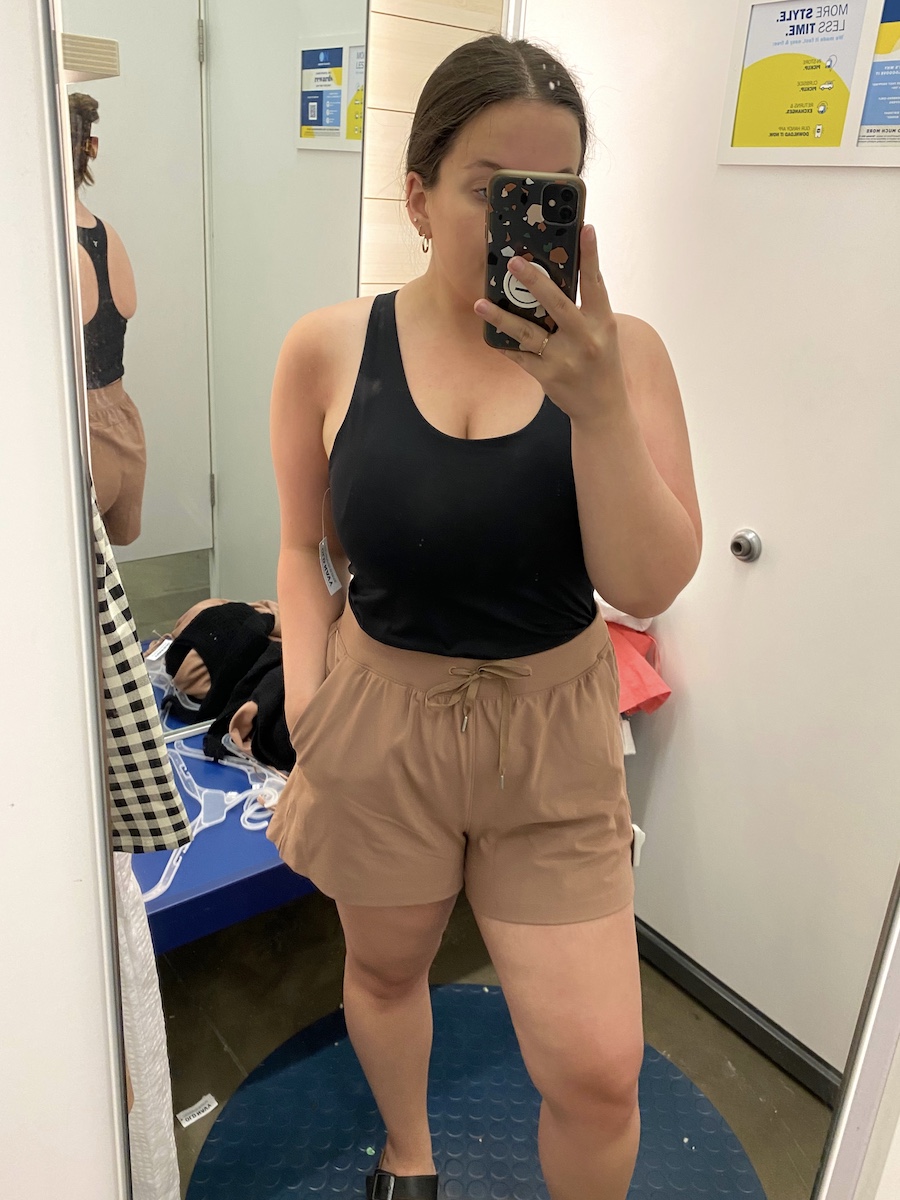 When I'm searching for workout tops, I always look for something that allows me to not have to wear a sports bra and a top, so I love tanks that have built-in bras. This tank is one of the best I've tried: It's supportive and slightly cropped (but not too much), and I like the racerback cut. Plus, it comes in a bunch of cute colors and patterns. 
I always struggle to find running shorts I like because I feel like they always ride up. However, both of these options were very comfortable and felt like they wouldn't have that problem. They're slightly longer lengths, so you don't have to worry about chafing. The PowerSoft pair is a very comfortable, smooth material, and the StretchTech pair reminded me of some more expensive options. 
Sizing: Tank runs true to size, both shorts run slightly large
I tend to gravitate toward neutrals, but when I saw the gorgeous bright pink of this dress, I simply had to have it. I'm a sucker for a long flowy dress in the summertime because they are so effortless, but you still look very put-together. I can't wait to wear this one on vacation this summer. 
Sizing: True to size
This square-neck bodysuit was another thing I had been eyeing for quite a while on the Old Navy website. I love anything square-neck (especially in brown), so it got immediate points for that. The material is also very soft. It does run large, though, so I would size down for a more comfortable and supportive fit. Overall, this is a great basic to have in your closet—and I can definitely see myself grabbing it in a few different colors. 
Sizing: Runs slightly large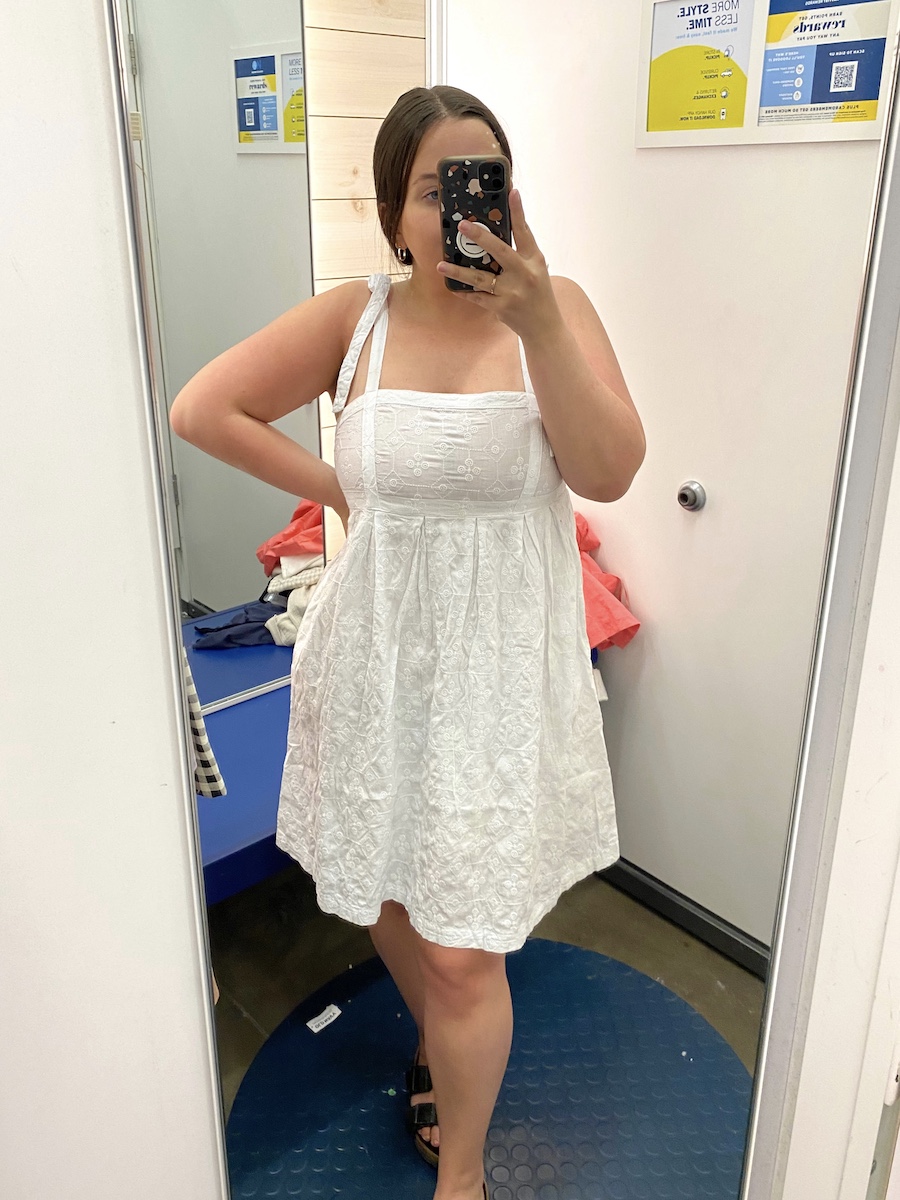 There's just something about a white dress for summer, and I was really drawn to the tie-strap and eyelet details on this one. I love the babydoll silhouette, and I think this would be so cute with wedges for a summer party. I grabbed a medium in this since that's what I normally wear in Old Navy dresses, but I would probably go with a large for a more comfortable fit in the chest. 
Sizing: True to size, slightly tight in chest