Reviews and recommendations are unbiased and products are independently selected. Postmedia may earn an affiliate commission from purchases made through links on this page.
I remember when the only way squash seemed to be served was boiled, baked with butter and maybe with a sprinkling of brown sugar.
We apologize, but this video has failed to load.
Try refreshing your browser, or
tap here to see other videos from our team.
Karen Barnaby: Celebrating squash, a serene legend of the fall
Back to video
Moreover, the only squash around was acorn. It was bleak, and I grew up thinking that squash was a boring, somewhat sweet and mealy vegetable.
It was so refreshing to learn that it could be made into risotto, used as a stuffing for pasta, mashed with blue cheese, casseroled with apples, used instead of canned pumpkin in pumpkin pie and folded into curries. With squash I've learned to either play up its sweet side or create contrast around it.
My favourite squash is kabocha, a Japanese variety that's creamy, tender and does not have to be peeled. You can use it, butternut, or your favourite variety in these recipes.
I like to assign personalities to vegetables. Broccoli is an over-confident brat. Cauliflower is shy and wants to be more like broccoli. Red peppers are smug, snow peas are snobs.
But squash? Squash are the serene and sane ones in the group. That's the feeling that washes over me when I see displays of them in the fall and my eyes graze over their individual shapes and colours. I always find it calming to have one or two on my kitchen counter during fall and winter, ready for when inspiration strikes.
---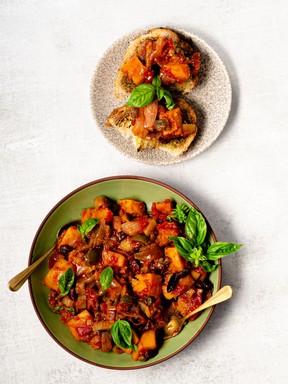 Squash Caponata
Sicilian caponata is traditionally made with eggplant, and squash works very well with the sweet and sour flavours in the dish. It benefits from resting overnight in the fridge. Serve as a side dish, with bread as an appetizer or tossed with a short pasta shape.
2 tbsp (30 ml) raisins
2 tbsp (30 ml) white or red wine vinegar
2 tbsp (30 ml) water
1 tbsp (15 ml) sugar
1 tbsp (15 ml) tomato paste
2 cups (500 ml) kabocha squash, cut into 1-inch (2.5 cm) cubes (350 g)
4 tbsp (60 ml) olive oil, divided
Salt
1 cup (250 ml) onion, sliced into 1/4-inch (0.6 cm) wedges
1/2 cup (125 ml) celery cut into 1/4-inch (0.6 cm) slices
1 cup (250 ml) chopped ripe tomato
12 large green or black pitted olives, or a combination, coarsely chopped
1 tbsp (15 ml) drained capers
1/4 tsp (1 ml) salt
3 tbsp (45 ml) coarsely chopped fresh basil leaves
Mix the raisins, vinegar, water, sugar and tomato paste.. Set aside.
Heat oven to 375ºF (190ºC). Toss squash on a rimmed sheet pan with 1 tbsp (15 ml) oil and salt to taste. Roast for 20-30 minutes until just tender, time will depend on the squash. Don't overcook it and browning it is not required. Remove from the oven.
Heat 3 tbsp (45 ml) oil over medium heat in a medium-sized pot or frying pan. Add the onion and celery and cook until onion is tender but not browned. Add the tomatoes and cook, mashing to a paste as they soften. Add raisin mixture, olives and capers and salt. Cook at a low simmer for 5 minutes until thick. Add squash and cook for 5 minutes longer, adding water if mixture is too thick. The sauce should just coat the squash and not be watery. Stir in the basil and remove from the heat.
Makes 4-6 servings.
---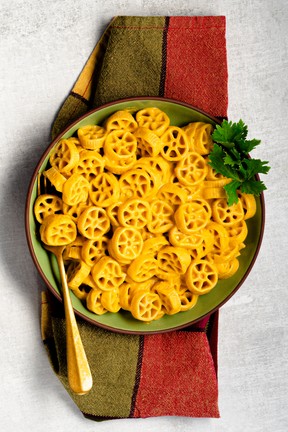 Butternut Squash Mac and 'Cheese'
This creamy and tangy sauce is not exclusive to pasta and can be used on vegetables, potatoes and grains.
2 1/2 cups (625 mL) butternut squash cut into 1-inch (2.5 cm) cubes (400 g)
3/4 cup (180 ml) raw cashew pieces
2 cups (500 ml) water
3 cloves garlic
1 tbsp (15 ml) cider vinegar
1 tsp (5 ml) salt
4 tbsp (60 ml) nutritional yeast
2 tsp (10 ml) Dijon mustard
1 tsp (5 ml) paprika
1 lb (500 g) dry pasta shape such as elbows, rotelle, rotini or penne
Combine squash, cashews, water, garlic and salt in a large pot. Bring to a boil, then turn down to a simmer. Cook covered for 20 minutes until the squash is completely tender. Transfer to a blender and add vinegar, nutritional yeast, mustard and paprika. Blend until completely smooth. You should have 5 cups (1.25 L). Add water if needed, or stir over low heat to reduce it to that amount. Taste and adjust the seasoning. It should be tangy and salty.
Bring a large pot of water to a boil and salt it liberally. It should taste like sea water. Add the pasta and cook until done with a firm bite, 7-10 minutes depending on the pasta. Drain and return to the pot. Add the sauce and stir over low heat until heated through. Serve immediately.
Makes 4 servings.
---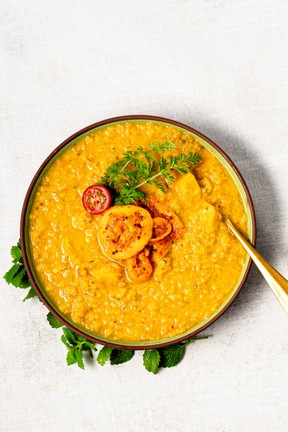 Squash and Red Lentil Curry
Serve this mild curry with rice, roasted cauliflower and a zippy chutney or pickle.
1 cup (250 ml) raw red lentils
3 tbsp (45 ml) neutral flavoured oil, or coconut oil
1 cup (250 ml) diced onion
1 tbsp (15 ml) minced ginger
1 tbsp (15 ml) minced garlic
1 tsp (5 ml) ground turmeric powder
1 1/2 tsp (7.5 ml) whole cumin seed
1 1/4 tsp (6 mL) ground coriander seed
1/4 tsp (1 ml) cayenne pepper, or more or less to taste
1 cup (250 ml) chopped ripe tomatoes
2 cups (500 ml) water
2 cups (500 ml) squash cut into 1-inch (2.5 cm) cubes (350 g)
Salt to taste
Rinse lentils, place in a container and cover with water by 4 inches (10 cm). Refrigerate overnight.
Heat oil in a medium pot on medium heat. Add onion, ginger and garlic. Cook until the onion softens. Add the turmeric cumin, coriander and cayenne. Cook for a minute, then add the tomatoes. Cook the tomatoes, mashing them until the mixture becomes pasty. Drain the lentils and add to the pot. Add the water and bring to a boil. Turn to a simmer and cook, covered, for 15 minutes. Add the squash and salt to taste. Cook for half an hour until the squash and lentils are tender. Add water if the mixture becomes too thick. Check the seasoning and serve.
Makes 4 servings.
barnabyvansun@gmail.com
instagram.com/karenbarnaby