Reviews and recommendations are unbiased and products are independently selected. Postmedia may earn an affiliate commission from purchases made through links on this page.
Watermelon has been on a roll for the past few years. It started off with watermelon and feta salad. Then someone added cucumbers, and someone else added blueberries. Other voices chimed in with strawberries, tomatoes, mint and arugula.
We apologize, but this video has failed to load.
Try refreshing your browser, or
tap here to see other videos from our team.
Karen Barnaby: Melons get their day in the sun
Back to video
But wait! People started grilling it and adding corn, halloumi cheese, prawns, kale, peaches, and so on, and so on.
The watermelon PR machine kept cranking it out but who was there to advocate for other melons? The cantaloupe, the honeydew and the canary?
Prosciutto and melon did have its day but there's more to explore than just that. The elegant and fragrant texture far surpasses that of watermelon in my books. Watermelon is the brash teen brother, and the other melons are its charming younger sisters. Their sweetness and texture are good to play off of stronger and saltier flavours.
Melons, like tomatoes, strawberries and most other fruits are only good in season when the sun has baked itself into the flavour. To make a good melon dish, you need a good melon.
Your nose can guide you to a good melon. Inhale deeply from the stem end. If it smells like a floral and sweet melon, chances are that it will taste the same. In my quest for melon perfection, I started using a tactic from the Marie Kondo playbook. I pick up the melon and ask if "it sparks joy." If yes, it's a good melon. Try it, you might be pleasantly surprised.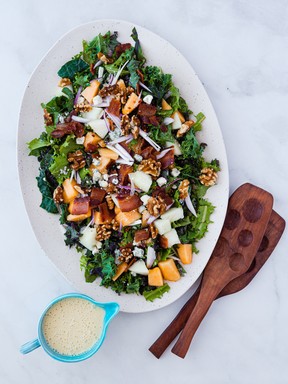 Melon Salad with Bacon, Blue Cheese and Walnuts
This salad is a great, hot weather main dish or can be served with simply prepared chicken, pork or salmon. Use either cantaloupe or honeydew, or both.
1/2 cup (125 mL) peeled and seeded diced melon
2 Tbsp (30 mL) cider vinegar
1 Tbsp (15 mL) honey
1 tsp (5 mL) Dijon mustard
4 Tbsp (60 mL) olive oil
1/4 tsp (1 mL) salt
4 cups (1 l) packed, mixed greens, spinach, or arugula
4 slices bacon, cooked crisp and cut into 1-inch (2.5 cm) pieces
1/4 cup (60 mL) thinly sliced red onion
1/4 cup (60 mL) crumbled blue cheese
1 1/2 cups (375 mL) peeled and seeded melon cut into 1-inch (2.5 cm) cubes
1/4 cup (60 mL) lightly toasted, coarsely chopped walnuts or pecans
For the vinaigrette, combine the diced melon, vinegar, honey, mustard, olive oil and salt in a blender. Puree until smooth.
Place the lettuce in a serving dish and scatter with the bacon, onion, blue cheese, melon and walnuts. Serve immediately, passing the vinaigrette separately.
Makes 4-6 servings
---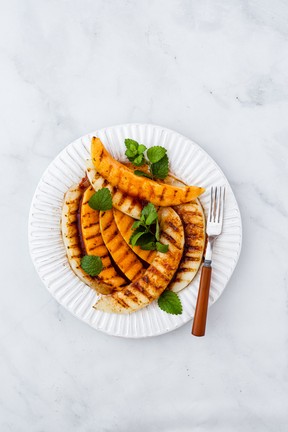 Spicy Grilled Melon
Cooked melon takes on a sweeter and more complex flavour. It can also be roasted in the oven for 10-15 minutes at 400ºF (200ºC) If you don't have a grill.
This is good served with Mexican and Thai food.
1/4 of a peeled and seeded cantaloupe
1/4 of a peeled and seeded honeydew melon
Olive oil and salt for grilling
Finely grated zest of 1/2 lime
1 1/2 tsp (7.5 mL) lime juice
1 tsp (5 mL) honey
1 tsp (5 mL) sweet paprika
1/8 tsp (.5 mL) cayenne pepper
1/8 tsp (.5 mL) salt
2 Tbsp (30 mL) olive oil
Cut each melon wedge into 4 smaller wedges.
Whisk the lime zest, juice, honey, paprika, cayenne, salt and olive oil together. Reserve.
Heat your barbecue to high. Lightly oil and salt the melon wedges and place flat side down on the grill. Cook until grilled, then flip over and grill the other side. Remove from the grill, arrange on a serving plate and drizzle with the vinaigrette. Serve immediately.
Makes 4 side servings
---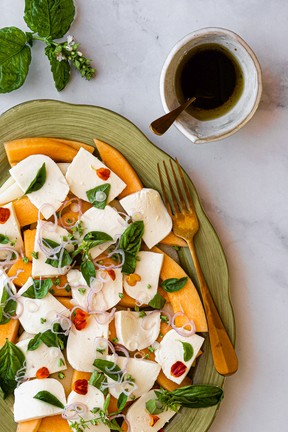 Melon Caprese
For the cheese, use a log of fresh mozzarella or bocconcini. The vinaigrette is served on the side so it won't interfere with the good looks of the salad.
1/2 lb (250 g) fresh mozzarella cheese
1/4 of a peeled and seeded cantaloupe
1/4 of a peeled and seeded honeydew
4 tsp (20 mL) balsamic vinegar
4 Tbsp (60 mL) olive oil
1/4 tsp (1 mL) salt
1/4 tsp (1 mL) freshly ground black pepper
1 Tbsp (15 mL) thinly sliced shallot or diced red onion
1/4 cup (60 mL) fresh basil leaves, roughly torn if large
Slice the mozzarella into 1/4-inch (0.6 cm) slices. Cut the melon wedges crosswise into 1/4-inch (0.6 cm) slices. Whisk the vinegar, oil, salt and pepper together.
Arrange the melon and mozzarella on a serving plate. Scatter with the shallots and the basil leaves. Serve the vinaigrette on the side.
Makes 4-6 servings
barnabyvansun@gmail.com
Instagram: karenbarnaby