Reviews and recommendations are unbiased and products are independently selected. Postmedia may earn an affiliate commission from purchases made through links on this page.
For some people, festive foods and dinners have to be the same year after year.
We apologize, but this video has failed to load.
Try refreshing your browser, or
tap here to see other videos from our team.
Karen Barnaby: Thanksgiving dinner with a twist
Back to video
I get it — it's the same reason certain chain restaurants and coffee shops are popular all over the world. They're familiar, you know what to expect and there are no awkward situations to negotiate. No one's dinner will be ruined because it wasn't the same as it's been for the last 25 years.
If you long to dip your toe into the waters of rebellion, this might be the year.
I have a wonderful group of friends who I invite over for festive occasions. Every year, I change things up to keep it interesting for all of us.
Turkey? Nah, it's boring and difficult. Oxtails, porchetta or French Canadian ragout de boulette? Hop on board!
But the food is not really the important thing. For me, it's getting together with people I am grateful to have in my life. And we are humbled and thankful to have food to eat, and a warm place to eat it in.
So, be a rebel or not. And if it makes someone unhappy, look at them with love and say, "I'm grateful for you. Thank you."
Even though I can't see you, I'm grateful for all of you, too.
Of note:
To take the stress off the preparation, the Maple Orange Chipotle Sweet Potatoes can be prepared up to four days in advance, then reheated over low heat. The Mashed Potatoes with Bacon, Kale and Leeks can be prepared three days in advance, and also reheated over low heat, adding a touch of water to loosen up the mixture. If you have a vacuum sealer, seal them, then reheat them in the bags in a large pot of nearly boiling water on the day of your dinner. It's fuss free and there's no messy pots or pans to clean.
---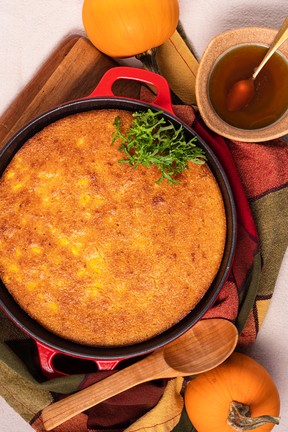 Corn Pudding
Not quite a pudding, and not quite a cake, it's like the best cornbread you've ever eaten.
2 cups (500 mL) corn kernels, fresh or frozen
6 Tbsp (90 mL) all-purpose flour
6 Tbsp (90 mL) cornmeal
2 tsp (10 mL) baking powder
1/4 tsp (1 ml) baking powder
1/2 tsp (2.5 mL) salt
Pinch cayenne pepper, or to taste
1/2 cup (125 mL) unsalted butter
3/4 cup (180 mL) sour cream
1 tbsp (15 mL) honey, plus more for drizzling if desired
2 large eggs
Heat the oven to 350°F (175ºC). Butter an 8 x 8-inch pan or another shallow pan with a 6-cup (1.2 L) capacity.
Blend half of the corn in a food processor or blender until as smooth as possible. Reserve.
Whisk flour, cornmeal, baking powder and soda, salt and cayenne together. Reserve.
Melt the butter in a large frying pan over medium low heat. Continue heating, swirling the pan until the butter is a nutty brown colour. It helps if you use a stainless steel pan so you can see the butter browning. Remove 2 tbsp (30 mL) of the butter and immediately add the pureed and whole corn. Cook until the corn is coated in butter and turns a brighter yellow. Remove from the heat and stir in the sour cream and honey. Cool slightly, then beat in the eggs, then the flour mixture. Scrape into the prepared pan. Bake for 20-25 minutes, until a toothpick inserted into the centre comes out clean. The time will depend on the pan you've chosen and the depth of the mixture. Drizzle with reserved brown butter, and as much honey as you like. Serve immediately.
Makes 6-8 servings.
---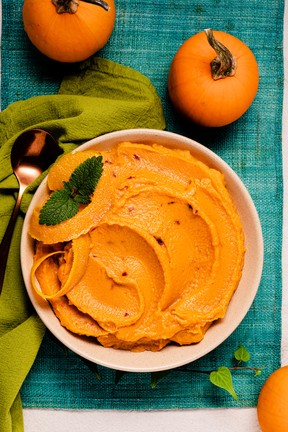 Maple Orange Chipotle Sweet Potatoes
The orange adds a bit of sparkle to the sweetness of the potatoes. Although not that hot, you can leave out the chipotles for a milder dish.
3 lbs (1.5 kg) sweet potatoes, peeled and cut into 1-inch (2.5 cm) slices
2 tsp (10 mL) salt plus more to taste
1 small orange
1/4 cup (60 ml) maple syrup
1/2 cup (125 ml) sour cream
2 tsp (10 ml) minced, canned chipotle chilies
Pinch each of ground nutmeg and ginger
Finely grate the rind from one-quarter of the orange, then squeeze the juice and reserve both.
Place the potatoes in a large pot and cover amply with cold water. Add the salt and bring to a boil over high heat. Cook for 20-25 minutes until fork tender. Drain and return to the pot over low heat for a few minutes to evaporate the water. Either mash the potatoes or puree in a food processor and return to the pot. Stir in the remaining ingredients over low heat until heated through. Taste and correct the seasoning.
Makes 8 servings.
---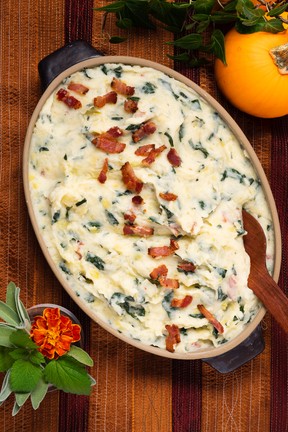 Mashed Potatoes with Bacon, Kale and Leeks
4 oz (120 g) good quality bacon
1 small bunch kale
3 lbs (1.5 kg) russet or Yukon Gold potatoes, peeled
2 tsp (10 mL) salt plus more to taste
2 large leeks, white and light green part only, cleaned and thinly sliced
1 cup (250 mL) full-fat milk
Slice the bacon crosswise into 1/4-inch (0.6 cm) pieces. Place in a medium sized frying pan over medium heat and cook until lightly crisp. Remove from the heat and drain, reserving 2 tbsp (30 mL) of the fat.
Trim the stalk and thick part of the rib from the kale and chop into 1/4-inch (0.6 cm) pieces.
Cut the potatoes in 1-inch (2.5 cm) cubes and transfer to a large pot. Add the leeks and salt and cover amply with water. Bring to a boil. Five minutes before the potatoes are tender, add the kale. When the potatoes are tender and drain. Return to the pot over low heat for a few minutes to evaporate the water. Mash until the potatoes are smooth, then stir in the milk, half the bacon and reserved fat. Taste, correct the seasoning and serve immediately, garnished with the remaining bacon.
Makes 8 servings.
barnabyvansun@gmail.com
instagram.com/karenbarnaby
---
More news, fewer ads, faster load time: Get unlimited, ad-lite access to the Vancouver Sun, the Province, National Post and 13 other Canadian news sites for just $14/month or $140/year. Subscribe now through the Vancouver Sun or The Province.