Reviews and recommendations are unbiased and products are independently selected. Postmedia may earn an affiliate commission from purchases made through links on this page.
Have you ever found yourself in a situation where you're stuck with a large jar of Nutella? Here are three recipes to help you use up that big jar of chocolate hazelnut spread.
We apologize, but this video has failed to load.
Try refreshing your browser, or
tap here to see other videos from our team.
Karen Gordon: 3 recipes to ramp up that wonderful Nutella spread
Back to video
Nutella, a deliciously thick and chocolatey spread made with chocolate and ground hazelnuts is sweet, rich and decadent. It's one of those things that once you've got a hankering for, you can't stop thinking about it until you've had your fill. I woke up one morning to a huge craving for Nutella. And since it was more economical to purchase the large jar, I did just that but then quickly found myself having difficulty utilizing it all. I tried, really, I did.
Besides using it as a spread on sandwiches, I drizzled it over cheesecake, added it to breakfast oatmeal, and even used it as a dip for fresh fruits like bananas, apples, and strawberries. Despite all these, I still had a good half-jar of Nutella left. So of course, I had to get creative. Here's what I made with my excess chocolate hazelnut spread.
Nutella Ice Cream Bowls
Nutella Ice Cream Bowls are a fun and creative use of this delicious spread. The Nutella is first melted in a microwave, then spread on silicone moulds, frozen until firm, and served with ice cream over top. These bowls can be whipped up in under 15 minutes with only one ingredient — Nutella. Once the bowls are firm, they're placed on a plate, topped with a scoop or two of ice cream and you've got yourself a delicious dessert where you can literally eat the bowl.
1 cup (300g) Nutella or chocolate hazelnut spread
silicone moulds or paper muffin liners
Add Nutella to a microwavable bowl. Microwave on medium low in 30 second intervals, stirring until smooth.
Add 1 tablespoon of the melted Nutella to a silicone mould or paper muffin liner. Using the back of a spoon, spread the Nutella along the inside of the mould.
Transfer to the freezer and freeze for 3 to 4 minutes.
Remove and add another layer of melted Nutella.
Return moulds to the freezer to freeze for another 10 minutes.
Remove from the freezer, pull the silicone moulds apart to loosen the Nutella bowl, then turn the silicone mould inside out to remove the chocolate bowl. For muffin liners, gently peel away the muffin liner to reveal the Nutella bowl. Serve immediately with a scoop or two of ice-cream. Enjoy!
If not using right away, store Nutella bowls in an airtight container in the freezer until ready to use.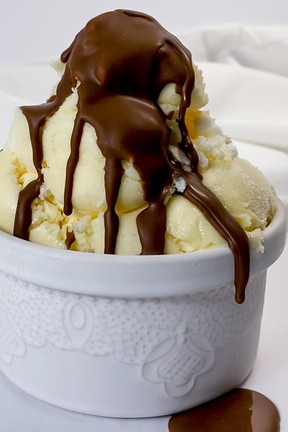 Nutella Magic Shell
This is the perfect homemade dessert for all Dairy Queen dipped-cone lovers. This nostalgic treat, regardless of the time of year, makes a fun and yummy dessert for all ages! Not only are they fun to eat, they're also fun to make.
Nutella Magic Shell may be drizzled over ice cream or used as a dip for ice cream cones or Popsicles. My favourite part is watching these chocolate shells instantly harden in front of my eyes.
This magic shell mixture may be made ahead of time and stored in a glass container at room temperature. To use, warm the mixture in a microwave until liquid, then drizzle it over ice cream. For those who prefer ice cream drumsticks, dip well-packed, well-frozen ice cream cones into the liquid magic shell mixture and then freeze briefly before serving.
1/3 cup (100g) Nutella or chocolate hazelnut spread
3 tbps (45g) coconut oil
Add both ingredients to a microwaveable bowl. Heat on high in 10 second intervals, stirring in between, until smooth.
Drizzle over ice cream. Wait 30 seconds for shell to harden before serving. Enjoy!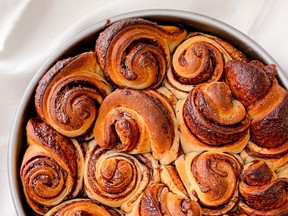 Nutella Rosettes
Here's a new take on cinnamon rolls. These soft and fluffy buns are slathered with Nutella and then baked to golden perfection. If you find cinnamon buns a little too sweet for a regular breakfast, then these Nutella rosettes will surely hit the spot. Soft, fluffy, and buttery, these rolls are a delicious way to start the day. I like them because they're less sweet compared to a regular cinnamon bun yet, they're chocolatey, with a delicious hazelnut flavour to them. I like them warm with a little butter. However, feel free to dust them with confectioners' sugar for added sweetness or alternatively, slather them with some cream cheese frosting and you've got yourself a breakfast you'll be talking about all day.
Dough:
4 ½ cups (540g) all-purpose flour
2 ½ tsp (7g) instant dry yeast
1 tsp (5g) salt
1/2 cup (100g) granulated sugar
1 cup (240ml) warm milk
2 large eggs, room temperature
1/3 cup (76g) butter, melted and cooled
1 tsp (5ml) vanilla extract
1 cup (300g) Nutella or chocolate hazelnut spread
1/3 cup (80ml) heavy cream
To a stand mixer, add flour, yeast, salt, and sugar. Whisk to combine.
Pour warm milk, eggs, butter, and vanilla over flour mixture and mix with a rubber spatula until the ingredients are just barely combined. Let mixture stand for 5 to 10 minutes for the yeast to bloom.
Fit stand mixer with dough hook attachment and beat dough on medium speed, for 7 minutes until dough is smooth and elastic. Dough is supposed to be sticky. Do not add additional flour.
Grease a large bowl with vegetable oil. Transfer dough to the oiled bowl.
Turn the dough in the bowl to coat it with oil, then cover with plastic wrap and place in a warm spot to rise for 30 minutes.
Once 30 minutes has passed and dough has risen, turn out dough onto a generously floured work surface. Sprinkle top of dough with additional flour.
Using a rolling pin, roll out dough to a large rectangle measuring 24 inches wide by 15 inches deep.
Using a rubber spatula, spread the Nutella over the bottom two-thirds of the rectangle. The part covered with Nutella should measure 24 inches wide by 10 inches deep. Working from the edge without Nutella, and farthest away from you, fold 1/3 of the dough, toward you. Then fold the bottom third away from you, essentially, creating 2 layers of Nutella sandwiched between 3 layers of dough.
Using a sharp knife, make 12 slices in the dough, with each slice measuring 2 inches wide by 5 inches long.
Working with one strip at a time, starting at one end, roll the strip into a miniature jelly roll, tucking the end under to create a spiral rosette.
Place rosette on a greased 10 inch circular baking pan. Repeat for the balance of the strips.
Cover the pan with plastic wrap and place in a warm spot for the rosettes to rise for approximately 30 minutes or until doubled in size. While rosettes are rising, preheat oven to 375 F.
Warm cream in the microwave for 20 seconds.
Once rosettes have risen, drizzle cream over the top of each rosette, allowing the cream to seep into the crevices.
Bake at 375 F for 20 to 22 minutes, until the tops are golden, and the centres are cooked through.
Serve warm with a little butter. 
Karen Gordon is a food blogger from North Vancouver who shares her recipe creations online at karentology.com, on Instagram at @karen.t.ology, and on Pinterest @karentologyblog.