Reviews and recommendations are unbiased and products are independently selected. Postmedia may earn an affiliate commission from purchases made through links on this page.
Looking for a recipe to make using all those juicy, freshly picked berries or stone fruits? How about making a summer fruit galette?
We apologize, but this video has failed to load.
Try refreshing your browser, or
tap here to see other videos from our team.
Karen Gordon: Peach Galette the imperfect pie everyone can make
Back to video
A galette is a French pastry, like a pie or tart, but baked without a pie pan. It's a rustic-looking, slapped-together pie without the fuss of pie-making. If pastries were like undergarments, then a pie would be like a pair of Spanx — fully encased in pastry dough and crimped to perfection, while the galette would be its hippie cousin; open, free-form and imperfect. It's essentially filling — in this case, fruit wrapped in pastry. It's easy and everyone makes a beautiful galette.
Galettes are made on a baking sheet, no pie pan needed. The pie dough is first rolled out into a large circle. A filling is then added to the middle of the circle, leaving about a three-inch border all around the edge. The edges are then folded over with middle exposed, sort of like an open sunroof.
The crust is golden, buttery, and flaky. The fruit filling is sweet, sticky, and delicious. This pastry makes a perfect summer dessert especially when juicy berries and stone fruits are at their yummiest. To transport a galette, I recommend baking them in a skillet. Not only will it save you the trouble of finding a container to house the pie, but the skillet will also help crisp the bottom crust.
While galettes are easy to make, there are a few tips to help you bake up the perfect summer pie.
Galette Tips:
Cube and freeze the butter before preparing the pie dough. Having very cold butter is essential to creating a flaky crust.
Use a food processor to mix the dough. You're looking for a coarse crumb with chickpea-size pieces of flour-coated butter. Having visible pieces of butter in the dough creates a flaky crust.
Add only enough ice-cold water for the pastry dough to come together. As soon as it starts to clump, stop adding water and turn the food processor off. Too much water will create a wet, sticky dough that when baked will be soft and gummy.
Roll out the pie dough to 1/8-inch thickness and approximately 12 inches in diameter. It does not need to be perfectly round. Having jagged edges also adds to the galette's rustic charm.
Fill only the middle, leaving a three-inch border around the edge of the pastry dough. This will allow you to fold the dough over and hold the filling.
Patch any deep cracks running from the outside edge toward the middle of the pastry dough. Patching these cracks will prevent the filling from seeping out while baking.
To prevent a soggy bottom, brush the crust with corn syrup or a beaten egg white before filling. This will act as a moisture barrier between the crust and the fruit juices while baking.
If available, use a pizza stone to bake your galette. This will help crisp up the bottom of the crust. If using a pizza stone, place pizza stone into the oven prior to preheating. Heat oven to 375 F for at least 30 minutes prior to baking.
For a beautiful golden crust, brush the pastry top with heavy cream or a beaten egg prior to baking. To add sweetness and crunch, sprinkle liberally with Turbinado sugar.
Finally, add a couple of knobs of butter to the top of the fruit prior to baking. This will give the filling a beautiful sheen.
Pastry Dough
1-1/3 cup (160g) all-purpose flour
2 tsp (10g) granulated sugar
½ tsp sea salt
1/2 cup (127g) very cold unsalted butter, cubed
4-5 tbsp (60-75ml) ice-cold water
1-2 tbsp corn syrup
Peach Filling
6 peaches, cut in half and pitted
2 tbsp cornstarch
1 tbsp lemon juice
1/4 cup granulated sugar
2 tbsp unsalted butter
Cream Wash
1/8 cup heavy cream
raw or Turbinado sugar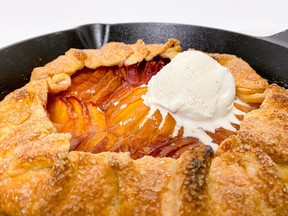 Instructions:
In a food processor outfitted with a dough blade, add the flour, sugar, and salt. Pulse to combine.
Add the very cold, cubed butter and pulse until the mixture resembles very coarse crumbs and the butter is the size of chickpeas.
With the machine still running, drizzle one tablespoon of water at a time. Once the dough starts to clump together, stop adding water. Turn machine off and transfer the dough onto a well-floured working surface.
Using a rolling pin, roll out dough to 1/8-inch thickness. Transfer dough onto a parchment lined cookie sheet and place dough in the refrigerator to chill for 1 hour.
If baking in a skillet, use a rolling pin to help transfer the dough over a skillet. Gently press the dough down to fit the skillet, leaving a 3" border. Chill as described in step above.
In the meantime, preheat oven and prepare fruit.
Move oven rack to the middle position. Preheat oven for at least 30 minutes at 375 degrees Fahrenheit. If using a pizza stone, place pizza stone in oven before preheating.
Slice each peach half into 1/4-inch thick slices. Transfer the peaches into a bowl and add the cornstarch, lemon juice and granulated sugar. Gently toss so that each slice of fruit is well coated. Set aside.
Remove the pie dough from the fridge. Brush the bottom crust with corn syrup to prevent it from getting soggy while baking.
Add the peaches to the crust, leaving a three-inch border around the edge. For an esthetically pleasing presentation, groups 5 or 6 peach slices together, and place them on the pastry dough forming a criss-cross pattern. Alternatively, starting from the middle, overlap the sliced peaches, creating a concentric circle pattern.
Add the remaining cornstarch and juice mixture on top of the peaches. Dot the peaches with small knobs of butter.
Fold the edges of the galette toward the centre, pinching and rotating the pan repeatedly until the edges are folded.
Brush the crust with heavy cream and sprinkle liberally with raw or Turbinado sugar.
Bake in preheated oven for 45 minutes or until the crust is a deep golden brown and the fruit is bubbling.
Remove from the oven. Slide the galette and parchment paper onto a wire rack to cool completely — approximately 1 hour. This will allow the galette to set. If using a skillet, place the skillet on a wire rack to cool. Do not remove the galette from the skillet. Once cooled, slice into wedges and serve with ice-cream. Enjoy!
Karen Gordon is a food blogger from North Vancouver who shares her recipe creations online at karentology.com, on Instagram at @karen.t.ology, and on Pinterest @karentologyblog.
---
More news, fewer ads: Our in-depth journalism is possible thanks to the support of our subscribers. For just $3.50 per week, you can get unlimited, ad-lite access to The Vancouver Sun, The Province, National Post and 13 other Canadian news sites. Support us by subscribing today: The Vancouver Sun | The Province.