Reviews and recommendations are unbiased and products are independently selected. Postmedia may earn an affiliate commission from purchases made through links on this page.
I love blueberries. They are a perfect mix of sweet and tart, crisp and firm, with that juicy blueberry flavour in each bite. I also love how versatile blueberries are. They're great on their own as a snack, delicious with a bowl of yogurt and a little drizzle of balsamic vinegar reduction for a quick breakfast, wonderful when tossed in a salad, or roasted and served with vanilla ice cream for dessert.
We apologize, but this video has failed to load.
Try refreshing your browser, or
tap here to see other videos from our team.
Karen Gordon: Summer blueberry bounty showcases perfectly in scones, squares
Back to video
However, my favourite way of using blueberries is in my baking.
Blueberry scones
If you're not a fan of scones because you find them dry, then this recipe will change your mind. This is my most saved recipe on my blog as well as on my Pinterest account. It's the only blueberry scone recipe you'll ever need! Scones made with this recipe are not only moist and fluffy on the inside but also crisp on the outside.
Best part, the recipe is easy. Made in a food processor, these scones can be whipped up in under an hour, including freezing time. They're light and flavourful and make a delightful addition to breakfast, brunch, or even a midday snack.
Scones
2 cups (240g) all-purpose flour, plus extra for hands and work surface
1 cup (100g) granulated sugar
2- 1/2 tsp baking powder
1/2 cup (113g) butter, cold and cubed
1/2 cup (120ml) milk
1 large egg
1 tsp vanilla extract
6 oz (170g) fresh blueberries
milk or cream for brushing scones
turbinado/raw sugar
Cream glaze
1 cup (100g) confectioners' sugar
2 to 3 tbsp cream or milk
1/4 tsp clear vanilla extract (optional)
In a food processor, add flour, sugar, and baking powder. Pulse to combine.
Add cold, cubed butter. Pulse 20-25 times until mixture resembles coarse pea-size crumbs. Transfer to a large mixing bowl.
In a separate bowl, whisk milk, egg, and vanilla extract together.
Add blueberries, milk, and egg mixture to the bowl. Using a silicone spatula, fold until mixture comes together. Do not over mix.
Turn dough onto a well-floured surface. With floured hands, lightly press the dough into a disc measuring approximately 8 inches in diameter. Using a dough scraper, cut the disc into 8 wedges.
Transfer the wedges onto a parchment-lined baking sheet, placing them 3 inches apart. They will expand considerably while baking. Brush each wedge with a little milk or cream, then sprinkle with turbinado sugar.
Transfer the baking sheet into the freezer to chill for a minimum of 20 minutes while you preheat the oven.
Move the oven rack to the middle position. Preheat oven to 400 F.
Bake for 23 to 25 minutes until the tops are golden brown.
Remove from the oven and allow the scones to cool on a baking rack for about 15 minutes. If they are uneven shaped, while still warm, use a dough scraper, lightly reshape them into wedges before allowing them to cool.
While scones are baking, make the cream glaze. In a bowl, add the confectioners' sugar and milk. Stir until mixture is smooth. Cover with plastic wrap until needed.
Drizzle cream glaze over freshly baked scones. Allow glaze to set approximately 15 to 20 minutes. Serve at room temperature. Enjoy!
Serves 8.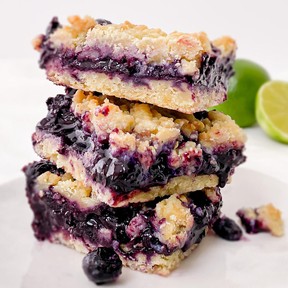 Blueberry lime white chocolate crumb bars
Part crisp, part pie, part cobbler, these dessert bars showcase the plump and juicy berries beautifully. Made with a buttery and crumbly sugar-cookie crust, a layer of thick and jammy blueberry compote, another layer of white chocolate chips and finally a layer of sugar cookie crumble, these squares are the perfect year-round dessert that's sure to be loved by all.
Freshly squeezed lime juice and lime zest add a little tanginess to the sweet berries. The white chocolate, an unexpected addition, adds creaminess while the sugar cookie crumble adds a crunchy element. The crust is baked before the blueberry compote is added to ensure that the crust remains crisp and not soggy. I should forewarn you that if you're making these treats to give away, you might want to double the recipe. Otherwise, after your taste test, you might not have any left over to give away. Just saying.
Sugar cookie crust
3 cups (360g) all-purpose flour
3/4 cup (150g) granulated sugar
1 cup (227g) very cold butter, cubed
2 large eggs
2 tsp vanilla extract
1-1/2 cups (255g) white chocolate chips
Blueberry compote
1 lb. (480g) fresh blueberries (frozen works too)
1/2 cup (100g) granulated sugar
2 tbsp (30ml) freshly squeezed lime juice
pinch of salt
1 tbsp cornstarch
1/2 tbsp water
zest of 1 lime
For the cookie dough crust:
Preheat oven to 350 F.
Spray a 9-inch by 9-inch baking pan with cooking spray. Line with a piece of parchment paper so that it overhangs 2 sides by 3-4 inches.
In a large mixing bowl, whisk flour and sugar together. Add the cubed butter and with your fingers, rub the butter into the flour mixture until coarse crumbs form.
Whisk eggs and vanilla extract in a separate bowl. Add the egg mixture to the flour mixture and mix with a wooden spoon until the mixture forms a dough.
Divide dough in half. Add half to the bottom of the prepared baking pan. Using your fingers, firmly press the dough creating an even layer.
Bake for 15-17 minutes until the edges are lightly golden. Remove from oven and let cool. While crust is baking, prepare the compote.
For the compote:
Wash and dry blueberries.
Add blueberries, sugar, lime juice and salt to a medium size saucepan. Cook over medium heat for about 5-7 minutes until blueberries burst and are soft.
Remove blueberries with a slotted spoon and set aside.
Continue cooking the liquid for another 4-5 minutes until reduced in half or until thick. Return blueberries to the pan and stir to combine.
For a thicker, jammy compote, mix 1 tablespoon cornstarch with 1/2 tablespoon water and add it to the simmering mixture. Mix with a wooden spoon until mixture thickens. Add the lime zest and stir. Remove from heat and allow mixture to cool slightly.
Spread the blueberry compote over the baked crust. Sprinkle white chocolate over the blueberry compote. Then crumble the remaining cookie dough over the white chocolate layer. Do not press the cookie dough down. Note that there won't be enough cookie dough to cover the entire pan. That's OK. The purpose is to allow the blueberries and white chocolate to peek through.
Return pan to the oven and continue baking at 350 F for another 30 to 35 minutes until lightly golden on top.
Remove from oven, place on cooling rack to cool completely.
To make clean slices, warm a sharp thin-bladed knife with hot water and dry off, then slice into the dessert. Clean knife with hot water and dry off with a paper towel in between cuts. Enjoy!
Makes 1 9 x 9-inch square pan.
Karen Gordon is a food blogger from North Vancouver who shares her recipe creations online at karentology.com, on Instagram at @karen.t.ology, and on Pinterest @karentologyblog.