Reviews and recommendations are unbiased and products are independently selected. Postmedia may earn an affiliate commission from purchases made through links on this page.
Have you heard of garlic scapes? If you haven't, you're not alone. I recently conducted an informal poll on my Instagram account and found that 58 per cent of the respondents haven't heard of garlic scapes, let alone tried it.
We apologize, but this video has failed to load.
Try refreshing your browser, or
tap here to see other videos from our team.
Karen Gordon: Why not give garlic scapes a try — with pasta?
Back to video
If you're wondering what they are, they're these long, curly, green-bean-like vegetables with tightly closed buds from the Hardneck garlic plant.
Bet you're now wondering what a Hardneck garlic is. The first time I came across this term, I thought to myself, do garlic have necks? Up to this point, I thought all garlic were the same. I'm wrong. Hardneck garlic are the ones with the rigid stalk in the centre of the bulb. They're not very common as most garlic available to us are Softneck garlic. However, garlic scapes only sprout from the Hardneck variety.
And to confuse you even more, garlic scapes aren't the same as green garlic. Green garlic is essentially young shoots of garlic bulbs. They-re sweet, tender and have a delicate garlicky flavour. Garlic scapes on the other hand are harvested when they're full-sized and curled over, complete with flowering buds. While milder and sweeter than fresh garlic cloves, don't let them fool you, they still pack a garlicky punch particularly when eaten raw.
When it comes to tenderness, the younger the scapes, the more tender they'll be. Longer scapes tend to be tougher. That said, they're far from tough; their texture is like young asparagus. The entire garlic scape, from base to bulb is edible. If you love garlic, you'll love garlic scapes. And if you don't like garlic, you may still enjoy them as they aren't quite as pungent as garlic. I've found that cooking the scapes helps tone down the garlic flavour. Similarly, freezing the scapes once they've been turned into pesto also helps mellow out its bite.
The easiest way of enjoying this specialty vegetable is simply to grill it. Once washed and dried, lightly massage the garlic scapes with a little olive oil, then season with salt-and-pepper. Grill the scapes whole over a medium flame until bright green with golden brown spots. Serve them as you would any grilled vegetable. They're sweet, garlicky, slightly nutty and a whole lot of deliciousness.
If you're looking to feature garlic scapes in your meal, then you'll want to try these two pasta recipes:
Pasta with Garlic Scape Pesto and Burrata Cheese
This easy summertime weeknight recipe is perfect for those evenings when it's too warm to spend much time cooking over a hot stove. It's nutty and garlicky with the freshness of sweet basil. I recommend blanching the garlic scapes, which can be done ahead of time and refrigerated until needed. The time it takes to boil your pasta is all that's required to whip up this dish. While the pasta is boiling, make the pesto. Toss the pasta and pesto together, plate and serve with a generous piece of burrata. It's rich, creamy and delicious.
Ingredients
10 stalks garlic scapes, trimmed, washed, dried and cut into 1/2 inch pieces
1 bunch fresh basil leaves
3/4 to 1 cup (180 mL to 240 mL) extra virgin olive oil or more to taste
1/3 cup (45 g) whole raw almonds
1 tsp lemon juice
1/2 tsp sea salt
Pepper to taste
3/4 lb (340 g) dried pasta, preferably penne
10 oz (300 g) Burrata cheese
Instructions
Bring a pot of salted water to boil. Add garlic scapes and boil until tender, between 1-3 minutes depending on thickness. Drain in a colander and immediately plunge into ice water to stop the cooking process. Drain and set aside.
While waiting for the pasta water to boil, prepare the pesto. In a food processor, add the garlic scapes and basil leaves. Pulse to mince. Once desired consistency is reached, add 1/2 cup of olive oil and continue blending, scraping down the sides. Add the raw almonds, lemon juice and salt. Continue blending and adding more olive oil until the designed consistency is reached. Taste pesto and adjust accordingly with salt and pepper. Set aside.
Cook pasta in lightly salted water until al dente or according to package. Drain and reserve 1/2 cup of the pesto water.
Return the drained pasta to the pot. Add 3/4 of the pesto and 1/4 cup of the pasta water. Stir to coat the pasta, adding additional pasta water if required.
Ladle onto plates. Top pasta with a little more pesto and a generous piece of burrata. Serve immediately. Enjoy.
Serves 4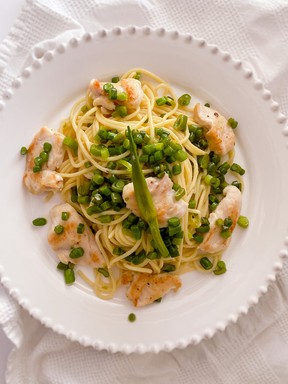 Creamy Garlic Scapes with Chicken and Spaghetti
Despite the use of cream in this recipe, this dish is still light and bright, allowing the ingredients to shine through. I love this recipe as it makes a quick and easy main course for a casual dinner party. I recommend using lemon zest instead of lemon juice to prevent the cream from curdling. Serve this pasta with freshly grated Parmesan cheese, fresh ground pepper and a chilled glass of Chardonnay.
Ingredients
1 lb (455 g) chicken breast, sliced into bite-size pieces
1/2 tsp salt
1/2 tsp pepper
1 tsp garlic powder
1 tbsp cornstarch
3/4 lb (340 g) dried spaghetti
1/2 lb (230 g) garlic scapes, washed, dried, trimmed and chopped into 1/4 inch pieces
2 tbsp butter
2 tbsp olive oil
1 cup heavy cream
1/2 cup chicken broth
Zest of 1/2 lemon
Salt and pepper to taste
Freshly grated Parmesan
Fresh ground pepper
Instructions
In a medium size mixing bowl, add the sliced chicken breast. Season with salt, pepper, garlic powder and cornstarch. Mix well to coat. Cover with plastic wrap and place in the refrigerator to chill for at least 1 hour. Chicken may be prepared up to a day in advance.
Bring a large pot of salted water to boil. Cook spaghetti until al dente or according to instructions. Drain.
While the pasta water is coming to a boil, add butter and olive oil to a large skillet over medium-high heat. When the butter is melted, add the garlic scapes and season with salt. Sauté until scapes are bright green and tender, about 3-4 minutes. Remove scapes and set aside.
Without washing the pan, add the seasoned chicken and pan fry until almost cooked through, about 4 minutes. Return the scapes to the pan. Add the heavy cream and chicken broth. Bring mixture to a simmer. Add the lemon zest and stir to combine.
Add the pasta to the creamy chicken and scapes mixture. Toss to combine. Remove from heat. Serve immediately with freshly grated Parmesan cheese and freshly ground pepper. Enjoy!
Serves 4
Karen Gordon is a food blogger from North Vancouver who shares her recipe creations online at karentology.com, on Instagram at @karen.t.ology, and on Pinterest @karentologyblog.