Reviews and recommendations are unbiased and products are independently selected. Postmedia may earn an affiliate commission from purchases made through links on this page.
I'm always impressed with self-taught bakers such as Jenell Parsons, owner of The Pie Hole in Vancouver (1864 W. 4th Avenue) and Burnaby (7832 6th Street). Parsons, an artist before a pie maker, believes no matter how much money you spend on paint and brushes, the work will only be as good as the artist.
We apologize, but this video has failed to load.
Try refreshing your browser, or
tap here to see other videos from our team.
Kasey Wilson: Jenell Parsons has proven herself an expert on all things pies
Back to video
"I feel the same way about the art of making pies," she says.
Her second book You Wanna a Piece of Me? Seriously Tasty Recipes for Sweet and Savoury Pies published by Appetite by Random House offers simple, yet inspired, pie recipes with the best tips and tools for creating masterpieces.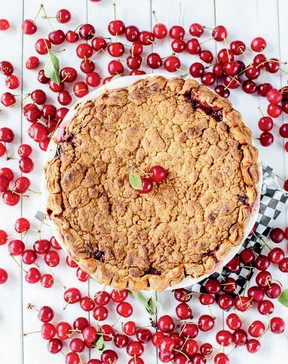 Sour Cherry Pie
"Let's not get 'cherried' away," says Jenell Parsons, "but it is my humble opinion that sour cherries make the best cherry pies. Sour cherries pack such a punch with a little sweetness and a whole lot of tartness. They are tricky little cherries to try to pit. A farm I get them from gave me a pro tip: float these little ruby-red gems in ice water while pitting them. It firms up the flesh a little and makes the job a smidgen easier. With the sourness of these cherries, I like to top this pie with a golden sugar crumble. The sweet and the sour is a heavenly combination."
1 9-inch store-bought pie shell, if frozen, thaw until cold to the touch
7 cups sour cherries (fresh or frozen)
¾ cup (150 g) sugar
¼ cup (50 g) golden or brown sugar
1/3 cup (40 g) tapioca starch
½ tsp cinnamon
Pinch salt
1 egg, beaten
1 tbsp lemon juice
1 tsp Angostura bitters
3 cups (450 g) Golden Sugar Crumble (see recipe below)
Pit the sour cherries and place them in a large bowl. Add sugar, golden sugar, tapioca starch, cinnamon, salt, egg, lemon juice, and Angostura bitters and use a spatula to toss mixture until cherries are evenly coated. Add cherry mixture to pie shell and smooth it out for a nice even top. Top with Golden Sugar Crumble. Chill pie for 30 minutes in fridge or 15 minutes in freezer before baking.
Preheat oven to 350°F.
Transfer pie to prepared baking sheet. Bake for 50 to 60 minutes, until the top is golden and juices are flowing out and appear slightly thickened and sticky.
Tip: If you tilt your pie slightly and the juices flow out easily, it is not yet ready. Keep it in the oven for another 10 to 12 minutes until juices bubble and are thick and gooey. Let the pie cool completely before serving.
Makes one 9-inch single-crust pie
Golden Sugar Crumble
½ (114 g) butter, cold
1 cup (150 g) flour
½ cup golden or brown sugar
Cut the butter into 1-inch pieces. Using a stand mixer fitted with the paddle attachment, combine flour and sugar for 30 seconds on the lowest setting until mixed. Add cold butter, a few pieces at a time, mixing until you have a coarse crumbly texture that holds together when squeezed. Do not overmix, or you will start to cream the butter and lose that beautiful crumbly texture.
Makes enough crumble for one 9-inch pie
Stewed Pears and Plums
I'm also impressed with Kelowna's Rod Butters, chef/owner of four acclaimed restaurants including RauDZ Regional Table (1560 Water Street). Butters' commitment to "support local, buy local, eat and drink local" earned him international respect long before local cuisine was trendy. He may be one of Canada's top chefs, but he knows how to write for the home cook. His recipe for local pears and plums stewed in warm spices is the ultimate comfort food.
This recipe works as a cereal topping, or served with yogurt, pancakes, cake or ice cream. Adapted from The Okanagan Table: The Art of Everyday Cooking published by Figure 1.
2 large pears, such as Red Bartlett, peeled, cored and cut into wedges
2 cups fresh Italian prune plums, pitted or 1½ cups prunes
1 cup apple juice
¼ cup sugar
12 black peppercorns
5 cloves
2 cinnamon sticks
3 (2-inch) pieces orange zest
1 slice ginger
Combine all ingredients in a pot. Bring to a simmer on medium heat and cook for 20 minutes or until fruit is tender. Chill. (The stewed fruit can be refrigerated, covered, for up to two weeks.)
To serve: Transfer to individual bowls and serve with your favourite hot cereal or granola.
Makes 4 cups
---
Kitchen hack: Use scissors to trim the pie dough flush with the edge of the pie plate before fluting.