Reviews and recommendations are unbiased and products are independently selected. Postmedia may earn an affiliate commission from purchases made through links on this page.
The rich taste of the most appreciated and well-known Spanish dish, paella, makes it a wonderful dish for company, but it has other virtues too, such as affordability, low in fat, and a variety of ingredients that contain most of the essential nutrients.
We apologize, but this video has failed to load.
Try refreshing your browser, or
tap here to see other videos from our team.
Kasey Wilson: Rich, smoky paella can pull off salad status, too
Back to video
The name comes from the shallow open dish in which it is cooked and while paella is open to many variations, my favourite recipe is a paella salad by Jeanne Kelley, author of Salad for Dinner: Complete Meals for All Seasons.
Orzo, a small rice-shaped pasta, stands in for the paella rice in this salad adaptation of the Spanish favourite. Smoked paprika — the finest is pimentón de la Vera — hails from eastern Spain. The robustly flavoured spice, ground from smoke-dried peppers, is available in dulce (sweet) or picante (hot).
"Both work beautifully in this salad, which can be served room temperature or chilled," says Kelley. "And if you've got to have your greens, you can serve the paella mix on a bed of crisp romaine or arugula leaves."
Choose your paprika carefully. The typical grocery store paprika is usually machine-dried red bell peppers that lacks the smoky, sweet depth of the Spanish pimentón, which comes from a wide variety of local peppers with varying levels of sweetness and spice.
Finish dinner with the cool silkiness of panna cotta (translates as "cooked cream"). Similar in texture to custard, this Italian classic is set with gelatin instead of eggs.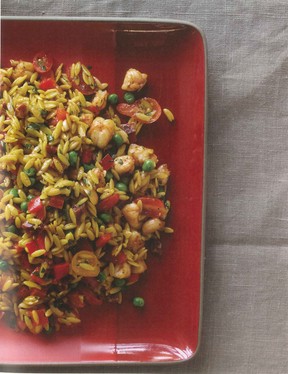 Paella Salad
4 tbsp (50 mL) extra-virgin olive oil
8 oz (250 g) orzo pasta (about 1¼ cups)
4 garlic cloves, minced
1/8 tsp (0.5) saffron threads
2¾ cups (500 mL) chicken broth
½ cup (125 mL) frozen peas
8 oz (250 g) peeled, deveined shrimp cut into ½-inch pieces
1 tsp (5 mL) smoked paprika
1 small red pepper, diced
1 cup halved cherry tomatoes
2 oz (about ½ cup) diced Spanish dry-cured chorizo
1/3 cup (75 mL) thinly sliced green onions
2 tbsp (25 mL) chopped fresh Italian parsley
2 tbsp (25 mL) sherry vinegar
Heat 1 tablespoon of olive oil in a heavy medium saucepan over medium heat. Add orzo and stir until golden brown, about 3 minutes. Add garlic and saffron and stir until fragrant, about 30 seconds. Pour in broth and bring to a boil. Reduce heat to low and simmer until broth is completely absorbed, about 12 minutes. Transfer orzo to a large bowl and stir in peas and 1 tablespoon of olive oil. Cool completely.
Meanwhile heat 1 tablespoon olive oil in heavy medium skillet over high heat. Add shrimp pieces and sprinkle with paprika and a little kosher salt. Stir-fry until shrimp is opaque, about 2 minutes. Remove from heat and let cool slightly. Stir shrimp and all the oil and spices from the pan into orzo, breaking up pasta as you stir it. Stir in red pepper, tomatoes, chorizo, green onions and parsley. Drizzle 2 tablespoons sherry vinegar and 1 tablespoon olive oil over all. Season the salad with freshly ground black pepper and stir to combine. (The salad can be prepared 1 day ahead. Cover and refrigerate. Stir salad before serving, adding remaining 1 tablespoon olive oil and sherry vinegar if necessary.)
Serves 4 to 6
Buttermilk and Vanilla Bean Panna Cotta
Serve in summer with sliced strawberries, fresh plums, apricots or berries; in the fall with spiced stewed figs; and in the winter with pureed soft persimmons. You can play with the richness of this dessert — for a lighter, low-fat version, use half-and-half or milk instead of cream, or for something truly decadent, substitute crème fraiche for all or part of the buttermilk.
Note: Chill the panna cotta in four or six glasses, depending on your appetite.
1 tsp (5 mL)  unflavoured gelatin
1 tbsp (15 mL) water
¾ cup (175 mL) whipping cream
½ vanilla bean, split in half lengthwise
2 ½ tbsp (40 mL) sugar
2 tbsp (25 mL) honey
1 ¼ cups (300 mL) chilled buttermilk
Sprinkle the gelatin over the water in a small bowl. Let the gelatin stand until softened, about 5 minutes.
Stir the cream, vanilla bean, sugar and honey in a heavy small saucepan over medium heat until the mixture just comes to a simmer. Remove the saucepan from the heat and add the gelatin mixture. Stir until the gelatin dissolves. Using a small sharp knife, scrape the small black seeds from the vanilla bean pod into the cream. Add the buttermilk and stir to combine.
Divide the cream among 4 to 6 glasses or pour into a pint-sized bowl. Chill the cream until set, about four hours. Panna cotta can be prepared five days ahead. Cover the glasses or dishes after the cream is set with plastic wrap and keep it refrigerated.
Makes: 4 to 6 servings
---
Kitchen hack
For larger parties, serve desserts like panna cotta in small 2-ounce glasses from the dollar store or a set of 12 stemmed glasses that come in a protective portioned cardboard box. Chill panna cotta in glasses until they set, then place desserts in their box — ready for transport.