Reviews and recommendations are unbiased and products are independently selected. Postmedia may earn an affiliate commission from purchases made through links on this page.
With the rising costs of produce and meat, you can still enjoy your steak and all the extras you'd find at your local steakhouse — by eating at home. Not only will you save money by preparing and eating at home, you can also cut your calorie budget in half.
We apologize, but this video has failed to load.
Try refreshing your browser, or
tap here to see other videos from our team.
Kasey Wilson: Steakhouse Salad is a lighter, healthier and less expensive meal you can make at home
Back to video
All that's needed: Steak (of course), crispy potatoes and creamy blue cheese dressing. This Steakhouse Salad combines all those favourite ingredients.
For a lighter, healthier and less expensive meal at home, grill a flank steak (a lean cut) and serve with a grilled tomato and asparagus salad — that is good enough to stand on its own as a first course.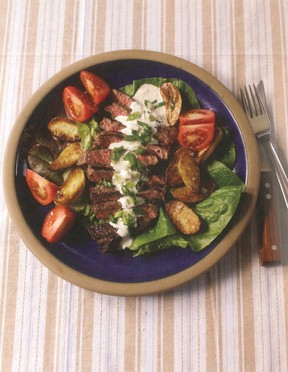 Steakhouse Salad
1 tbsp (15 mL) extra virgin olive oil
6 oz (175 g) fingerling potatoes
1 (8-oz) steak (about 1-inch thick), such as strip, top sirloin or rib eye
1 large garlic clove, pressed
Lettuce leaves to line plates (about 8), such as green or red leaf, or oakleaf lettuce
2 tomatoes, cut in 6 wedges
Creamy Blue Cheese Dressing (see recipe below)
2 green onions, thinly sliced
Heat 1 tablespoon olive oil in a heavy medium skillet over medium-high heat. Add potatoes, cut side down. Cook potatoes until browned on the bottoms, about 5 minutes. Turn and sprinkle them with salt. Reduce heat to medium and continue to cook until potatoes are browned and tender, about 8 minutes. Turn the potatoes and remove skillet from heat.
Meanwhile prepare a grill to medium heat or heat a large cast-iron skillet over medium-high heat. Brush both sides of the steak with olive oil and rub with garlic. Sprinkle steak with salt and pepper. Grill or fry steak until well browned, 4 minutes per side for medium rare. Let the steaks rest while preparing the salad.
Line 2 plates with lettuce leaves. Arrange the tomatoes and potatoes over the lettuce, dividing evenly. Thinly slice the steak and divide the steak between plates. Spoon about 2 tablespoons of the Creamy Blue Cheese Dressing over salad and sprinkle with green onions.
Serve, passing additional dressing separately.
Makes 2 servings
Creamy Blue Cheese Dressing
This is the classic — thick and rich with lots of blue cheese. You can also use it as a dip or spoon over wedges of ice-cold lettuce.
2 oz (56 g) crumbled blue cheese, such as Roquefort
3 tbsp (50 mL) finely chopped shallot
¼ cup (50 mL) sour cream
3 tbsp (45 mL) extra virgin olive oil
1 tbsp (15 mL) red wine vinegar
¼ tsp (1 mL) salt
1 to 3 tbsp (15 mL to 50 mL) milk
Whisk the blue cheese, shallot, sour cream, olive oil, vinegar and salt to blend in a small bowl. Add enough milk to thin to a creamy yet pourable consistency.
Dressing can be made up to four days ahead. Cover and refrigerate.
Makes about ¾ cup.
Grilled Flank Steak with Summer Vegetables
Marinade:
1½ cups (375 mL) of dry red wine
½ cup (125 mL) Dijon mustard
¼ cup (50 mL) packed dark brown sugar
8 garlic cloves, crushed and peeled
3 large shallots, coarsely chopped
2 tbsp (25 mL) chopped flat-leaf parsley
1 tbsp (15 mL) chopped thyme
Kosher salt and freshly ground pepper
Steak:
One 1½ lb (750 g) flank steak
2 tbsp (25 mL) cider vinegar
1 tbsp (15 mL) honey
6 oz (175 g) cherry tomatoes, quartered (about 1½ cups)
¼ small sweet onion, such as Walla Walla, thinly sliced
6 oz (175 g) thin asparagus, about 6 spears
2 ears corn, shucked
1 tbsp (15 mL) extra-virgin olive oil
6 basil leaves, finely shredded
1 tbsp (15 mL) unsalted butter
6 oz (175 g) fresh mushrooms (about ½ cups), cleaned and halved if large
In a large glass baking dish, whisk red wine, mustard, brown sugar, garlic, shallots, parsley, thyme, 1 tablespoon of salt and 1 teaspoon of pepper. Add steak and turn to coat. Let stand at room temperature for two hours or refrigerate up to eight hours.
Meanwhile, in a medium bowl, whisk cider vinegar and honey.
Add tomatoes and onion and toss. Let stand for one hour.
Light the grill. Coat asparagus and corn with olive oil and season with salt and pepper. Grill over moderately-high heat, turning occasionally, until tender and browned in spots, about 3 minutes for asparagus and six minutes for corn. Transfer to a work surface. When the vegetables are cool enough to handle, use a vegetable peeler to shave the asparagus into slices and a sharp knife to cut the corn from the cobs. Add the asparagus, corn and basil to the tomatoes; toss.
Remove steak from marinade and pat dry with paper towels; season lightly with salt and pepper. Grill the steak, turning once until medium rare about 10 minutes total. Transfer steak to a work surface and let rest for 10 minutes.
Meanwhile, in a skillet, melt the butter. Add mushrooms and cook over moderately-high heat until browned, about 3 minutes. Season with salt and pepper.
Thinly slice the steak against the grain and transfer to plates.
Season vegetables with salt and pepper and spoon alongside the steak. Top the steak with mushrooms and serve.
Serves 4
---
Kitchen Hack: Keeping Greens
Farmer's greens will keep about one week. Greens picked from the garden will keep slightly longer. Supermarket greens prepped in bags or boxes have "sell by" dates, but for the best taste should be used a few days before. Head lettuces from the supermarket will keep about four days.