If you've been scrolling Instagram or TikTok recently, it's likely you've been bombarded with posts of people living their best lives summering in Europe. And if you're like me, you're feeling major FOMO (fear of missing out) and have already started manifesting your next dream trip. First things first, decide on a destination. Once you've figured out the logistics, hotels, flights, transportation, etc., it's time to figure out the most important factor: outfits that emulate European fashion.
If you're lucky enough to be traveling abroad this summer, to ensure a successful trip, you want to pack key pieces and plan your looks ahead of time to guarantee seamless execution. This means packing smart, practical, and chic items. Summer fashion should be easy breezy, with looks that can be made with wardrobe staples you probably already have in your closet. Start by packing staples: T-shirts, a denim jacket, a few pairs of jeans, and a bodysuit or two. From there, integrate your new wardrobe essentials to create the vacation wardrobe of your dreams.
We're always looking to invest in pieces we will wear for years to come rather than buying trendy pieces we will only use for one season, so we've curated a list of European-inspired essentials you can add to your wardrobe to wear on repeat. Whether you're traveling to the south of France, jetting to your favorite coastal city, or just pretending you're in Europe while you spend a weekend at home (hey, that doesn't mean you can't dress like you're headed to France), stay on-trend with these must-have items.
1. Relaxed trousers
When it comes to a chic wardrobe staple, trousers are at the top of the list. A piece this versatile deserves to be celebrated both in the office and on vacation. Trousers can be dressed up or down seamlessly and worn to the beach over a swimsuit or to dinner with a crop top. Step outside of your comfort zone and swap out those boyfriend jeans for a pair of wide-leg trousers. Pro tip: Opt for a neutral color to maximize your vacation wear.
Madewell
Cuffed Wide-Leg Pants
2. A raffia tote
Raffia is trending, and designers such as Prada, Celine, Loewe, and Saint Laurent have perfected the coveted bag. You may be thinking: Isn't a raffia tote just for the beach? The quick answer is no. The trending tote is quite adaptable and is a perfect piece to pack on your next vacation or to emulate the effortless European vibe we're always coveting. Fill yours with all your beach necessities for a day by the Mediterranean, or use it as a shopping bag at your local Farmer's Market for fresh fruits and veggies.
Cult Gaia
Naima Raffia Tote
POOLSIDE
Essaquira Raffia Tote
Mar y Sol
Natural Paros Tote
3. Floral dresses
There is something so whimsical about a flowing floral dress. Plus, there are so many different floral prints and colors to choose from, no matter what your style is. A floral dress is an easy one-and-done look and packs quite nicely. Complete your romantic look with a pair of strappy heels and small gold hoops.
Caroline Constas
Holland Dress
Cin Cin
Anemone Maxi Dress
4. Linen tops
Undeniably one of the hottest trends of the summer, linen button-ups are all over our Insta feeds right now. This sought-after staple is popular for many reasons, one of which is its lightweight nature to keep you cool on warm summer days. We're crushing over matching linen sets and packing an array of fun colors for our next beach vacation. Dress it up with a pair of platform sandals, and dress it down for a day on the water with a bathing suit and a bucket hat.
Zara
Oversized Linen Shirt
3 colors available
Everlane
Linen Relaxed Shirt
Reformation
Sheer Linen Top
5 colors available
Rails
Oversized Stripe Shirt
5. Slide sandals 
Slide sandals are practical, chic, and a great alternative to a sneaker when you're doing a lot of walking on vacation. Plus, a flat sandal packs easy and leaves room in your suitcase for other fun accessories. Style your new slide sandals from day to night with all of your vacation looks.
J.Cew
Scrunchie Slide
3 colors available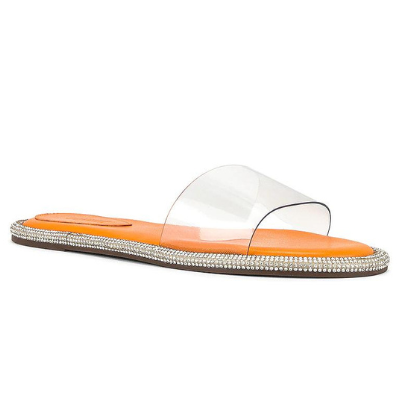 Larroudé
Ivy Slide Sandal
2 colors available
Dolce Vita
Grazie Sandals
8 colors available