Reviews and recommendations are unbiased and products are independently selected. Postmedia may earn an affiliate commission from purchases made through links on this page.
The days are cooler, the roads emptier, the wines bigger and bolder. Vineyards are vibrant in autumnal gold and amber. Tables are laden with rich, hearty, deeply flavourful dishes. And, now that the harvest is (almost) in, people have time to stop, take a breath and spend real time chatting with you.
We apologize, but this video has failed to load.
Try refreshing your browser, or
tap here to see other videos from our team.
Salut: The ultimate road trip through B.C.'s wine country
Back to video
It's fall in the Okanagan Valley, the best time of year for a road trip, especially if your idea of travel is all about eating good food and tasting good wine.
Driving means you can take your time and venture down unexpected roadways to discover exciting new flavours and experiences. More importantly, you can bring home cases of wine and coolers full of late-season produce, artisan cheeses, handcrafted chocolates and other local goodies.
The fastest route to the Okanagan is via the Coquihalla (Highway 5) to Merritt, then across the windswept connector to Peachland.
But the Crowsnest Highway (Highway 3), is arguably more fun to drive, and more scenic. It swoops through the winding Similkameen Valley, through Keremeos, where giant mounds of pumpkins and squash tower outside fruit stand, then decants you at Osoyoos, which is a good place to base your explorations of the South Okanagan. Alternatively, you can take the connector (Highway 3A) to Kaleden, just south of Penticton, which will get you closer to Kelowna and Lake Country, too.
Once you're there, follow our guide to planning your fall Okanagan wine country travels, region by region.
Kelowna and Lake Country
Kelowna is the biggest city in the long, narrow Okanagan Valley, and home to some of the oldest and most famous wineries, including Mission Hill Family Estate, CedarCreek, Summerhill Pyramid Winery and Quails' Gate. But you will also find relative newcomers like the beachside Frind Estate Winery and the eccentric Crown & Thieves, housed in a faux ruin complete with vintage speakeasy, high atop a hill in West Kelowna.
Kelowna also has the valley's most wide-ranging food scene, so arrive hungry.
You can, for instance, enjoy chef Brian Skinner's casually exceptional plant-based fare at Frankie We Salut You — he was the opening chef at The Acorn, so you know you're in good hands — and then hop over to The Modest Butcher at Mt. Boucherie for a massive tomahawk steak with all the fixin's. Or head to El Taquero for terrific chicken tinga or beef birria tacos, La Bussola for traditional Italian pasta and Bouchons for fine French bistro fare.
Kelowna also has a thriving brewery district, which is where you will find BNA Brewing Co.'s globally inspired dining experience. And be sure to pick up a few of the beautifully handcrafted bars and bonbons at Karat Chocolate + Pastry Boutique, for gifts, or just for yourself.
And then of course there are the grand winery restaurants. The outdoor Terrace Restaurant at Mission Hill will soon close for the season — though chef Patrick Gayler offers other dining experiences through the winter. But over at CedarCreek's Home Block, chef Neil Taylor is still cooking up his Mediterranean-inspired dishes and, at Quails' Gate's Old Vines Restaurant, chef Roger Sleiman is serving the farm-to-table fare he's long championed.
Just north of Kelowna, Lake Country is where you will find Block One at 5th Parallel Estate Winery — don't even try to resist chef Kai Koroll's decadent popcorn ice cream sundae — as well as the glittering Sparkling Hill Resort, with its restorative KurSpa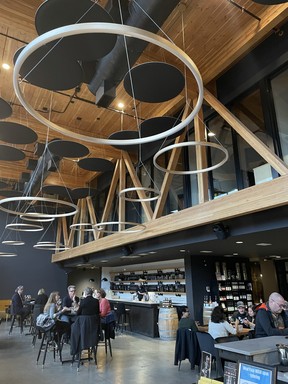 Penticton and Okanagan Falls
As you travel south from Kelowna along Highway 97 and the shores of Okanagan Lake, the wineries tend to be a bit smaller and more boutique, the food inspired by the ingredients rather than international flavours.
Penticton is the main community in this central part of the valley, a community where several sub-regions connect — Summerland to the northwest; Naramata Bench to the northeast; and Skaha Bench and Okanagan Falls to the south.
Right downtown, Time Winery & Kitchen is sleek, urban and a great place to stop in for happy hour snacks like the popular jerk chicken tacos or to stay a little longer and taste through the many wines over dinner. And just up the hill, Poplar Grove Winery offers spectacular 270-degree views, lush wines and chef Rob Ratcliffe's "refined nostalgic" dishes.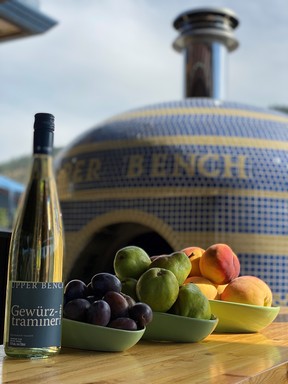 This is the gateway to the Naramata Bench, one of the most exciting sub-geographic indications in B.C. You will find Foxtrot, Deep Roots, Hillside, Tightrope, Lock & Worth and Upper Bench wineries here, among others, as well as two great cheeseries. Pick up Upper Bench Creamery's excellent semi-soft King Cole blue or Poplar Grove's rich, nutty double cream Camembert to take home, if they last that long.
At the end of the road, you will find the charming village of Naramata, and the renovated heritage Naramata Inn where chefs Ned Bell and Stacy Johnston are cooking up an exceptional "French-Naramatian" meal for you. There are cosy rooms here, too, but only a few, so book well ahead if you plan to stay.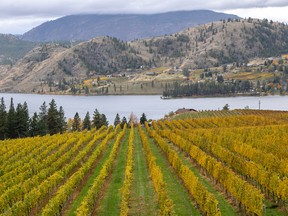 Oliver and Osoyoos
Continuing south, it's a short drive south to Okanagan Falls and wineries like Blasted Church Vineyards, which is currently celebrating its 20th anniversary, and then on to the Oliver and Osoyoos.
Just south of Vaseux Lake, the towering rocky ridge known as McIntyre Bluff marks the beginning of the South Okanagan Valley. The terroir here is desertlike, with intense sun and heat in summer, and the occasional tumbleweed blowing across the back roads in fall.
A few kilometres past the bluff, you'll find the new-ish District Wine Village, a cluster of small winery storefronts along with a brewery, a distillery and the casual Trading Post eatery. The village holds events year-round in its central plaza — there's an Oktoberfest celebration planned this fall, for instance, along with a winter market — so this a great spot to stop on any trip to the southern part of the valley.
And then there is Oliver, a.k.a. Canada's Wine Capital, which is home to some of the most exciting wineries and winery restaurants in the valley, as well the annual fall Festival of the Grape.
This is where you will find the grand, art-filled Phantom Creek Estates and chef Alessa Valdez' sophisticated cuisine, as well as Burrowing Owl's Sonora Room, Miradoro at Tinhorn Creek Vineyards, Kismet Estate Winery's Masala Bistro and Terrafina at Hester Creek Estate Winery, where chef Scott Adair channels Tuscany by way of the Okanagan.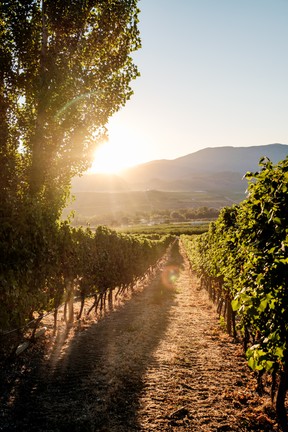 At this time of year, you might even be able to stay in one of the almost-impossible-to-book guest suites at Hester Creek or Burrowing Owl, another good reason to travel in fall.
An even better reason is that you can easily meander along Black Sage Road and rarely see another vehicle as you pop into Black Hills, Le Vieux Pin, Desert Hills or French Door to stock up your cellar.
From here, it's just a few minutes to Osoyoos, where the sunburned crowds have fled, leaving you to explore the beach trails and boutique stores in peace.
While you're here, the Watermark Beach Resort is a great place to stay right downtown, and its newly renovated 15 Park restaurant offers the kind of refined casual dining this community really needed. Meanwhile, across the lake, the Indigenous-owned Spirit Ridge Resort is also home to Nk'Mip Cellars, the Desert Cultural Centre and The Bear, The Fish, The Root and The Berry restaurant.
And then, replete and restored, your car loaded with bottles and foodstuffs, your wine country road trip sadly winds to a close.
---
If you go
Fall may be the best time for a food and wine lover to visit the Okanagan, but there are a few things to keep in mind before you go.
The same staffing shortages that are affecting everyone right now are even worse in a region that relies on seasonal workers, so be prepared for limited hours, sudden closures and, at times, slower response times. Plus many wine country restaurants and tasting rooms will soon close for the season.
Whenever possible, call ahead, make an appointment, prepare to wait and be patient.
The other thing to note is that due to a series of disastrous weather events, grape yields were down about 30 per cent in 2021 and are predicted to drop again this year. Some wineries have been running out of wine and have closed their tasting rooms earlier than usual. Again, call ahead to avoid disappointment.
Also, before you hit the highway, load the excellent and super-useful Wines of B.C. Explorer app on your phone. For more information about wine touring across the province, visit winebc.com.
---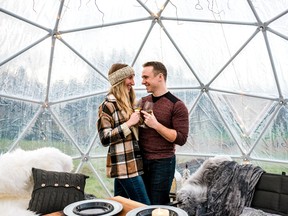 Taste the Fraser and Cowichan Valleys
You don't need to travel all the way to the Okanagan Valley to enjoy a great wine country experience.
Right here in the Fraser Valley we have nearly 20 wineries to explore, most of them in Langley and Abbotsford. You can easily spend a leisurely afternoon touring, tasting and then pausing for lunch at, say, Chaberton Estate Winery's charming Bacchus Bistro or any of the great little restaurants in downtown Abbotsford or Fort Langley.
A couple of great spots to check out are Singletree Winery, which is building a new tasting area and setting up domes for cold weather tastings and picnics, and Township 7, which keeps winning international awards for winemaker Mary McDermott's spectacular sparkling wines.
Or, if you prefer, hop aboard a ferry and make your way to the Cowichan Valley on Vancouver Island, where winding country roads lead to small, friendly wineries producing terrific cool-climate wines, notably some exceptional Pinot Noir.
Among them are Blue Grouse Estate Winery, Averill Creek Vineyards and Unsworth Vineyards, where restaurant chef Maartyn Hoogeveen is working with local farmers on an innovative "Community Supported Restaurant" program.