I've spent a lot of time in Paris, and I have a few things to report back. I may not be a true French girl, but I certainly try hard to find wardrobe essentials that capture their not-trying look (think opposite of Emily in Paris and more effortless-chic).
French girls view their wardrobe like a canvas to paint and flourish when needed. This is where quality over quantity is key to enhancing your closet because these investment pieces never go out of style and tie cool-girl trends together. Once you have all the French-girl basics, you can complement them with your latest fashion finds: Bridgerton-esque blouses (cue puffy sleeves), quilted purses, and textured shoes. In addition to class, Parisians emulate confidence with a certain je ne sais quoi care-free quality. So hold your head up high because there is nothing that chic clothes and rouge lipstick can't solve.
Now, let's dig into the eight staples that will turn you into a true Parisian.
1. Le blanc button-down
This white shirt is a versatile classic that unifies the wardrobe; whether it's a slim or oversized fit, you'll be glad you bought one. When it comes to styling, the answer is as simple as it gets: Anything goes.
Abercrombie & Fitch
Linen Button-Up
Everlane
Oversized Cotton Shirt
Dia & Co
Button-Front Shirt
2. A classic trench
The trench coat is a true investment piece; there isn't a chance of it ever going out of style. To truly emulate the chicness of a French girl, it's best to find a neutral color to complete your outfit so you can allow your ensemble to change personalities using color, textures, and trends. Pro-tip: Leave it unbuttoned and tie the belt (if it has one) around your waist for a chic vibe.
& Other Stories
Double Breasted Coat
Everlane
All-Weather Trench
3. Classic flats
Ballet flats, slides, and mules are not only timeless but also extremely functional. It's vital that you feel comfortable walking because your stride says it all (your confidence will visibly change). Besides, losing a heel to a cobblestone street is a significant faux-pas and trés embarrassing (trust me).
Everlane
Leather Day Heel
Loft
Leather Ballet Flats
4. A Parisian tee
We've seen the stereotypical striped tee in cinema and fashion magazines, but do the French really wear stripes and bérets? Yes, but not together (which would be a little too on the nose). Instead, pair yours with leather pants or jeans and simple accessories.
Summersalt
Long Sleeve Tee
Madewell
Luxe Striped Tee
Ralph Lauren
Striped Button-Shoulder
5. A wicker basket
Jane Birkin created the straw bag phenomenon when she flaunted her wicker basket on one arm and Serge Gainsbourg on the other. A small clutch is perfect for a whimsical garden party while you should opt for a tote if you want to take yours shopping at the market. For those overachievers, add a baguette and flowers for the ultimate Parisian vibe (Gainsbourg not included).
Etsy | TheMinimalisBoutique
Straw Basket Bag
6. A little black dress
We'd be remiss to not include a LBD as a Parisian essential. They serve a true capsule wardrobe purpose with the ability to go with anything and everything and make you feel confident no matter what. This summer, opt for a modern twist and choose a front cutout halter dress to make room for your entrance.
LoveShackFancy
Lace Dress
7. Classic denim
Fun fact: Nîmes, France is where denim originated (& was named), so of course, it will always be a French favorite. Stick to a classic straight-cut or relaxed fit to capture the effortless, laid-back style of the French.
Agolde
High Rise Straight
H&M
Loose Ultra High Jeans
Abercrombie & Fitch
Ultra High Rise Jeans
Madewell
Plus-Size Boyjeans
8. An oversized blazer
When paired with jeans or a power suit, this slouchy jacket emulates confidence and will have you feeling runway-worthy even on a Zoom call. Wrap it with a belt or throw it over a knit bralette for a little something extra.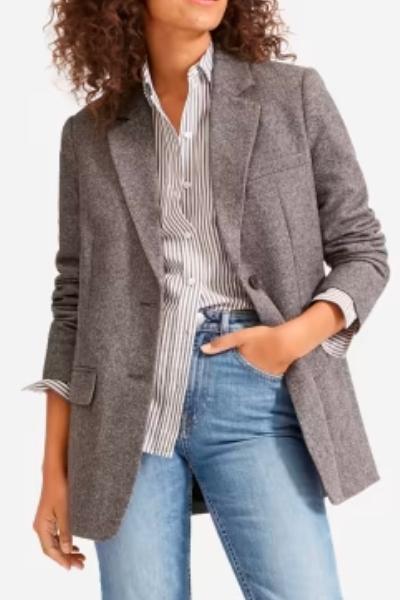 Everlane
Oversized Blazer
Eloquii
Long Tailored Blazer
Zara
Double Breasted Blazer