Here at The Everygirl, we don't get surprised too often. We've tried it all: new beauty launches, Kate Hudson's morning routine, weighted hula hoops, our mother's skincare routines, lymphatic drainage massages, and every block in the Trader Joe's cheese aisle. So when one of our team members tries on a pair of unexpectedly comfortable Ponte Pants from American Giant and has what we'll call an explosive reaction to them (as evidenced by limber high kicks on our very public Instagram story), we tilt our heads, raise our brows, and say, "tell me more."
And so began our whirlwind romance with American Giant. A glimpse of their elevated basics had us swiping right. Their high-quality make, flattering fit, and undeniable comfort secured them a second date. And the fact that they make all of their items locally to support local communities and have a transparent supply had us asking, "will you marry us?" So when we caught wind that we could save 20% site-wide with code EVERYGIRL20, we knew which pieces we had to try next. 
In a mad dash to participate, three of our editors gave sets from American Giant's Everyday Collection a go. From pullover hoodies to joggers to wide-leg sweats and beyond, these sets have earned our seal of approval. The only difference from our first experience? This time, we're not surprised. 
Initial thoughts:
I have been on the hunt for a good matching set for what feels like forever, and on my journey, I've had three strict requirements in mind: 1) Said set would be versatile: undeniably comfy yet still trendy and nice-looking enough that I could be mistaken for someone who put in effort. 2) The set would be high quality because I've gone the cheap loungewear route before and been seriously burned. And 3) The set in question would make my butt look nice. Listen, I don't ask for much. When I picked up my American Giant delivery and tried this set on, I did a quick 360 and I knew that I found the answer to my prayers in this set.
I put it on and immediately felt 10 times cooler. With this set, I could just as easily be curled up and comfy in a fetal position as I could pair it with gold jewelry and AF1s for a chic promenade on the Chicago Lakefront. The cut of the pants are on-trend, and by the grace of the sweatpant gods, there was no diaper butt in sight—a feat I have yet to achieve with any other sweat set in my collection.
Fit and sizing:
I typically run a size small in both tops and bottoms and I'd say that this set, overall, is true to size. I did size up in the top (medium) because I was worried that my lanky arms could use the extra length, but honestly, I'm not sure that was completely necessary. If you prefer a baggier fit, size up, but if you prefer a fit that's a little more tailored, get your regular size.
For the pants, I got my usual size small and they fit like a dream. I'm 5'4'' and have pretty long legs and with tennis shoes on, they hit perfectly at my heels without grazing the floor. The waistband hugs me but isn't restrictive at all, which is always my concern with wearing something high-waisted.
The verdict:
This set has absolutely transformed the way that I view loungewear and has been my go-to grab for running errands, having a girls' night in, and napping in. When I put this sweat set on, I imagine that passerbys assume I am a chic gal who has an immaculate sense of fashion and has her life together (note: I do not have an immaculate sense of fashion nor do I have my life together). If you're looking for a high-quality set that's as on-trend as it is comfy, look no further. American Giant has your back.
Initial Thoughts
From the moment I put these on, I decided that the thing I love most about this sweat set is the silhouette of the pants. They're a straight, almost wide-leg fit that is different from any of the other options that I own. I need my sweats to be versatile—suited for everything from working from home to watching movies on the couch all day to running errands (and looking chic while doing it)—and these definitely fit the bill.
I also love the neutral oatmeal color and lightweight material because it makes them great for wearing year-round versus some of my heavier sweats that get pushed to the back of my closet in the summer months. I hate when any sort of sweats are too hot or uncomfortable in any way, and I can confidently say that these are not. I've worn them for entire days of working from home (I literally wore this set for two days straight when I first got them) and was impressed by the all-day comfort. In addition, I appreciate that they don't require any adjusting because nothing annoys me more than having to constantly pull down my joggers at the ankles.
As far as the sweatshirt, I like that it's a classic silhouette that can be dressed up or down. It's nice enough that I would pair it with jeans and sneakers for a day at the office but also comfortable enough to wear with the matching pants for a more casual look.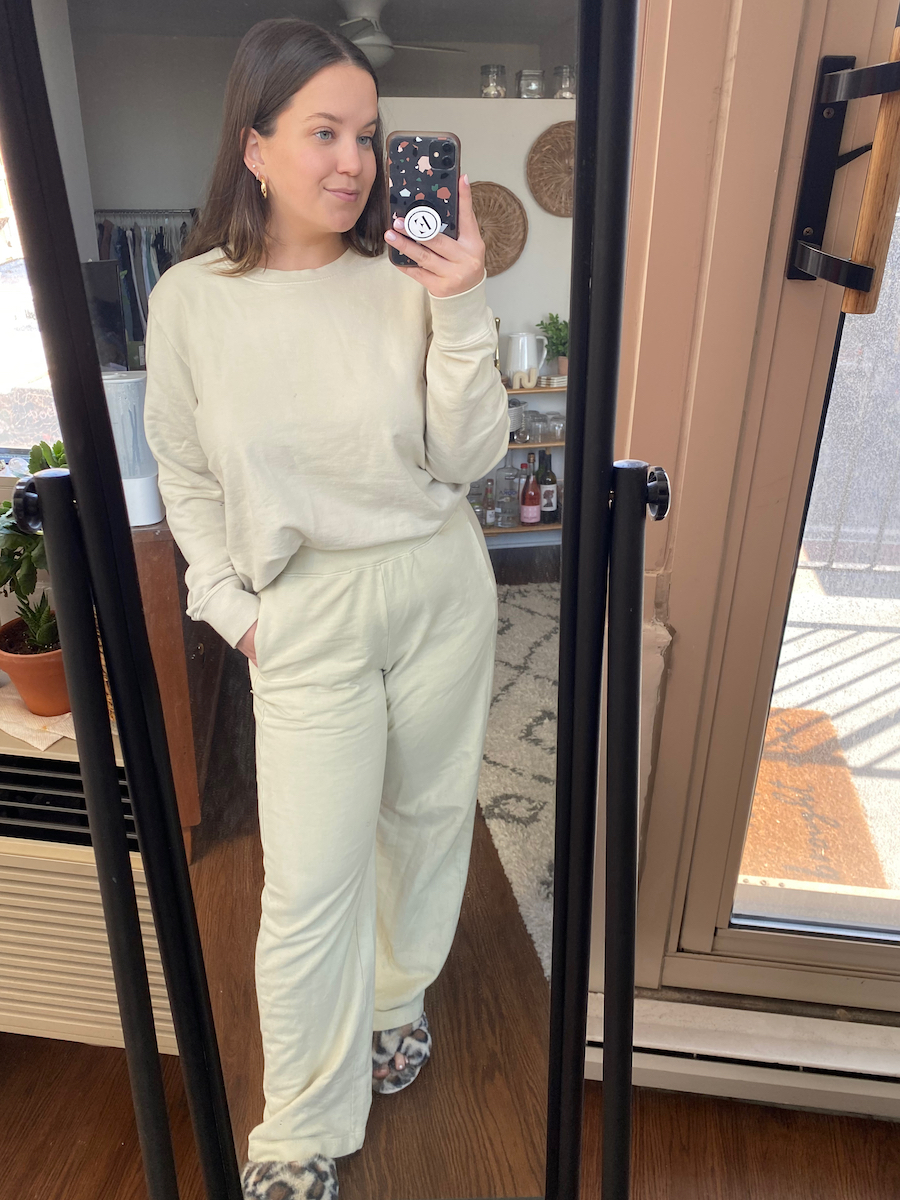 Fit and sizing:
I like a loose fit when it comes to my comfy clothes, so I sized up to an XL in the sweatshirt. Not only is it super comfortable this way, but it's also great if I want to pair it with leggings or biker shorts instead of the matching pants. I stuck with my regular size L in the pants, and they definitely run true to size (a perfect fit!). I'm 5'3" and the pants aren't obnoxiously long on me, which I really appreciate—but there is definitely still some room if you are taller.
The final verdict:
Overall, I give this sweat set a 10 out of 10. I don't often invest in nicer loungewear, so it's great to have a set that is high-quality, locally made, and will last me a long time. I think it's flattering and stylish but still comfortable, and I can definitely see myself wearing it in a lot of different situations. I'm excited to pair it with fun sneakers, chunky gold hoops, a belt bag, and my favorite sunglasses for days out and about.
Initial thoughts:
Loungewear obviously can have a million different textures and feels, and when I took these out of the package, I was super excited by how they felt. Rather than being super fluffy or cotton-y, they are a thinner, more compact material that I think is great for wearing year-round.
Fit and sizing:
I prefer my loungewear to be a bit oversized, so I sized up to a medium (rather than my usual size small) in the sweatshirt but got a size small in the sweatpants, and both fit exactly how I wanted. If you want a more oversized fit, I'd recommend sizing up.
The verdict:
As "in" as matching sweat sets are, it isn't easy to find a good one. I want a set that I feel I can throw a jacket and sneakers on with and have it looking like streetwear, not like I just left home in my pajamas—and this set is it. The color? To die for. The fit? Impeccable. I'll be wearing them both separately and together for the entirety of the near future.
This post is sponsored by American Giant, but all of the opinions within are those of The Everygirl editorial board.