Ever wondered what type of bagel best describes your personality? Which city you belong in? Which summer trend you should choose to try out? If you *really* should marry that person? All you need to know is your date, time, and place of birth. Kidding… kind of.
Everyday dilemmas, like what to order for takeout or whether or not to swipe right, can be solved by the zodiac, and the same goes when clicking "add to cart." With so many fashion trends to try out this summer, why not take a cue from the zodiac?
Whether you're an easygoing Libra or sensual Scorpio, we've got the summer attire that screams you. After all, it's in the stars.
Gemini: Crochet
Here come the twins, AKA the ever-talkative, indecisive, multitasking air sign. In case you needed a conversation starter (LOL, as if), here's one: checkered crochet. It's the playful, it-girl trend that essentially screams Gemini. Give it a whirl with your next bathing suit, tote bag, or bucket hat—bonus points if the hat's reversible. You know, for duality.
Cancer: Effortless Chic
If you're ever looking for a Cancer, they're probably home, alone, and in their feelings. But hey, crabs have to come out of their shell at some point—and when they do, a comfy outfit is the answer. Make it extra chic with relaxed-fit denim, a super-soft hoodie, and a dad hat (Psst: this Madewell cap was basically made for you).
Leo: Mini Skirts
If anyone knows how to turn a side street (or grocery store aisle) into a runway, it's a Leo. Never one to shy away from the spotlight, this fire sign is all about a statement-making 'fit—which brings us to the mini skirt. It's everywhere this summer—and it deserves a permanent spot on your Insta feed.
Show Me Your Mumu
Tiered Mini Skirt
Eloquii
Pleated Mini Skirt
Virgo: Classic Prep
Logical, practical, and a bit of a perfectionist, we'll wager that you were once at the top of your class, which is why the preppy trend is perfect for you, Virgo. Polo shirts, tennis skirts, and khakis are the essentials for this look. And good news: You'll transition seamlessly into the back-to-school season come September. For now, just imagine you're on your way to play golf at the local country club.
Ellandemm
Boyfriend Half Zip
Libra: Matching Sets
When the scales are balanced, the Libra is happy—so a matching set (or three) just makes sense for this air sign. Forget those dreadful "I have nothing to wear!" moments; these on-trend looks are one and done (and super cute).
Abercrombie & Fitch
Oversized Shirt
Abercrombie & Fitch
Pull-On Shorts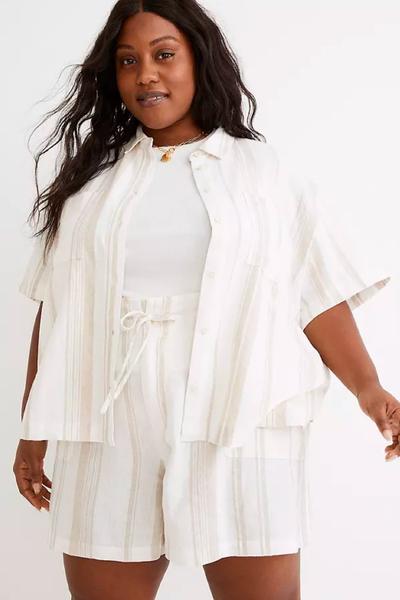 Madewell
Linen Safari Shirt
Scorpio: All Black Everything
If we peeked inside the closet of a Scorpio, we wouldn't be surprised to find a bunch of basics in one particular color: black. Who can fault them? A monochrome look suits this mysterious and stoic sign—and no, the fact that it's summer doesn't mean black is off-limits. Opt for a breezy dress in your signature hue that'll keep you sexy and cool all summer long.
Show Me Your Mumu
Halter Mini Dress
Eloquii
Smocked Tiered Dress
Sagittarius: Dopamine Dressing
Congrats, Sagittarius: According to astrology, you are the happiest among us. You win. Full of adventure and bliss, you live your life in technicolor (and could give a course on dopamine dressing). Go ahead and wear your most colorful, mood-boosting pieces all at once.
Eloquii
Striped Maxi Dress
Baobab
Satin Halterneck Dress
Capricorn: Edgy Workwear
While everyone else is working from home (read: from bed), our resident overachiever is busy commuting to the office. Just the sight of their Google calendar gives us secondhand anxiety. But hey, Capricorn, at least your sense of style is always on-point. No one can pull off a hot pink work-ready suit like you can.
Aquarius: Mismatched
No rules is the rule for this eccentric air sign—so we're suggesting all the unexpected colorways and mismatched prints. These playful patterns pair exceptionally well with a handmade protest sign—make sure to keep it comfy as you rally for the causes you care about this summer.
H&M
Wide-cut Jersey Pants
Pisces: Regencycore
"Most likely to surprise their significant other with a bouquet of roses in front of the Eiffel Tower" award goes to Pisces. In other words, you're by far the most romantic sign of the Zodiac. Do up your summer wardrobe with a Bridgerton-style piece that'll turn heads. The puffier the sleeves, the better.
House of Harlow 1960
Chiffon Blouse
Aries: Cutouts
Bold but never boring, this fire sign is as fearless as they come. Take the lead and experiment with arguably the hottest fashion trend of 2022: cutouts. Knit dresses, crop tops, bathing suits, and even low-rise pants are all game.
Abercrombie & Fitch
Knit Midi Dress
Eloquii
Cutout Shirtdress
Taurus: Coastal Grandmother
What's life without a little luxury? Channel your favorite Nancy Meyers heroine this summer (for us, that's Diane Keaton in Something's Gotta Give) with breezy linen, chunky sweaters, and slightly oversized straw hats. While you might not be *physically* at the beach, a Taurus can always pretend.
Abercrombie & Fitch
Wide Leg Pants