Reviews and recommendations are unbiased and products are independently selected. Postmedia may earn an affiliate commission from purchases made through links on this page.
The Chinese Restaurant Awards and the Vancouver Chinatown Foundation have released a list of the Critics' Choice Top 10 Dishes on offer in Vancouver's Chinatown.
We apologize, but this video has failed to load.
Try refreshing your browser, or
tap here to see other videos from our team.
Top 10 dishes in Vancouver's Chinatown
Back to video
Released in celebration of the upcoming Light Up Chinatown! Festival, which takes place Sept. 10-11, the list of top eats was curated by awards judging chair Lee Man and include something to "charm and delight every palate," according to a news release.
The list of top 10 dishes includes: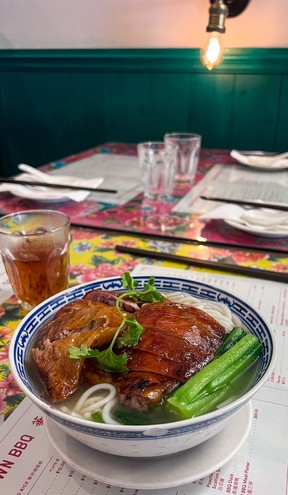 BBQ Duck with Noodle in Soup at Chinatown BBQ (130 E Pender St.)
Butter Beef at Phnom Penh Restaurant (244 E Georgia St.)
Bún Chả Hà Nội at DD Mau Chinatown (145 E Pender St.)
Century Egg with House tofu at Fat Mao Noodles (217 E Georgia St.)
Curry Beef Brisket on Rice at Daisy Garden Kitchen (142 E Pender St.)
Singapore Fried Noodles at Ming Fong Fast Food (180 Keefer St.)
Steamed BBQ Pork Rice Rolls at Sun Fresh Bakery (245 Keefer St.)
Steamed Dai Bao at New Town Bakery and Restaurant (148 E Pender St.)
Tajarin (butter, roasted mushrooms, miso cured yolk) at Kissa Tanto (263 E Pender St.)
White Rabbit Cookie at Kouign Café (18 E Pender St.)
The top-rated dishes range from "affordable to experimental dining," according to the release, and serve to "solidify Chinatown's reputation" as a top destination for visiting and resident foodies in the city.
In addition to offering the list of top-10 eats, the organizations also announced five Chinatown Legends, "beloved representatives" of the community that were chosen for their contributions to the community through the years.
"Pulling together the threads of newcomers and old-school business is the essence of how Chinatown's influence is felt throughout Vancouver — how our city creates community and meaning," Man said in the release. "Here we want to honour businesses and the people who have worked in them for decades. Quietly going about their businesses, resolutely dignified regardless of the challenges they have experienced."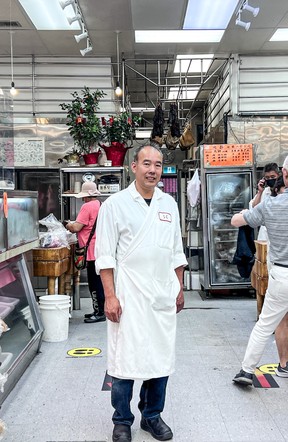 This year's Chinatown Legends include:
Cindy So, staff member at Carley BBQ & Hotpot Supplies (255 E Georgia St.)
Daniel Lui, owner of The Chinese Tea Shop (101 E Pender St.)
Jimmy Chiong, owner of Garlock Seafood (252 E Georgia St.)
Joey Wong, owner of Dollar Meat Store (266 E Pender St.)
Smitty Ho, staff member at Maxim's Bakery (257 Keefer St.)
To learn more about the upcoming event, visit Chinatownfoundation.org/light-up-chinatown/.