Reviews and recommendations are unbiased and products are independently selected. Postmedia may earn an affiliate commission from purchases made through links on this page.
The Mid-Autumn Festival is a time for great food and getting together during the harvest season.
We apologize, but this video has failed to load.
Try refreshing your browser, or
tap here to see other videos from our team.
Vancouver chefs, restaurant teams share their favourite Mid-Autumn Festival dishes
Back to video
"Mid-Autumn Festival has always been a time of gathering for our family," says William Liu, CEO of Kam Wai Dim Sum in Vancouver. "We come together to share memories, stories and food."
Celebrated across several Asian cultures, the festival takes place this year on Sept. 10. In preparation for the festivities, we asked a few Vancouver chefs and restaurant teams to share their favourite Mid-Autumn Festival recipes, along with what makes each a perfect dish to delight during this special event.
From sweet mooncakes to savoury potstickers, here are six recipes to gather around this year.
If you would rather leave the cooking to professionals, consider visiting the Light Up Chinatown Festival, a community event taking place in Vancouver's Chinatown Sept. 10-11 that includes live entertainment from Goh Ballet, violinist Ken Lin, and more, along with great eats from food trucks and local restaurants.
---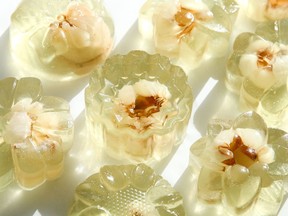 Lychee Jelly Mooncakes
Recipe by: Amy Ho, author of Blooms and Baking
"Classic chrysanthemum tea gets transformed into a delicate dessert for Mid-Autumn Festival. Each chrysanthemum flower-scented jelly is formed in a mooncake mold and has a fresh whole lychee in the centre to represent the full moon on Mid-Autumn," Ho says. 
8 fresh lychees, peeled
3 tbsp dried chrysanthemum flowers (or floral tea of choice)
2 1/2 cup (600 mL) hot water
3 packets (21 g) gelatin powder
1/2 cup and 2 tbsp (130 g) granulated sugar
Peel lychees and set aside.
In a medium pot, bring half of the water (300 mL) to a boil. Add the chrysanthemum flowers to the hot water and allow it to steep for five minutes. Strain the liquid into a large measuring cup or bowl and set aside.
In the same pot, add the remaining water (300 mL) and bring to a boil over medium heat. Using a ladle or big spoon, transfer a big spoonful of the water into a bowl. Add gelatin powder to the bowl of hot water and stir until gelatin has dissolved. Note: don't add gelatin powder directly in the big pot of water, this will cause the gelatin to clump. Return the gelatin mixture to the pot. Add granulated sugar and stir with a wooden spoon until all the sugar and gelatin have dissolved. Turn off the heat.
Allow your jelly mixture to cool slightly before transferring to the jelly mold. You can speed this process up by using an ice bath for the pot. Carefully pour the jelly mixture into your mold of choice. Add a peeled lychee to each jelly. Transfer the molds to the fridge and allow the jelly to set fully, about 4-5 hours but preferably overnight.
Once the jelly has fully set, dip the mold into hot water for 30 seconds to loosen the jelly from the mold. Flip the mold onto a large plate to release the jelly. Serve chilled.
Makes 8.
---

Pork Fried Rice
Recipe by: Chinatown BBQ restaurant team
"The beauty of fried rice is you can have as much of one ingredient as you want. Fried rice is always great to share with friends and family, especially during Mid-Autumn Festival. It is a must during banquet dinners," says Jason Ye, general manager of Chinatown BBQ.
1/2 cup (125 mL) diced local, fresh house-made BBQ pork (available at most Chinese butchers)
2 whole eggs
3 cups (750 mL) chilled fresh rice, preferably Jasmine rice
2-3 diced gai lan stems (Chinese broccoli)
2 tbsp (30 mL) cooking oil
Green onion and cilantro, to taste
Sugar and salt, to taste
Crack the two eggs and blend it with a whisk. Dice BBQ pork into small cubes. Chop green onions and cilantro.
In a heated wok or deep pan at medium to high heat, add cooking oil. Then, add whisked eggs, rice and toss until cooking oil is heated up and coats evenly. Add the diced Gai Lan stems and toss the rice in the wok. Then, add sugar and salt. Lastly, add the chopped green onions and cilantro and keep mixing until ready.
Serves 4 to 6.

Soy Sauce Chicken
Recipe by: Daisy Garden Kitchen restaurant team
1 chicken (approximately 3-3.5 lb)
Spicy Soy Sauce
1 2/3 cups (400 mL) soy sauce
3/4 cup and 4 tsp (200 mL) dark soy sauce
1/3 cup and 4 tsp (100 mL) Shaoxing wine
2 1/2 cup (600 mL) water
1/2 tsp (2.5 mL) sesame oil
1 to 2 pieces of rock sugar (can be found at most Asian supermarkets)
1 cinnamon stick
1 oz (28 g) liquorice
3 star anise seeds
1/2 cup (125 mL) shallots
1 Tsaoko (optional Chinese cardamom)
2 tbsp (30 mL) ginger, sliced
Clean the chicken, removing all the giblets. Stuff one shallot and 3 slices of ginger into the chicken belly. Rub the whole chicken with Shaoxing wine and set aside.
In a deep pan, add sesame oil and sauté the rest of the ginger, and shallots until fragrant. Pour in the soy sauce, dark soy sauce, cinnamon, star aniseed, tsaoko, liquorice, rock sugar and water. Bring it to boil. Turn down the heat and add the chicken, pour the sauce over the chicken continuously for the first three minutes, then cover and cook on the lowest heat for 15 minutes. Turn to the other side and cook for 15 minutes.
Turn off the heat and simmer for 15 minutes. Insert a needle or chopsticks into the thickest part of the chicken drumstick, If there is only clear water, not blood, the chicken is cooked. After completion, take out the chicken and let it cool down a bit, then cut it into pieces.
Serves 4 to 6.
---

Vietnamese Lotus Root Salad
Recipe by: Kim Tran of DD Mau
"The Mid-Autumn Festival is known as Tết Trung Thu in Vietnam. We would spend lots of time with family, and children would be seen on the streets playing with their colourful and fun-shaped lanterns throughout the evening. We would also pray to our ancestors and deities for bountiful harvests, increase in livestock, and fertility. In Vietnamese culture, the lotus root is considered quite an auspicious food as the lotus flower is a symbol of Buddhism and serenity. The lotus root grows in sections representing new opportunities, and its delicate fibrous threads represent connection and being inseparable."
Fish Sauce Vinaigrette
1/4 cup (60 mL) fish sauce
1/4 cup (60 mL) sugar
1/4 cup (60 mL) vinegar
1 head of garlic, minced
Sliced red Thai chilies, optional
Mix together fish sauce, sugar, vinegar until all the sugar is dissolved. Add in garlic and Thai chilies (optional) to desired spice level and mix.
Lotus Root Salad
3 oz (86 g) pickled lotus roots (found in a jar at most Asian groceries)
1 1/2 oz (42 g) thinly sliced white onion
3 oz (86 g) julienned carrots
1/4 oz (7 g) fresh coriander
2 1/2 oz (72 g) shrimp, shell on
1 1/2 oz (42 g) julienned cucumber
1 1/2 tbsp (22.5 mL) of roasted peanuts, coarsely ground
1/3 cup of the fish sauce vinaigrette
Boil the shrimp with the shell on in water. Set aside the shrimp and let it cool. Strain and rinse out the pickled lotus roots. Cut the lotus roots into thin strips and set aside. Peel and julienne the carrots and set aside. Julienne the cucumbers and set aside. Peel and thinly slice the white onion and set aside.
After the shrimp has cooled, peel and slice the shrimp in half lengthwise deveining at the same time. In a large bowl, mix together the lotus roots, white onions, carrots, cucumbers, raw ram coriander, sliced shrimp and fish sauce vinaigrette. Sprinkle roasted peanuts on top of the salad.
Serves 2 to 4.
---

Pork and Vegetable Potstickers
Recipe by: Kam Wai Dim Sum restaurant team
"One of our family traditions is to make dumplings just like our grandma (mah mah) and grandpa (yeh yeh) taught us. Coming together to make something we can enjoy together brings us closer to our heritage, and our family history. If you can't find the time to make dumplings, we suggest getting some frozen dumplings on our shelf, and cooking them for your entire family to enjoy. It's all about creating traditions to be passed down, and we love our dumpling tradition," says William Liu, CEO of Kam Wai Dim Sum.
1.5 lb (approx. 680 g) ground pork (70% lean, 30% fat)
1 lb (454 g) nappa cabbage
1/4 lb (114 g) dried shiitake mushroom
1 1/2 oz (40 g) sugar
1 oz (28 g) sesame oil
3/4 oz (20 g) canola oil for cooking
1 1/8 (30 g) salt (15 g for pork filling, 15 g for cabbage)
1/3 oz (10 g) oyster sauce
1 tsp (5 mL) MSG or chicken bouillon
.07 oz (2 g) white pepper
2 3/4 oz (75 g) water
1 lb (approx. 455 g) pre-made or store-bought round dumpling wrapper
Dumpling Sauce
3 tbsp (45 mL) soy sauce
1 tbsp (15 mL) rice wine vinegar
1 tbsp (15 mL) sesame oil
1 tbsp (15 mL) brown sugar
Cilantro and green onion, optional
Soak dried shiitake in a bowl with warm water for an hour to rehydrate. Once rehydrated, cut the mushrooms in half and cut lengthwise, then set aside.
Cut whole cabbage into quarters, then chop lengthwise into thin strips and put into a bowl. Mix in 15 g of salt with cabbage and let it sit for 15 minutes. Once water is brought out of the cabbage, drain and squeeze the rest of the liquid out of the cabbage and set aside.
Put ground pork in a bowl and place sugar, salt, MSG or chicken bouillon, white pepper, sesame oil, oyster sauce, and water in with the pork and mix for about three mins until mixed through. Place drained cabbage and shiitake mushroom into pork mixture and mix well.
Folding
Set aside a bowl of water, spoon, and dumpling wrappers. Take one wrapper and place into non-dominant hand. Spoon out approximately 15 g-18 g of filling into the middle of the dumpling wrapper. Dab a little bit of water around the entire edge of the dumpling wrapper. Take dominant hand and start crimp on side closest to you. Then take non-dominant hand index finger, and start pushing the wrapper toward dominant hand to create pleats. Continue this until you have 4-5 pleats, then crimp closed.
Cooking
Place canola oil into a pan with medium high heat. Place dumplings into the hot pan making sure to not let them touch each other. 3. Once they've been in the pan for 1 minute, put 100ml of water into the pan and cover for approx. 8 mins on medium heat. Once the pan is sizzling, take off the lid and turn heat to high. Let the bottom of the dumpling crisp up for about 2 mins. Serve with dumpling sauce.
Dumplings can be frozen and enjoyed later or shared with family and friends.
Makes six dozen dumplings.
---

Sesame Mochi Cookies
Recipe by: Nikki Tam, head pastry chef at Minami Restaurant
"In Japan, Mid-Autumn Festival is called Tsukimi. People have feasts during this time to honour the harvest moon, with many treats. Mochi is one such traditional treat! This recipe is a modern take on the mochi. The mochi sits inside the cookie, giving it a chewy texture when you bite into it," says Tam.
Mochi
1/4 cup (60 mL) glutinous rice flour
1 1/4 tbsp (19 mL) sugar
1/3 cup (80 mL) milk
Combine all ingredients in a microwave-safe bowl, cover the bowl with saran wrap and poke a few holes in the saran wrap. Microwave for 60 seconds.
Remove bowl from microwave and remove saran and thoroughly mix the mixture. Rewrap the bowl with saran wrap and microwave again for 30 seconds. Repeat step two more times. Let mochi mixture sit for 10 minutes or until cool to touch. Divide mochi mixture into 20 servings. Oil can be used to coat hands to make it easier to handle mochi.
Sesame Cookie
2 1/2 cup (625 mL) all-purpose flour
1/2 tsp (2.5 mL) salt
1 tsp (5 mL) baking soda
3/4 tbsp (11 mL) butter, at room temperature
1/2 cup (125 mL) sugar
3/4 cup (180 mL) brown sugar
1 egg
1 tsp (5 mL) vanilla extract
2/3 cup (160 mL) lack sesame paste
Combine all-purpose flour, salt and baking soda in a bowl. Cream together room temperature butter and both of the sugars with a hand mixer or a stand mixer with a paddle attachment until smooth. Add in room temperature egg and mix on high until combined. Scrape down the sides of the bowl as needed. Add in vanilla extract and black sesame paste and mix on high until completely incorporated.
Add the dry ingredients into the wet ingredients and mix on low speed until combined. Measure one tablespoon of cookie dough and roll into a ball, indent the middle of the dough with thumb and place mochi in the indentation. Scoop another tablespoon of cookie dough and use it to completely cover the mochi. Roll the cookie dough into a ball.
Place the filled cookie doughs in the freezer to rest for at least 1 hour before baking. Preheat oven to 350F and line baking sheets with parchment or silicone baking mats. Sprinkle black sesame seeds on cookie dough before baking. Bake the cookies at 350F for 13-14 minutes or until the edges appear set. The middle will look soft and under-baked. Remove from oven and let it cool on the baking sheet for 10 minutes. Transfer the cookies to a wire rack to cool. Cover and store leftover cookies at room temperature for up to three days.
Yields 20 cookies.
Aharris@postmedia.com