Reviews and recommendations are unbiased and products are independently selected. Postmedia may earn an affiliate commission from purchases made through links on this page.
Pailin Chongchitnant recalls long harbouring an interest in having her own cooking show.
We apologize, but this video has failed to load.
Try refreshing your browser, or
tap here to see other videos from our team.
Vancouver foodie finds following online for authentic Thai recipes
Back to video
"Ever since I discovered them as a teenager," Chongchitnant says of the television approach. Born and raised in Thailand, the idea of sharing her home country's cuisine with viewers sounded like a dream come true.
But when Chongchitnant, who moved to Vancouver in 2003 to study nutritional sciences at the University of British Columbia, discovered YouTube, she realized there was no need to wait to be "discovered" by network producers in order to make her dream of cooking for an audience a reality.
"It was suddenly possible for anyone to have a cooking show," she recalls.
In 2009, she published her first video to the video-sharing platform. The clip, a how-to video showcasing how to make Larb, a meat salad, showed the then-culinary student speaking to the camera as she prepared the dish in her dimly lit home kitchen.
"I started out with all the classic dishes that people want, that people know," she says of the early efforts.
Fast forward to today, and Chongchitnant's channel, Pailin's Kitchen, has grown to include more than 1.6 million subscribers and some 500-plus videos for viewers who are hungry to learn how to cook authentic Thai food at home.
While the production value of the videos has improved dramatically — "the old videos are, like, embarrassing. What it looks like compared to what it is now," she says with a laugh — what has stayed the same is Chongchitnant's mission to share the story of her Thai culture through the food that she creates.
"I have personally made it a real point to present everything authentically," she says of the recipes that include Pad Thai, Garlic Pepper Pork, Tom Kha Gai (Thai coconut chicken soup) and many more. "If I make any changes, which I do, I always indicate that this is a change that I'm making because ingredients are not available or the technique is not practical.
"Whatever the reason may be, I always say this is not traditional, but this is what we're going to do because of why. I've always made it a point to say that."
The eagerness to point out any modifications, Chongchitnant says, stems from her original mission in starting the channel — beyond having her own cooking show, of course.
"One of the reasons I started the show was because I was frustrated with what the state of Thai food overseas was like," Chongchitnant says. "There's so much westernized Thai food here that I think a lot of people don't really know what real Thai food actually tastes like.
"Not to say that Thai restaurants here aren't good; they're tasty and everything. But there's a difference between tasty food and food that tastes the way it does in Thailand. And I think that was something that I was passionate about."
Chongchitnant's overarching goal, she says, was to serve her viewers authentic recipes that would taste like something they would find in Thailand.
"If not better," she adds.
Her YouTube channel was quickly joined by a website, called Hot Thai Kitchen, that became a landing site for her longer-form recipe copy and images. In 2016, Chongchitnant also put a selection of her recipes into her first cookbook, called Hot Thai Kitchen: Demystifying Thai Cuisine with Authentic Recipes to Make at Home.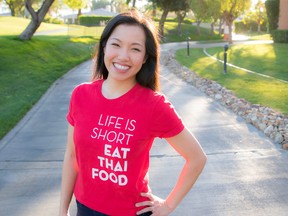 The book, she explains, was part traditional recipe book, part "textbook" on Thai cuisine.
"It's more like deep diving into what Thai food is all about, covering the foundation, the building blocks of the cuisine," she says. "And then there are the recipes to help sort of back it up."
In 2015, Chongchitnant's original dream of starring on a network television show came true with the premiere of One World Kitchen on Gusto TV.
"It's quite surreal, actually, to think about all the things that have come out of just that one decision to put a cooking video on YouTube way back when," she says. "When I started the YouTube channel, I thought, 'Oh, maybe one day somebody would discover me and then put me on TV.' But I never thought that that would actually happen."
The show, which showcased five hosts creating five different cuisines, aired for several seasons. Chongchitnant filmed two seasons along with a holiday special, she says.
While Chongchitnant is grateful for the experience of creating a cooking show for TV, she says she's found herself much happier creating the content that she wants, when she wants to, on her own publishing platforms.
"I really enjoyed doing the TV show, but it was a very different experience than doing the YouTube channel," Chongchitnant says.
Apart from a brief break in travel due to the pandemic, the Vancouver-based chef regularly travels to Thailand in order to visit family — and immerse herself in the Thai food scene.
"I don't want to lose my connection to the motherland and to the culture and to the people and, especially, I teach Thai cooking and I feel like, in order to stay relevant, I need to know what Thai cooking is like in Thailand right now, because it changes all the time," she says. "It evolves all the time."
Chongchitnant's team includes a videographer-assistant, as well as her brother, Art Chongchitnant, who edits her videos from his home in Los Angeles. The majority of her family is still living in Thailand and Chongchitnant says they are "proud" of the business she's created for herself — and are pleased she's a steward of authentic Thai cuisine.
"That our family is sort of representing Thai food in the world — it's huge," she says.
Chongchitnant's Hot Thai Kitchen operation recently moved into a studio kitchen space in order to film the videos.
"So now I have a dedicated kitchen just to work and film out of because it's very difficult to try to do this in your own home kitchen," she says. "This studio has really been a lifesaver in terms of just keeping work and home life separated."
In 2019, Chongchitnant also became a mother. She says these early years of raising her child, Kaan, has prompted her to rework her content creation schedule in order to reach a balance that works better for her life at the moment. She now publishes new recipe videos to her YouTube channel "every couple of weeks" instead of once a week.
"I've slowed down to just once every two weeks, which I find to be a sustainable pace for me," she explains. "I've got a big library of videos already, so I think the pressure to create is less on me now.
"And also, my videos are evergreen, so people can always see them. I don't have to create new things all the time."
Chongchitnant isn't exactly taking it easy, though. She's currently work to revamp her website, as well as working on a new cookbook, which is slated for release next year. The book will serve to further underscore her ambition of educating others on all things Thai cuisine.
"It's important to me because I think food is more than just food," she says of her ambition to deliver educational aspects in her content creation in addition to delicious dishes. "It always comes with context. When you take food out of context, you really strip it of its power.
"Food is how people identify themselves. Food is how people identify parts of their roots. This is the food that they grew up on. This is part of their culture, their country, their identity. And you cannot separate the two."
aharris@postmedia.com
---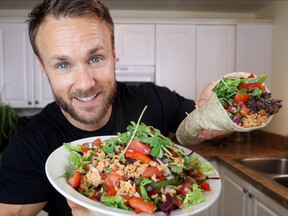 Four more local foodies finding a following online
Hungry for more B.C.-based culinary content creators? Here are four more figures to "follow" online.
Derek Simnett of Simnett Nutrition
A Vancouver Island-based vegan nutritionist who shares "plant-based nutrition, done right," with his nearly 650,000 subscribers on YouTube.
Ryan Dean Dexton
A Vancouver-based chef who offers an approachable avenue for home cooks (Think: "Easy way to cook salmon" and "Using up leftover ingredients") for his more than 53,000 subscribers to sink their teeth into.
Tiffy Chen of Tiffy Cooks
A self-described "foodie" and hobby cook from Vancouver who shares everything from her regular grocery hauls to recipes for dishes like Korean noodles in black bean paste — a recipe that was featured on Good Morning America — with her nearly 40,000 subscribers on YouTube.
SAS ASMR
ASMR (autonomous sensory meridian response) videos have found a huge following online. The videos, which feature rich, natural sound and showcase people doing a variety of activities from eating to reading out loud from a book. Victoria-based YouTuber Sas shares her eats with her more than 9.3 million subscribers.
---

Pineapple Fried Rice
1 1/4 tsp curry powder
1 1/2 tsp sugar
1/2 tsp (2.5 mL) ground white pepper
1/4 tsp (1 mL) table salt
2 tsp (10 mL) fish sauce
2 tsp (10 mL)soy sauce
2-3 tbsp (30-45 mL) neutral oil
12 shrimp, or however many you want
2 large eggs
13.19 oz (375 g) cooked jasmine rice or coconut rice (recipe follows)
1/2 cup (125 mL) onions, chopped
1 cup (250 mL) fresh pineapple, small bite-sized pieces (see note)
1 tbsp (15 mL) raisins, optional
1/2 cup (125 mL) roasted cashews, unsalted
2 green onions, chopped
1 roma tomato, diced
Optional garnishes: Slices of fresh cucumber and toasted shredded dried coconut
Fresh pineapple is highly recommended as it makes a big difference. If you don't want to deal with a whole pineapple, buy pre-cut fresh pineapple from the prepared fruits section of any grocery store.
Coconut rice
3/4 cup + 2 tbsp (210 mL) uncooked jasmine rice
1/2 cup (125 mL) water
1/2 cup (125 mL)coconut milk
Cook it as you would normal jasmine rice, in the rice cooker or stovetop. You can use the rice without having to cool it down like normal rice because the coconut rice will spread so easily in the wok, so just fluff it and leave it at that. In fact, refrigerating coconut rice will make the rice stick together more as the coconut fat congeals.
Pineapple Fried Rice
If making a pineapple bowl for serving, check out the video for a tutorial on how to make a pineapple bowl AND cut perfect pineapple pieces for the fried rice all in one go.
Combine curry powder, white pepper, sugar and salt and stir to break up the curry powder. This will make it much easier to distribute the curry powder into the rice evenly.
Combine the soy sauce and fish sauce in a small bowl.
In a wok or a large frying pan, heat 2 Tbsp of neutral oil until hot over high heat. Sear the shrimp without stirring until they're at least halfway done and slightly browned on the underside; flip and cook the other side just until done. Turn off the heat and remove the shrimp from the pan, leaving all the oil behind.
Add more oil to the wok if needed, then add the eggs and scramble slightly. When the egg is half way cooked, add the rice and onions and toss to mix.
Add the dry seasoning and the fish sauce and soy sauce and toss until the rice grains are evenly coated in the seasoning.
Toss in the pineapple and raisins (if using), then allow the rice to sit undisturbed for 10-15 seconds to allow the rice to toast and brown slightly. Toss everything and repeat the toasting process a few more times.
Turn off the heat and stir in the cashews, tomatoes and green onions. Serve on a plate or in a pineapple bowl, and add a garnish of cucumber slices and/or shredded coconut, if desired. Enjoy!
Serves two.
---
More news, fewer ads, faster load time: Get unlimited, ad-lite access to the Vancouver Sun, the Province, National Post and 13 other Canadian news sites for just $14/month or $140/year. Subscribe now through the Vancouver Sun or The Province.