Last year, Emily in Paris came onto our TV screens, made a 10-episode case on why and how you should be mixing patterns, and made us single-handedly rethink our entire wardrobes. And now, we've been blessed with another trip abroad to make us simultaneously fantasize about both a French romance and donating every neutral-colored piece in our closets.
It's no mystery why the outfits in Emily in Paris have such a je ne sais quoi, considering that they're all styled by Patricia Field, who famously dressed Carrie Bradshaw in Sex and the City and made her a cultural fashion icon. Through Emily's eclectic wardrobe, she's managed to capture a similar essence of mismatched perfection, with looks that feel like every piece was pulled at random, then worn by someone with enough confidence to not make you think twice about whether or not they work—they just do.
If you too are staring at your closet and thinking about how you can replicate the same magic that Emily's wardrobe exudes, have no fear. We've broken down the best looks in Emily in Paris season 2 and have been left with all the fashion inspiration we need for 2022.
jacket | jacket (plus-size) | polo | pink tee (plus-size) | belt | bag | skirt | skirt (plus-size) | heels
While this look incorporates a bit of pattern matching, what makes the loudest statement is the color-blocked effect it gives. With bright pops of pink and deep hues of green, the contrast between the two shades work perfectly together, especially on their tailored, preppy-feeling pieces.
headband | blouse | blouse (plus-size) | bag | pants | pants (plus-size) | heels
Even though the majority of us unfortunately will not be wearing this while flirting with a handsome man as the Eiffel Tower gives us the perfect mood lighting, there's never a bad time to wear a pink blouse with feminine accessories—particularly with a retro-feeling white padded headband.
hat | dress | dress (plus-size) | tote | sandals
This might be the most out-of-the-box look Emily has worn to date, but if nothing else, it gives a reason to try pairing patterned accessories with a patterned dress as soon as the weather allows for it.
beret | jacket | jacket (plus-size) | turtleneck | turtleneck (plus-size) | skirt | skirt (plus-size) | boots
There's never a wrong time to wear a fuchsia beret, but when paired with a floral puffer and mini skirt? *Chef's kiss*
sunglasses | dress | dress (plus-size) | bag | necklace | heels
Unfortunately, Emily's warm-weather outfits have us wishing away the winter weather many of us have only just begun to have, but if a dress ever had the power to make us want to book a trip just to wear it, well, this one has it.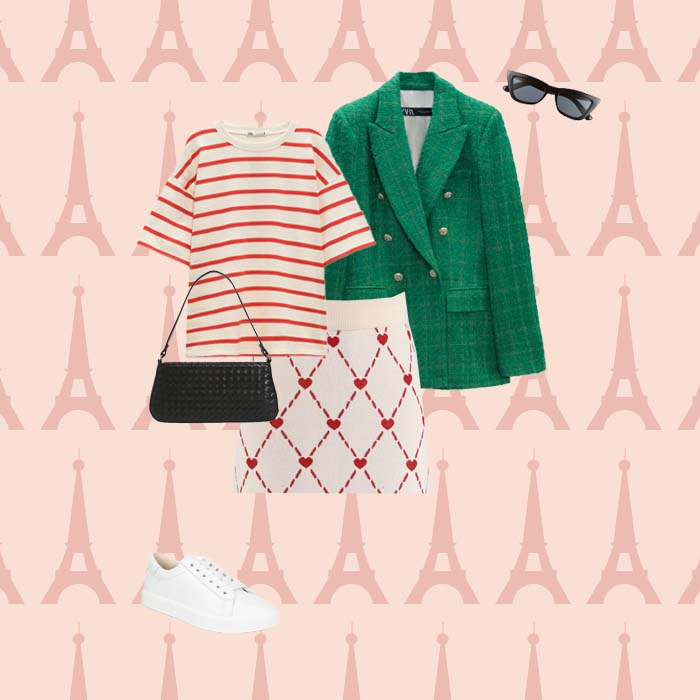 shirt | blazer | blazer (plus-size) | sunglasses | skirt | skirt | skirt (plus-size) | bag | sneakers
No, you probably never thought about wearing a striped red shirt under a green tweed blazer, but now you have—and you probably should. 
If you're feeling nostalgic or maybe just binged the series for the first time, have no fear—so did we. These Emily-inspired pieces capture the Season 1 essence we've been dreaming of for the past year, just in time to wear for 2022.