As a bunch of cold-weather dwellers, there's nothing The Everygirl team loves more than a good winter coat. We have high standards and expect our coats to be chic and reflect our personal style while also keeping us warm (even during the brutal Chicago winters—which is no small feat).
A winter coat that's added to our cart should be one we're excited to be our most visible layer for the better half of the year, which is why this year, we're on the hunt to find the very best ones available. After scouring the internet up and down for the best of the best of winter 2021, we discovered that J.Crew's selection was chock-full of coats that were unique, cute, and that we know are high-quality—check, check, and check.
We gave our favorite coats from J.Crew a try and have thoughts on which are worthy for taking you through winter (Spoiler alert: Some are so good that we think you'll be sad when spring 2022 rolls around).
Chateau Puffer
If there's one thing in this world that I know, it's when I've found a good black parka. I had the same one for seven—yes, seven!—years, and I loved it so much that it took me through the entirety of college and through my absolutely brutal winter commutes to work once I graduated. Last year, at long last, I found a hole in it, and it was time to start my search for its replacement.
I have plenty of cute coats, but as a Chicagoan, the one that's most important is the one for the coldest days that I can trust will keep me warm. After trying a dozen coats last winter, I stumbled upon this one, and it is absolutely incredible.
I've always preferred a parka that hits me mid-thigh so it keeps my legs warm without being too long or restricting, and this one is the absolute ideal fit. I sized up to a medium for it to be a bit oversized and so it could account for layers underneath, and it is truly the warmest coat I've ever had. The gold details and pockets make it feel a bit elevated, and when I add my other winter accessories, it honestly feels very chic. I'm completely in love with it and already know it's going to be another seven-year love affair—and for me, that's saying something.
Summit Parka
When I saw the color of this coat online, I knew I had to see it in real life—and somehow, it was even better. I've never seen anything like it; it's a sort of muted pistachio color that is so subtle it almost feels like a neutral. It's stunningly beautiful and is such a unique piece to get you through winter.
I've been a fan of J.Crew's wool coats for years, and my beloved camel one is beautiful, high-quality, and has lasted me years, and this one is no different. You can feel how heavy and well-made it is and can tell that it's made to last. If you're looking for an elevated winter coat, this one is incredible and you won't be disappointed—especially with the fun fur detail on the hood.
I'm usually between a size 4 and 6, and I went with a 6 with this since I usually size up with coats, but I actually needed a 4. I'd say that if you went with your regular size with this, it will be perfectly oversized and still let you layer underneath.
Snowday Puffer
I've lived in Chicago for six years and the snowbelt of Ohio before that—trust me, I know a thing or two about warm, puffy coats. I've already got a great puffer in my life and pretty much all the classics, so when I perused J.Crew's coat collection, their trendier options caught my eye the most.
This one looked like a winter dream, complete with sherpa lining and a cozy inside. I get a little nervous when it comes to puffy coats because if I can avoid looking like a marshmallow, I will. This one is definitely pretty puffy and fuzzy but feels elongated, which gives it a more cozy coat look than like I'm hiding behind a gigantic coat. I could see myself wearing this on really cold days when I want to be warm AF but look a bit cuter than my sleeping bag puffer coat. 10/10 for me! 
Double-Breasted Topcoat
Contrarily, I did discover this year that the one thing my wardrobe is missing is classic black pieces. Black boots, black bags, black basics—I am basically devoid of the one wardrobe essential everyone needs, including a fancy black wool coat. First of all, I will say this runs a bit smaller than I was expecting. I am typically a size 12/large in J.Crew, and I definitely will be sizing up to a 14. 
Otherwise, this is a glamorous classic coat. The buttons down the front add a special detail, and on my 5'5 self, it's the perfect length that is bold without being outrageous. You can immediately tell when you touch it that the quality is impeccable; I already know this will last me years and years. It will look gorgeous for holiday parties and special events all throughout winter when I want to look nice even without taking my coat off. Paired with a pair of trousers and heels, it's fancy outfit without really even trying. 
Villa Coat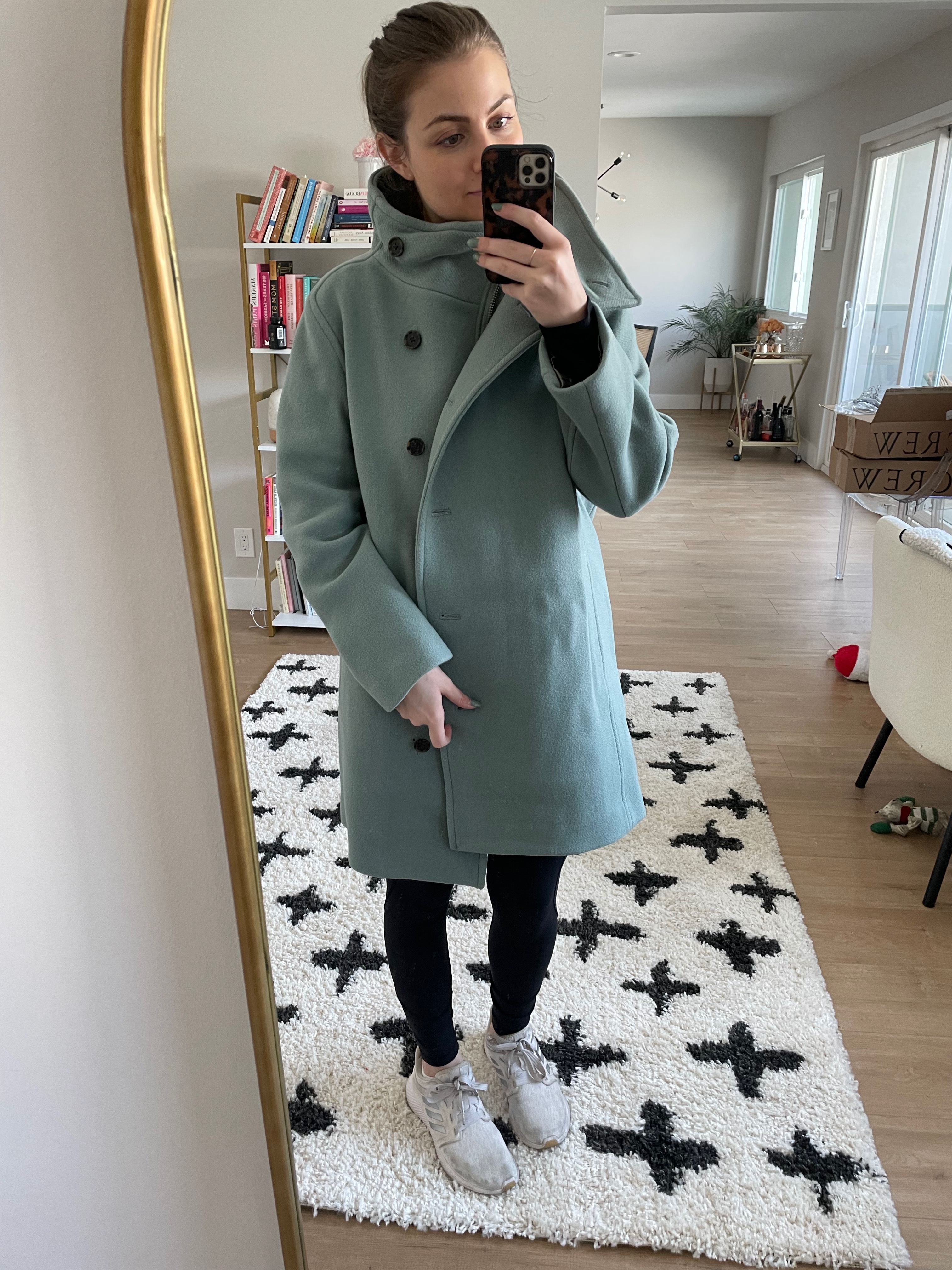 Since I live in Los Angeles, I don't typically consider a winter coat to be one of my key investments, but this year is different. I have been obsessing over all the peacoats and elegant button-up jackets in gorgeous hues that upgrade a basic jeans-and-tee uniform. A coat is the ultimate accessory because if it's a pretty color and a tailored shape, you can basically transform any plain outfit into a stunning OOTD, and this pretty mint color is the perfect example (I mean, it even transforms my boring black leggings, right?).
And even though I live in L.A., I still need my investment coat to keep me warm because I spend the holidays at home in Chicago. This one works in more mild temperatures as a stylish seasonal jacket, but buttoning it up to the neck will ensure it will keep me warm, even in freezing temps. I'm typically a size 4 in coats, but this was slightly too oversized, so I recommend sizing down if you prefer a more fitted look. 
Belted Lady Day Topcoat
If you don't already have a belted coat, this is officially your sign to get one. The second I put on this pretty blue jacket, I simultaneously felt like a ~lady~ and also ready to conquer the world (can't you see Michelle Obama rocking this jacket?). The chic belted design is bougie enough to wear to any formal occasion, but it can also be dressed down with jeans and booties. The color is even prettier in person (trust) and the material is insanely soft and warm. While it looks very fitted and has a flattering cinched waist, it's actually extremely roomy and comfortable. Bonus: Take off the belt and the coat is just as cute and much more casual (so it's basically like two cute coats in one).
Faux-Fur Jacket
Statement winter pieces are my favorite, and this faux-fur jacket is the piece of my dreams. I normally stick to black or beige when it comes to my jackets and coats, but I was immediately obsessed with this rich brown color and how sophisticated it feels. The fur is soft to the touch and thick enough to actually keep you warm on a winter day. 
Immediately, I knew that it could turn any basic outfit into a look, and I think it's proven here by how much it transforms my black turtleneck and jeans. It's one of those pieces I know can turn into one of my staples and one that I'll reach for whenever I want to feel a little bit extra (read: every day).
Teddy Sherpa Vest
Vests are super in this season, and nothing could get me on board as quickly as this sherpa teddy one.
This vest is such a fun addition to any outfit—it's lightweight enough to layer any coat without ending up sweaty. I live in L.A., which makes it a perfect outer layer to wear during this winter (sorry to my Chicago coworkers) and is a statement all on its own. I also think this is a piece I'd reach for on casual days too, which means I'll get a ton of use out of it both this season and in the future. This is a great thing to grab before it sells out.
Flurry Puffer Jacket
As soon as I opened this box, I was immediately impressed by the quality of this coat. A lot of puffer jackets that I own are fairly lightweight and look super cute but aren't actually great at keeping me warm—but I could instantly tell that that was not the case with this one. It's thick and insulated without being annoyingly heavy, so I know that it will keep me super warm in Chicago's sub-zero temperatures. I am also obsessed with this orangey-red color because it's unlike anything else that I own.
I normally like to get my coats in a size large, but I went off J.Crew's size chart and got a medium in this one and liked the fit of it. It zipped up fine with a sweatshirt under it, and as this coat is made to be oversized, I think a large would've been too big. As an added bonus, it is sustainably made from recycled nylon and PrimaLoft, which is a down alternative. And it gets even better: J.Crew is donating $1 to One Warm Coat, which helps provide people in need with coats for the winter, for every eco puffer purchased through Dec. 26. 
Villa Teddy Coat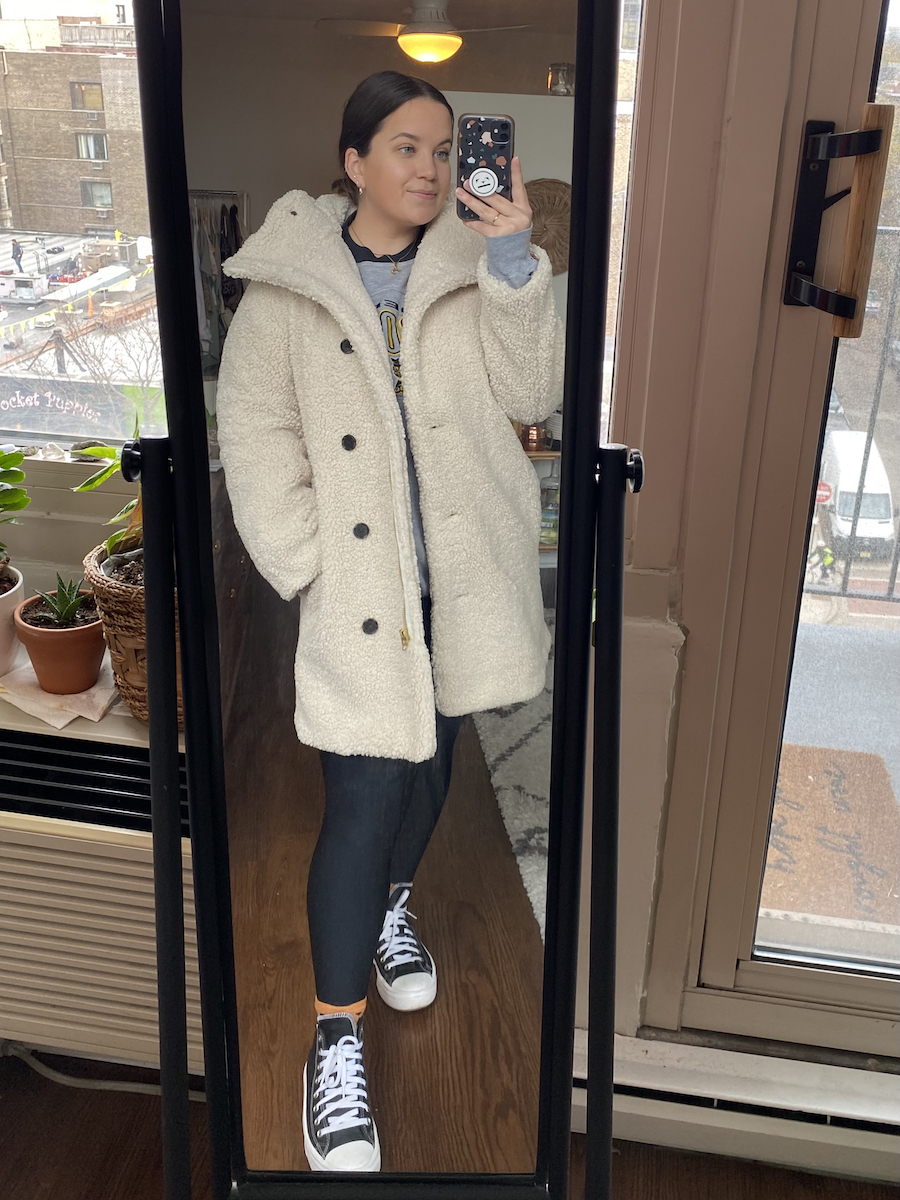 I was also extremely impressed with the quality of this teddy jacket. It's heavy with a soft satin-like interior, so I instantly pictured myself wearing it over nice jeans and a top for a dinner out with friends or all bundled up for a festive holiday activity. I think that teddy and sherpa coats have to be tastefully done in order to not look too juvenile, and this one definitely fits the bill—I felt super chic wearing it. If you're looking to invest in a nice coat that isn't just plain wool, this would be perfect for you. 
I hadn't bought a coat with a numerical size in years, so I really wasn't sure what size to get in this. My dress size is usually a 10 or a 12, but J.Crew's size chart said that I should get an 8, so I took a chance and went with that. I really like the fit and this one is also slightly oversized, so I think if I had gotten a 10 it would've looked too bulky. Overall, I would say that J.Crew's recommended size tool is pretty accurate!