If you ask me, shapewear gets a bad reputation. My mom has always refused to wear it because she thinks it's too hot—especially in the summer—and I think that most of us have grown to view it as a burden.
For so long, we've been told that we (women) should be the perfect, smooth, hourglass figure with no lumps or bumps in sight. We've somehow absorbed this notion that it's OK if we have a belly as long as no one knows about it; as long as we cinch, compress, and hide our imperfections from society, we're the picture-perfect woman. But let's be clear: the perfect woman is a real woman, and real women have rolls, real women have cellulite, and real women have muffin tops, and pooches, and everything in, around, and between.
So, here's how I see it: retailers can't and don't design with all of our body shapes in mind, and to be fair, a lot of them don't try. However, shapewear allows us to make our clothes fit in a way that feels comfortable, cute, and secure. Contrary to popular belief, shapewear is for every body, not just for women size 14 and up. It can be used to smooth and hold clothes in place, to add an extra layer of protection under thin clothing, and to just make you feel sexy and secure. And another newsflash? It can be worn in the summer too—as long as you find the right pieces (read: ones that won't make you drip sweat).
Ready to find your perfect summer shapewear for any occasion? These have you covered.
For dinner
Spanx
Power Open-Bust Mid-Thigh Bodysuit
When your plans include eating—and I mean really eating—I recommend a shapewear option that doesn't have a waistband. Trust me, you don't want anything to stand in the way of you and those tasty appetizers. You'll thank me after you get to eat all of the Philadelphia Rolls you can manage without having to worry about your post-sushi food belly.
For everyday wear
Shapermint
All Day Every Day High Waisted Shaper Boyshort
This is my go-to shapewear for everyday outfits: jeans, skirts, rompers, and anything else it fits under. The boyshort cut is super comfortable and fits under nearly every outfit without showing.
For dresses with slits
SKIMS
Solution Short #2
I was blown away by how much I love SKIMS. I find that this brand of shapewear doesn't offer too much compression and comes in some innovative shapes and styles. This particular style is a perfect summer shapewear piece because it allows you to wear those super-popular dresses and skirts with high slits without having to uncomfortably roll one side of your shapewear up.
For under thin clothes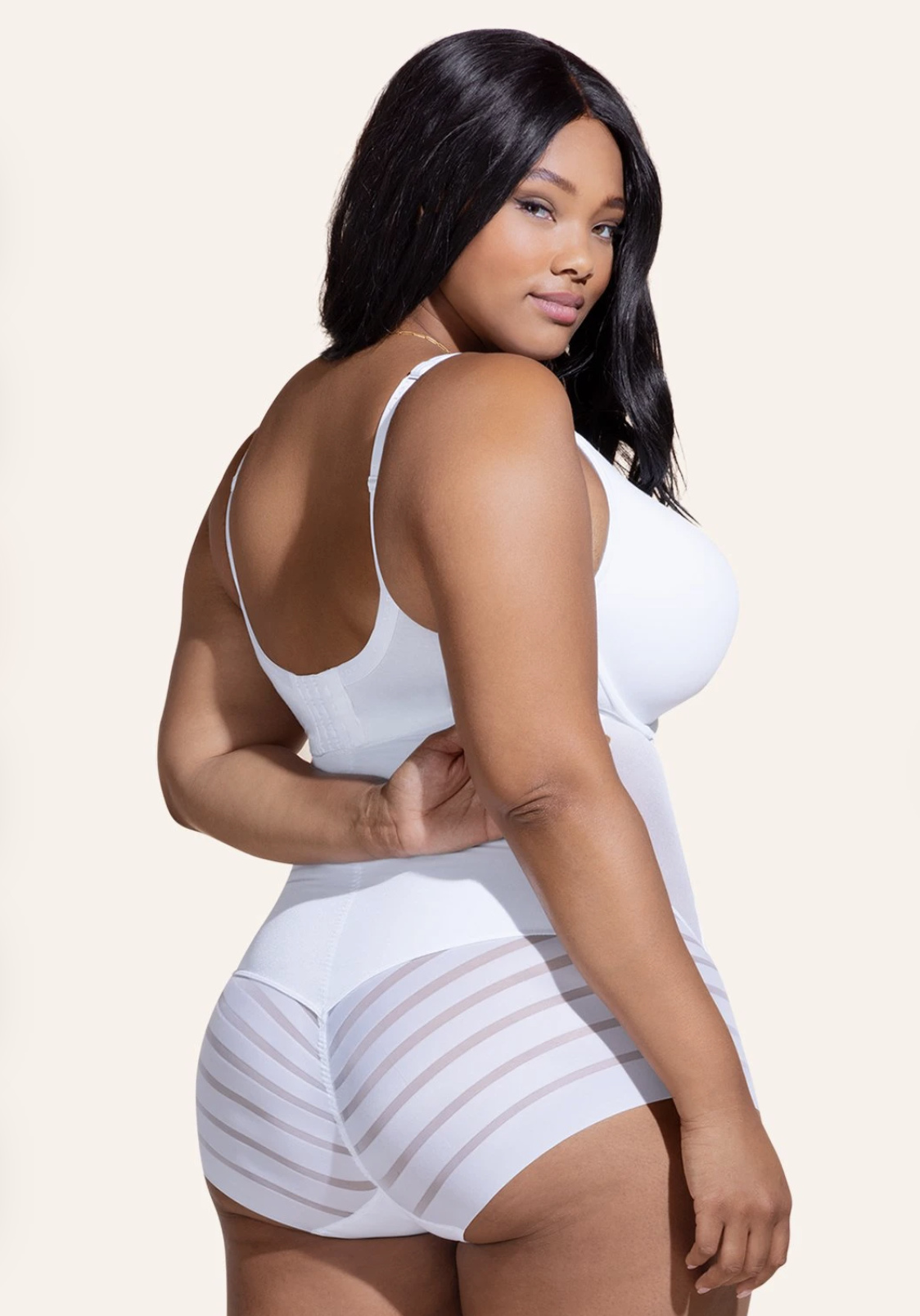 Honeylove
Queen Brief
This shapewear was made with panty-lines in mind! By that, I mean that it's designed to prioritize enhancing and showing off your natural assets by providing dispersed compression, light structures, and beautiful designs.
For tight dresses
SKIMS
Sheer Sculpt Slip
I have to be honest, I've definitely been sleeping on slips as an option for shapewear, but not this summer! This style is perfect for tight dresses because it can add an extra layer between your body and the dress, keep the dress from riding up, and prevent any visible shapewear outlines caused by briefs and shorts.
For when you just want light support
Adore Me
Claudine Plus
This option is perfect for those outfits where you want a bit of support just to get through the day. I'd wear something like this under my favorite jeans or maybe even my overalls.
For low-cut necklines
Spanx
Low-Back Thong Bodysuit
When you're embarking upon one of your fancier journeys or your outfit doesn't have a high neckline, this is what you need.  Not only does this option give you an alternative cut, but it lifts and supports like a bra would.
For when you want to feel a little sexy
SKIMS
Power Mesh Bodysuit
Who says shapewear can't be sexy, girl? Because it can—and this mesh bodysuit is proof!
For unforgiving tops
Honeylove
LiftWear Cami
Sometimes we don't need full-body shapewear, but just want another layer under those unforgiving silk and satin blouses. That's when a shapewear tank is a must!